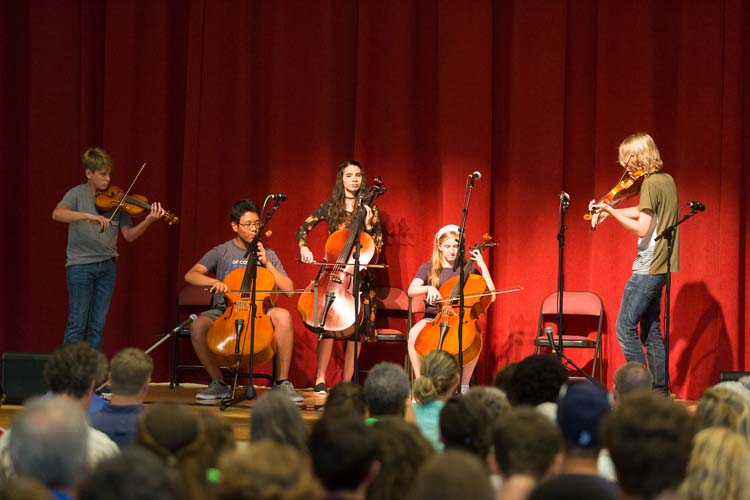 It has become a glorious summer tradition in Vero Beach – a series of free concerts performed by the faculty of a music camp that includes world-class musicians in a genre spanning Celtic, bluegrass, folk, rock, jazz and world music.
The Mike Block String Camp and its concerts speak to America's multicultural heritage, especially meaningful coming as it does around the Fourth of July.
What Grammy-winning cellist Mike Block has drolly dubbed the Vero Beach International Music Festival begins in the middle of camp week with the first of three concerts that celebrate the diverse roots of American music and the global tradition of improvisation.
The Wednesday, July 11, concert and another on Friday, July 13, primarily feature the camp's faculty, with advanced students joining in. A third concert on Saturday afternoon, July 14, features all the students plus faculty, with the audience joining in for a barn dance afterwards.
The small-town feel of the festival and its venue – First Presbyterian Church – makes the extensive travels of its performers all the more impressive, infusing the typically packed hall with a global awareness.
Block was training at Juilliard when he first played with Yo-Yo Ma's Silk Road Ensemble in 2005; he went on to become founding director of the Silk Road Global Musician Workshop. He briefly appeared in a stirring documentary, "The Music of Strangers," that screened in theaters two years ago before airing on HBO. An album recorded and released in conjunction with the film, "Sing Me Home," earned the ensemble – including Block – a Grammy.
In January, Yo-Yo Ma, Block and Hanneke Cassel, one of the country's top Scottish fiddlers and a regular on the Vero faculty, went to China, the starting point of the ancient Silk Road to trade not in silk but in music. Joined by legendary American bassist Edgar Meyer, they taught and performed at a youth music festival in Guangzhou. Cassel, who married Block four years ago, taught a reel to a group of Chinese musicians, even persuading a few to learn the basic steps in the dance.
Block, who plays cello standing up with his instrument slung across his body on a strap of his own invention, was the first to play stand-up cello in Carnegie Hall – a performance the New York Times called "breathless … half-dance, half-dare."
He initially visited Vero a decade ago at the invitation of the family of a student at a camp in the Midwest where he was teaching. While here, Block offered workshops in public schools and, in 2010, staged the first Mike Block String Camp here.
Right off, the camp drew students from as far away as Australia and Sweden as well as from Vero. It also appeals to adults, including classical musicians eager to learn fiddle techniques.
Block later added a second week for advanced students and curriculum for existing bands. The camp this year is condensed to one week only, meaning concert-goers will not have to miss favorite faculty performers who, in prior years, may have been in Vero for only one of those weeks.
The overlay of three avenues of study means greater exposure and a wider range of mentors for the 85 students registered. More advanced students will train by improvising alongside faculty. The musicians in his Florida Band Incubator (or FBI, as Block likes to say) will learn not only performance skills but survival skills navigating the challenges of the music business.
Fiddle music – a broad term since it includes many more instruments than just the violin – is largely improvisational. It is also collaborative, and many of the faculty have performed together before. Darol Anger, who teaches at Boston's Berklee College of Music, has perhaps the most star-studded resume.
That's Darol Anger playing on the NPR show "Car Talk," along with Earl Scruggs, David Grisman and Tony Rice. He also played on the soundtrack of the Sim City computer games. He was a founding member of the David Grisman Quartet, a 1970s era band that presaged the modern bluegrass revolution, and played in the Turtle Island Quartet.  But he is best known for his own band, Republic of Strings, which continues to break ground in modernizing bluegrass. He has performed and taught with fellow "newgrass" luminaries Bill Frisell, Edgar Meyer and Bela Fleck, and the great jazz violinist Stephane Grappelli.
Anger recently put together a band for just a couple of performances that included Mike Block faculty alum Joe Walsh, the first Berklee graduate in mandolin, who also now teaches at Berklee, as does Block himself.
Another string camp faculty regular, Lauren Rioux, toured Europe and the U.K. with Anger and Block in Republic of Strings; she now runs a studio in Maine.
Like many on the faculty, Anger's summers are packed with camps. This year, he begins with one at Berklee in late June, then Vero, then four more before winding up in Marshall, Michigan, in August for a camp focused on the mandolin.
The increasingly popular fiddle camps can now claim a theme song – "Final Night at Camp" – the title cut on Block's album on his new label, Bright Shiny Things. Block solo toured more than a dozen cities including London last fall and published a book of 28 non-classical cello etudes. Among the 13 contributors are two string camp faculty alums: Celtic cellist Natalie Haas and the mind-bending Rushad Eggleston, a cellist whose fantastical performance dressed as an elf capped a marathon camp concert in Vero a few years back.
With Eggleston absent this year (he is at a festival in Germany), the role of rhythm wizard goes to Joe Craven, a multi-instrumentalist known for fracturing the fiddle fans not only with various stringed instruments, but on any available object – from a trash can to his own cheek.
Craven is a longtime friend of mandolinist David Grisman. He not only played with Grisman and the Grateful Dead's Jerry Garcia on the legendary progressive bluegrass album "Shady Grove," Craven co-wrote the title track.
"Everything Joe touches turns to music," said Grisman.
Each year, Block makes a point of including world music; often, the nation represented is India. Violinist Trina Basu was classically trained but now includes American folk and Carnatic violin in her repertoire of choice. Raised in Miami and a graduate of Florida State University, Basu lives in New York, where her ensemble, Karavika, just did an album release at Joe's Pub. She has performed with Ed Sheeran, Urban Bush Women and Mos Def. She also plays with another Mike Block faculty member: Arun Ramamurthy, whose album "Jazz Carnatica" was named a Top New Release by NPR's New Sounds.
Zach Brock, another Grammy winner on the faculty, is a rock star in the eyes of the kids at camp. They are not alone: Brock was named Downbeat magazine's 2013 "Rising Star Violinist" and for years has played with bassist legend Stanley Clarke. Brock earned a Grammy last year for his fiddle playing with Snarky Puppy, a Brooklyn-based collective led by Michael League.
Other performers at this year's festival include Kimber Ludiker, a two-time Grand National Fiddle Champion from Washington State and founder of the Nashville-based soulful bluegrass all-women band, Della Mae. And there is Toronto-based cellist Eric Wright, another Berklee graduate, who in 2017 won a Juno award – Canada's Grammy equivalent – for Instrumental Album of the Year, recorded with his band The Fretless.
The July 11 and July 13 concerts begin at 7:30 p.m.; the July 14 concert and barn dance begin at 3 p.m.  All are at First Presbyterian Church. Concerts are free; donations to Mike Block String Camp Scholarship Fund are appreciated. For more information, visit verobeachinternationalmusicfestival.com.