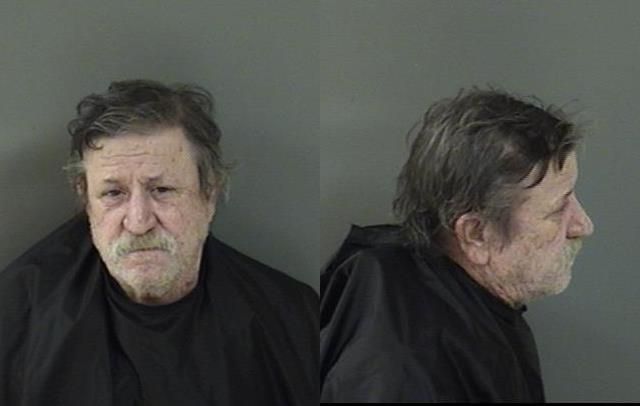 SEBASTIAN — A 64-year-old man who police said left a dog in a hot car outside a bar for nearly four hours told patrons the dog was old and was "going to die anyway."
It's the latest case involving suspected animal cruelty in Indian River County.
When other patrons realized Harold Krages left the dog in his car, they removed the animal and brought it to a restroom, where it died soon after, reports show.
"This was a preventable tragedy," Director of Education Janet Winikoff, with the Humane Society of Vero Beach & Indian River County, said Friday. "Owners should always leave their pets at home unless they can take them inside of the store or other establishments."
Police arrested Krages, of the 13000 block of 97th Street, Fellsmere, on a charge of cruelty to animals. Krages is being held at the Indian River County Jail on $10,000 bond.
Officers responded to a disturbance about 4 p.m. Thursday at Earl's Hideaway Lounge & Tiki Bar, 1405 Indian River Drive. Police spoke with witnesses, who said Krages had been escorted off the property.
Krages then began to argue with other patrons after he told them he left his dog in his vehicle, reports show. The patrons removed the dog from the vehicle and brought it to a restroom with air conditioning.
But, the dog died a short time later, reports show. The breed and age of the animal were not immediately available.
Animal control officers arrived at the scene and spoke with bartenders, who said Krages arrived at the riverside bar about noon. Officers measured the temperature of the outside of the car, which was 102 degrees.
The inside temperature of the vehicle was measured at 93 degrees, reports show.
Animal experts warn against leaving pets in a car, which can quickly overheat in the Florida humidity, a combination that can quickly prove deadly for pets.
Police spoke with Krages, who had fell down after being escorted out of the bar. The reason why he was kicked out was not available.
Krages told officers he always brings his dog in his car with him. Krages also said he partially rolled down the windows before getting out of the vehicle, but did not leave the car running, reports show.
Police took Krages to the Sebastian River Medical Center for treatment for his minor injuries. Officers then arrested Krages and took him to the county jail.
Krages has an arraignment at 8:30 a.m. July 18, court records show.
Commander Dan Acosta, spokesman for the Sebastian Police Department, was not immediately available for comment.
Dogs in Hot Vehicles
Parked vehicles can become a deathtrap for dogs if left unattended.
On a 78-degree day, the temperature inside a parked vehicle can extend to 100 degrees in just minutes, according to the nonprofit organization People for the Ethical Treatment of Animals. On a 90-degree day, the inside temperature can reach as high as 109 degrees in less than 10 minutes.
Dogs and other animals can get brain damage or even die from a heatstroke in just 15 minutes if left in a hot vehicle.
Under Florida law, a person is protected from prosecution if they break into a vehicle while trying to save a distressed animal, child, elderly or disabled adult. But, that person must first check to see if all doors are locked, have reason to think the person or animal is in danger, call 911 before breaking into the vehicle and stay with the person or animal until authorities arrive.
Video provided by MyDogisCool.com and the humane society
Other Animal Cruelty Cases in IRC

Several other local cases of suspected animal cruelty have been reported or gone to court.
Indian River County sheriff's deputies arrested 49-year-old Terri Lynn Redstone on June 2 after neighbors reported a foul odor coming from her home and insects gathering on the inside of the windows. Deputies discovered the remains of a Rottweiler puppy inside a crate in the home in the 1700 block of 6th Avenue, deputies said.
Redstone admitted to not caring for or feeding the dog for weeks, deputies said. Animal control removed a thin Whippet from Redstone's home.
Deputies on June 2 charged Redstone with two counts of cruelty to animals. She was released from the county jail on $5,000 bond that next day.
Sebastian Police Officer Eric Antosia was charged with animal cruelty after his K-9 partner, Diesel, was found dead after being left in Antosia's patrol car April 28, 2017, in Melbourne. The State Attorney's Office filed the charge against Antosia in August 2017, officials said.
Antosia was immediately placed on administrative leave without pay pending the final outcome of the criminal case.
PETA – What to do if you see a dog alone in a hot vehicle
Write down the vehicle's color, model, make and license plate number
Have the owner paged in the nearest buildings, or call local humane society authorities or police
If the dog appears to be in danger, call 911, take steps to remove the animal from the car and wait for authorities to arrive
Watch for heatstroke symptoms such as restlessness, excessive thirst, thick saliva, heavy panting, fever and vomiting. If a dog shows these symptoms, get it out of the heat and into air conditioning, and then to a veterinarian.