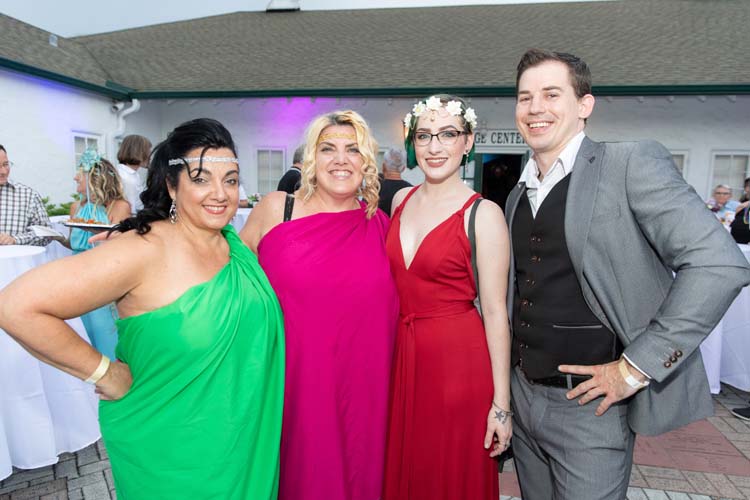 A rainbow of toga-clad partiers gathered at the Heritage Center last Saturday evening for Party at the Pantheon, a Vero Pride event hosted by Amendment One Activists (A1A) to celebrate and promote diversity.
The mission of Vero Pride is to unite members of the local lesbian, gay, bisexual and transgender community with their friends, families and allies to celebrate and support their unique spirit and culture.
"We each have our own attachment to the event. I'm gay, and I don't want anyone to ever have to hide who they are. Who you love is inherent to who you are," shared Stephanie Hocke, co-host of the sold-out event with Shelley Adelle and Katie Gastley.
"We want to educate people through visibility. We want them to see that people who you fit in this category are just people too; they are no different from you. Down the road, I hope if somebody comes out and says, 'I'm gay' or 'I'm transgender' it's no different than saying 'my favorite color is blue,'" added Hocke.
A $1,000 scholarship to a graduating high school senior was added this year, with applicants submitting a 1,000-word essay on, 'What does diversity mean to me?' The winner, Maya Snead, graduated from Indian River Charter High School and plans to attend the College of Savannah Art and Design.
"I have friends that are in the LGBTQ community and I've seen the struggles they go through," said Snead, adding that being of mixed race, she was able to pull from personal experiences and observations.
"For the young people, this whole conversation of normalizing the LGBTQ lifestyle is a non-starter," Adelle explained. "We could tell in the language of Maya's essay that she understands not only the meaning of diversity, but her place and her ability to encourage greater diversity. It warms my heart to know that's where the future of this conversation is headed."
The party's Romanesque décor, designed by Michael Naffziger of East Coast Encore, featured a white cloth billowing from the ceiling that changed to the colors of the Pride flag – symbolizing life, healing, sunlight, nature, harmony/peace, and spirit.
Guests sauntered down the red carpet and enjoyed cocktails, hors d'oeuvres, a kombucha bar and mezze buffet, had photos taken atop thrones on Mount Olympus, and strutted their stuff in a rainbow of togas, competing for the title of best Greco-Roman costume. Later, many headed over to the Kilted Mermaid for an after-party.
Key West drag queen Jessica Deveraux kicked off the opening ceremony, wowing with a saucy routine performed in 6-inch stilettos and a velvet gown that soon came off to roars of amusement as, in sequined pantaloons, Deveraux taunted the audience with a riding crop. Her companion, Addison Taylor, performed a comedic rendition of "Call Me Maybe," before members of Vero Beach Burlesque debuted with a dance choreographed by Andrew Currie from Dance Space.
"Vero Pride recognizes the unique spirit and culture of the LGBTQ community," said Vero Beach Mayor Harry Howle. Earlier in the week, Indian River County Commissioners issued a proclamation designating the fourth week of June as Indian River Pride Week.
"When we founded A1A, our vision was to create a community-based event that pulled a lot of different people together," said Gastley. "I was raised by a gay father, so it's close to my heart. It seems like a really good step for a community to celebrate pride in our special and inclusive way. It's a historic celebration; letting people be who they really are and celebrating it in a positive way with no judgment."
Diarist Anne Frank's words resonate as the LGBTQ community seeks acceptance and inclusion: "We all live with the objective of being happy; our lives are all different and yet the same."
Photos by: Denise Ritchie
Click HERE to see more or buy photos