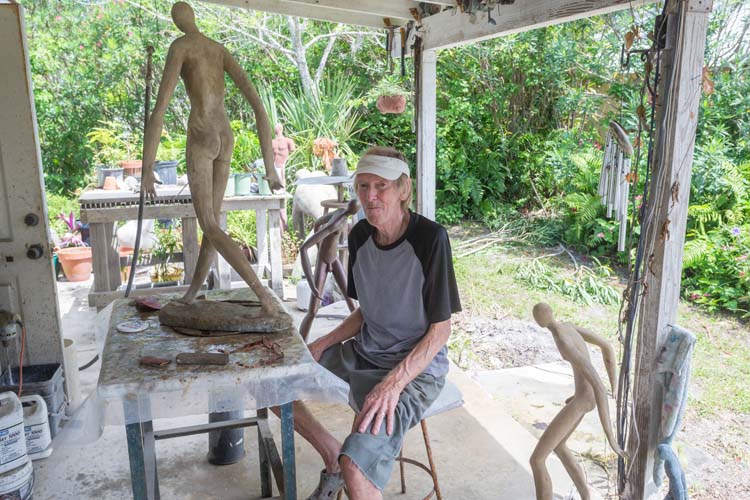 It's not uncommon for neighbors of artist and musician Geoffrey Myers to hear the tinkling of a piano or the strumming of chords on a guitar carried by a soft breeze from his residence cum art/recording studio along the Indian River Lagoon in Sebastian.
"When I work, I listen to classical music because you're separate from it. I think everyone has a certain tonality in their head and it's hard to escape it," says Myers. "Like the style of a visual artist. It's not something that you do intentionally; it just kind of comes out. The more you work, the more your style just emerges subconsciously."
The arts struck a chord with Myers at an early age. One of six children, his father was a writer and his mother was an advocate of the arts.
"She made us all sing in the choir at church and we can all play an instrument," he recalls. "My mom had a general knowledge and appreciation for the arts, so it became second nature for all of us."
After receiving a bachelor's degree in fine arts from the University of Connecticut, Myers moved to New York City and worked with an architectural firm, building models and artwork facsimiles to scale.
In his spare time, though, he immersed himself in the burgeoning cultural movement of Greenwich Village in the late 1960s.
"I was involved in music at the same time I was involved in the visual arts," says Myers, who had an apartment in Greenwich Village and "hung around" Washington Square.
"I played at all the pass-the-basket places and ran into musicians like Bob Dylan, Richie Havens, Joan Baez, Lovin' Spoonful, the Turtles and Tiny Tim."
Myers eventually moved and opened a commercial art gallery in Provincetown, Mass. He met the late Gil Markle there in 1972 and helped him develop Long View Farm Studios, the famed music recording studio located on a 140-acre farm in North Brookfield, Mass.
"J. Geils was our first big name and later Aerosmith, the Rolling Stones, Stevie Wonder, John Belushi, Arlo Guthrie, Cat Stevens, Deep Purple, Depeche Mode, Creed and Joe Perry recorded at the studio," he says.
It was a relationship formed there that brought Myers to Florida, when in 1996 Arlo Guthrie asked if he would be interested in helping to build his home/studio in Sebastian.
Myers had just finished wiring Guthrie's home with fiber optics when Hurricanes Frances and Jeanne came along in 2004, destroying the building and leaving Myers with nothing but time on his hands.
After discovering some stucco wire lying around, he brought it home and began banging away at it with a hammer, reasoning, "If you can use this wire to put stucco on a wall, you can use it as a sculpture."
A good amount of experimentation and quite a few "messes" ensued before he developed a stucco/wire formula that worked.
"I love this medium because I can take it from start to finish without a foundry," says Myers. He explains that the Acrylstone technique he developed opens up possibilities beyond the traditional block of stone or mound of clay.
Today, the figurative sculptures Myers produces are a far cry from the life-figure sculptures he created during his time at the Art Students League in New York City.
"I grew up during a time when abstract art was the norm, and Henry Moore was my sculptural hero," he says. "His sense of form is inspired. Somehow he's able to immerse himself in shapes from nature and his work is totally recognizable."
Myers, on the other hand, describes his sculptures as stylized figures. "They're not really anatomically correct. They don't seem like actual figures. They're my interpretation."
Myers says he is equally comfortable working in all areas of the visual-arts realm. "I always had an affinity toward sculpture; three-dimensional art. But I love painting, too. I love them both, but I gravitate toward sculpture."
Seasons play as much a part as anything in determining the medium – preferring to paint during the winter months when it's too cold for his hands to be in the water all the time. The break from sculpting also gives him a refreshed outlook when he's ready to get his hands dirty again.
"Every artist is on their own personal journey. Style will emerge; you just have to go with your immediate feeling. The link that ties it all together will emerge and you'll discover it, rather than trying to develop a style," explains Myers.
"Picasso is a prime example. Look at the diversity of his style from the Blue period to Cubism to his Post Impressionism and Fauvism."
At any given time, there are always multiple projects underway in the open-air studio behind his house.
"You have to let it cure before you start changing or adding to it. You can't rush it; you need to look at it and be working on something else. I've always got three things going on at once. It's a little schizophrenic," admits Myers, adding that's the way he lives his life, too.
"Everything falls into place naturally. You end up here not serendipitously; the path takes you by things that you should address. Somehow the thinking of it is very significant. It is kind of an inspiration or a spark. So all the bits and pieces eventually converge and you have a completion, but not in consecutive order."
Myers says artists should take their art seriously while also being innovative, advising, "Be daring and take it to the max if you want to make an impact."
Stressing the importance of the arts in general, he notes that the creative process is at the core of culture as well as life.
"That is what we do as human beings; we create," says Myers. "Whether it be the visual arts or as a creative car mechanic, innovating ways to solve a problem, creativity is the essence of what we are."
The artist's work can be found in galleries and in corporate and private collections nationwide, including Ramscale Fine Art in New York, the Copley Society in Boston, the Gasiunasen Gallery in Palm Beach, Galerie MX in Montréal, and locally at the Meghan Candler Gallery in Vero Beach.
His brother, musician Peter Myers, joined the Sebastian arts scene this past year as the most recent artist-in-residence at Stouthouse, a not-for-profit artist retreat founded by Quentin Walter to preserve the home and artistic legacy of her late husband, Weldon J. Stout.
Things were particularly lively at Geoffrey Myers' home this past spring, where chairs were nestled among the statues in the living room and on the front porch to accommodate guests attending a Stouthouse benefit concert titled "Two Chords" on the eve of his brother's departure.
"Geoffrey came home from college for Thanksgiving one year and gave me a guitar," Peter Myers explains. "He taught me two chords and told me, 'When I come home at Christmas if you can play them both I'll show you the third chord.' That's why the concert was called Two Chords."