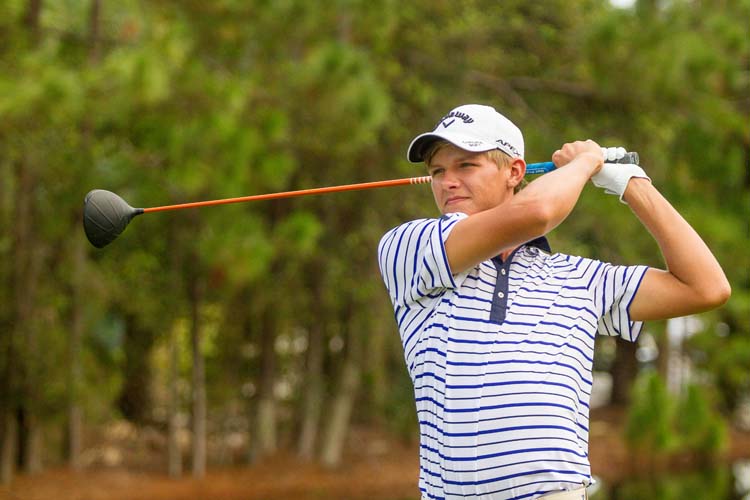 The challenge facing golf today is that it doesn't easily compute with a youth sports culture that idolizes and rewards physical attributes like size, strength and speed. It can be expensive, demand a lot of time, and frustrate just about everyone from the start. Participation by young people has been spiraling downward pretty drastically in recent years, or so we are told.
There are some exceptions, however. Enter recent high school graduate Trey Meadows. He is bucking that trend and will take this most demanding game a notch higher to the collegiate level after honing his competitive skills for six seasons with the varsity team at St. Ed's.
"I came to St. Ed's in the third grade," Meadows said. "I started at the old campus (near Riomar CC) and when we made the move here I thought it was nice to have everyone in one location. I was able to learn a lot from all of my teachers, coaches, and by watching the older upperclassmen."
That brief walk through memory lane is a reminder of an important chapter in St. Ed's history that will over time be relegated to photographs on a wall.
"I played pretty much every sport in sixth and seventh grade," Meadows continued. "I was most interested in lacrosse and golf. I was traveling a lot for both sports, so I sat down with my parents and they recommended that I choose one or the other. I already knew that I wanted to play a sport in college, so I decided to go with golf. That was good advice from my parents."
From the very start of that conversation, every bit of parental guidance was likely slanted in the direction of golf.
"My dad (Don Meadows) has been in the golf business forever, and he is now the club pro at Quail Valley," Trey told us. "I first picked up a golf club when I was super young, pretty much a baby. Back then I would go out to the range with my dad and hit some balls. Those were good times and I had a lot of fun with it.
"Then as I got older my dad realized that I really liked the game. He started helping me out a lot more and gave me some real good tips.
"When I started with the varsity I honestly didn't expect to do much. I knew it would be tough to hang with the older guys. So I had to rely on certain key points of the game. It was shocking to me that I made the starting squad on the district playoff team. That was pretty nice for being a seventh-grader.
"Eighth grade was pretty much the same thing, only I had more experience. That's when  it clicked that I could be successful at this, so I wanted to pursue it. In high school my game really started to improve. I had some good finishes in district tournaments and my averages kept coming down."
St. Ed's varsity golf coaches Rick Hartley and Scott Mohr guided Meadows through the rough in those middle and high school years. Serious high school golfers generally have private coaches, and we know Meadows has a household connection in that sense. The school coaches generally focus on the team approach to competition while chauffeuring the players to practices and meets. All of that has worked for Meadows.
"I'm going to play for a D-1 program at McNeese State University in Louisiana. I started shooting good scores in tournaments outside of school and that's where you really get noticed by college golf coaches. The coach at NcNeese liked some of my scores and told me to keep him posted. I did exactly that and he contacted me to come for an official visit.
"That's when I made my final decision. It was a no-brainer. I'm originally from that (Lake Charles) area and both of my parents went to school there."
Based on conversations with previous St. Ed's graduates, Meadows is confident that he will flow into the academic scene quite seamlessly. He is considering going into business, journalism or sports management – and finding a means to weave in his passion for golf. Although his 18-hole average as a senior was a sparkling 76, the spotlight will soon get much brighter.
"I drive the ball fairly straight with good distance, so that's probably my strong suit. My putting is getting better, but I've got to work on placement with my iron shots. My game is pretty consistent.
"I'm already pretty serious about golf and I have a good work ethic. The players are really good in college, so I've just got to keep grinding and doing the things I'm doing, only better and with more intensity."