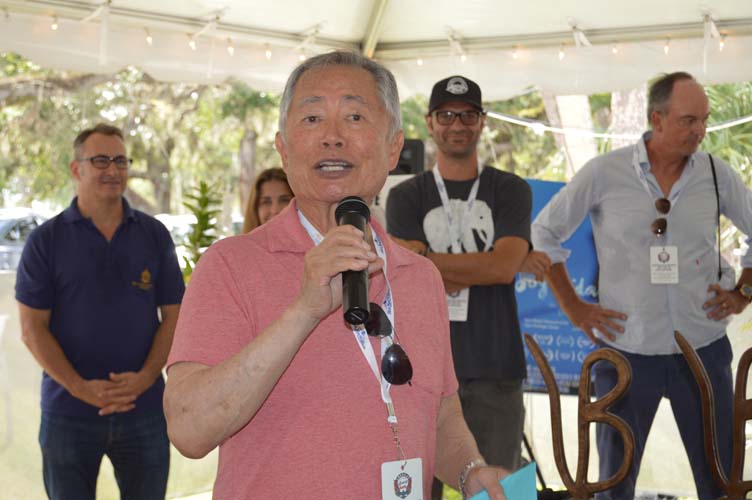 Picking up the thread from last week's issue, the third annual Vero Beach Wine & Film Festival was in full swing Saturday afternoon, with pass holders flitting from film to film, pausing periodically to participate in wine seminars and tastings in the WOW (World of Wine) tent at Riverside Park.
"George Takei (festival honoree) autographed my festival founders pass and he wrote 'You're transporting!' That's our mission: To transport our audiences for the weekend," said festival founder Jerusha Stewart. "To show them what's possible when you're really committed to your dreams, like our filmmakers and winemakers. I hope that after the weekend is over, they take some of that feeling home with them and transform some part of their lives."
"Jerusha is a jewel to have in Vero Beach; a real treasure," said Brad Takei. "George and I have done many film festivals over the years and I find her to be the crème de la crème. I hope that she can grow the festival and make it truly Sundance east. The possibility of that is definitely real."
He said they thoroughly enjoyed their visit, adding, "the people are genuinely friendly and I thought the content of the festival was outstanding. George's real message is diversity; that we've got to create a more welcoming world for everybody. And I think that the program really reflected that diversity."
"It's such a wonderful thing to have a film and wine festival; two things that I love," said Mark Tchelistcheff, director of "André – The Voice of Wine," before its screening Saturday afternoon at the Vero Beach Museum of Art. He is the grand-nephew of the movie's namesake, famed winemaker André Tchelistcheff, whose passion and artistry transformed the California wine industry.
"What's nice here is it's very intimate; very relaxed. You can see the audience responding, which creates a nice experience for the filmmaker," said Tchelistcheff. "The people are wonderful; open and friendly."
"This year we've added the Gospel Brunch and Dining with Directors. We've never had anything that was specifically for the filmmakers to mingle with the public," said festival co-founder Susan Keller Horn of the two events held at the American Icon Brewery. "I love the filmmakers that I've been in touch with. They are so gracious and love speaking to people about their films and answering questions. It's a great opportunity to mingle with people who you normally would never get to meet."
The Sunday morning Gospel Brunch featured vocalist Tunisha Hill and the Sound, singing powerful songs of praise as attendees sipped mimosas and noshed on the proffered buffet. The brunch was so well received that the food was gobbled up within an hour, leaving latecomers to wait for replenishments.  No doubt that aspect will be tweaked next year.
"When someone makes a suggestion, our phenomenal committee is on it," stressed Stewart.
For example, comments about the previous abundance of plastic eating and drinking utensils led to this year's eco-friendly ware.
George Takei and husband Brad again graciously mingled with Sunday's Fête Finale attendees, making the experience even more special.
"In a way, his legendary status comes just as much from what he's done off screen as what he's done on screen," she added. "There were probably just as many people who were familiar with him from 'Star Trek' as knew about his humanitarian work."
"I'm a little bit of a Trekkie, but I'm a huge George and Brad Takei fan," added Horn. "They spread joy and love among all our guests and are an inspiration to all of us."
"Thank you volunteers; you're the ones who make things happen," said Takei, after receiving a card signed by all the volunteers. "Thank you Vero Beach; the welcome has been fantastic. We're all smiling faces, and that's what I'll remember."
Grant Korgan, whose incredible journey as the "first spinal cord injury athlete to literally 'push' himself to the geographic South Pole," was featured in the inspirational film "The Push," elicited tears of emotion as well as smiles with his passionate acceptances of both the Audience Award for Documentary Feature and the Life Worth Living Film Award.
Stewart said the second award is given to a film that exemplifies the Life Worth Living theme of the festival as well as the message of the Suncoast Mental Health Center, the festival beneficiary.
"Vero Beach, thank you so much!" roared Korgan with enthusiasm. "We are overwhelmed with gratitude in just abundance; you guys have been amazing. To win this award is unbelievable; this moment means the world to us."
Wife Shawna Korgan stressed the importance of keeping hearts and minds open to those who are struggling, and to reach out if you need help, adding, "You are all part of the 'push' family and the 'push' movement, and that's what it's about; enduring the human spirit within us all."
"I am a huge film fan; I love independent and foreign films," shared Cynthia Putnam, owner with husband Bob of Boston Barricades, an event sponsor.
As the co-executive producer of her friend's dramatic short, "Home Auto Life," she was excited to see both the audience's reaction and her name on the credits. "To have this in Vero Beach is just amazing to me."
"The biggest key to a film festival thriving and growing for years and years to come is attendance, and every screening of every film the entire weekend was absolutely packed," said actor Mike McNamara, star of "The Replacement." He also noted with appreciation that organizers had taken care of the filmmakers with passion and heart.
Stephanie Martino, director of the Florida Film Institute, which had two films in the student category, thought the selections were interesting and rich. As a former executive director of the Miami Film Festival, her advice is to continue choosing quality over quantity.
"It's those little gems that you find before it's released into distribution that make the difference," said Martino. "It's all about the love of film; it brings people together. There is nothing more magical than going into a nice dark, cool place where you can let everything go and just watch this big beautiful screen and get into that moment."
For more information, visit vbwff.com.   
And the winners are:
Life Worth Living Film Award – "The Push"
Jury Awards:
Narrative Feature – "Touched"
Documentary Feature – ""Andre – The Voice of Wine"
Dramatic & Documentary Short – "American"
Comedy Short – "The Replacement"
Audience Awards:
Narrative Feature – "Funny Story"
Documentary Feature – "The Push"
Dramatic & Documentary Short – "American"
Comedy Short – "Self Control"
Photos by: Denise Ritchie, Mary Schenkel and Stephanie LaBaff
Click HERE to see more or buy photos