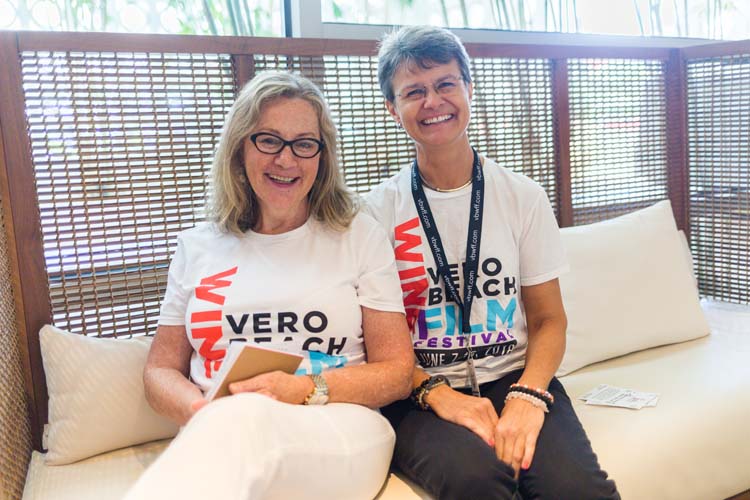 The Vero Beach Wine & Film Festival surged into its third year last week, offering up sizzling days and nights filled with an even further expanded number of films, wines and special events. Each of the venues was a hotbed of activity, offering film genres from comedy shorts to documentaries and feature films, and the WOW (World of Wine) tent was THE place to be for oenophiles.
Prior to the presentation of the Life Worth Living Legend Award to actor/activist George Takei at Friday's Cinema Uncorked Opening Night Awards Bash, VBWFF founder Jerusha Stewart and co-founder Susan Keller Horn made a special announcement.
"When I had the idea to start the festival three years ago, Susan and her husband Darrell Horn, the most loved veterinarian, I think, in town, were very generous to loan the festival organization $20,000 to get started," said Stewart.
"It has been such a pleasure to be part of this festival," said Susan Horn, announcing that as the festival pays back the loan, the money will go directly to Suncoast Mental Health Center, the beneficiary of the festival. The VBWFF is now its own 501(c) 3 nonprofit.
A new Wine Film + Fashion Show at the Vero Beach Outlets had kicked things off the Sunday before the main events, with a 'Sip! See! Style!' adventure featuring wine samplings, culinary delights from Wild Thyme Catering and a showing of stylish outfits from Outlet stores.
"It's like a dress rehearsal for the weekend," said Stewart.
The festival began in earnest on Thursday, with the first of the film screenings. "We've made it so each one of them is their own little jewel of a screening this year. We looked at each of these films individually and created or crafted something," Stewart explained.
Later that evening the sold-out Vino Veritas Vintner Dinner at Costa d'Este Resort featured wines by Robert Rex of Deerfield Ranch Winery in Sonoma County, awarded 2018 Winemaker of the Year at the American Fine Wine Competition.
"This is like a family reunion!" whooped Stewart with her distinctive laugh, watching as 100 guests sipped champagne, packed shoulder to shoulder on the patio outside the Crystal Ballroom. "We built this really solid wine and film community and they're all here having such a fun time. Today we had our first film at the Heritage Center and practically all the seats were filled."
"What's really enjoyable is to see how the program has grown over the last couple of years," said Vero resident George Taber, author of "Judgment of Paris: California vs. France and the Historic 1976 Paris Tasting that Revolutionized Wine."
The excitement level ratcheted up with the arrival of George Takei and husband Brad Altman Takei, who both charmed with an easy bonhomie, chatting and submitting to endless selfies.
Rex, a self-professed 'Renaissance man' with a jaunty handlebar mustache, said he began making wine with his wife in their garage in 1972 before opening Deerfield Ranch Winery in 1982. "We still learn something new every day," said Rex, who gets grapes from various organic, sustainable vineyards and runs a very 'green' winery.
Rex's selections – Deerfield, White Rex; Arroba, Merlot; Arroba, Cabernet and Deerfield Red Rex – were deliciously paired with outstanding gourmet dishes from Executive Chef Armando Galeas: crab-mango ceviche, confit duck risotto with shitake mushrooms, sous vide coffee-rubbed venison loin and dark chocolate panna cotta.
Crediting VBWFF wine director Bob Stanley, Stewart said weekend tastings would include close to 100 different wine varieties; some so rare, "they don't usually come out to play."
Responding to a standing ovation, Takei elicited roars of laughter – and more than a few Vulcan salutes – uttering his signature catchphrase, "Oh My!"
Takei commented on the sense of passion binding filmmakers and winemakers who all love what they do, before thanking everyone and signing off with, "Live long and prosper!"
At Friday morning's Movies in the Morning at Grind + Grape, festival goers sipped mimosas while watching "The Root of Happiness" before chatting with its writer/director Andy Truschinski. Throughout the weekend, these sorts of intimate conversations were well received by film buffs and aspiring filmmakers alike.
Also Friday, the animated feature "My Life as a Zucchini" was presented by Suncoast Mental Health Center. Now in its 20th year, Suncoast provides counseling, case management and psychiatric services to children and adults on the Treasure Coast.
The poignant film showed abandoned children in a foster home, struggling to make sense of their new reality and learning to trust new friends.
"I know this is an animated film, but it really does depict the stories that the children in our four-county area deal with day in and day out. One in five children and adults has mental health issues or concerns, which impacts everybody," said Debra Engle, Suncoast CEO. Thanking organizers, volunteers and filmmakers, she added, "through film we can show what happens in the lives of people."
Some of the 60 filmmakers and 30 wine vendors paused to talk shop and network with their contemporaries at a VSP (Very Special Person) Party at Grind + Grape Friday afternoon.
"We wanted to give them the red-carpet treatment," said Heather Stapleton, logistics director. "We love the fact that they come from all over the world to Vero Beach to be a part of our festival. This is a way to celebrate them."
Friday evening kicked off with Cinema Uncorked at Riverside Theatre, featuring presentations of VBWFF Awards to winning filmmakers, the Life Worth Living Legend Award to honoree George Takei, an interview with Takei and Emmy Award-winning film critic Jeffrey Lyons and a screening of the film "To Be Takei."
With his instantly recognizable voice and characteristic wit, Takei shared stories of his life as a child imprisoned with his family during World War II simply for having "this face." Later he would again be persecuted; this time for being gay. Takei is now an activist for both issues, likening his childhood internment to the current political climate with its frighteningly similar immigration policies
His advice to aspiring filmmakers? "Hang in there. One thing guaranteed is rejection," said Takei, noting that to succeed, people must have the strength to spring back.
Afterward, everyone made their way to the WOW tent, where Chef Ashley had created a 40-foot grazing table – a cornucopia of savory and sweets to pair with generous pours from the various vintners.
Saturday morning the Vero Beach Theatre Guild was abuzz with excitement with the presentation of the Next Up Young Filmmakers Award and the Vero Visions Award to films reflective of "a life worth living," representative of the festival's theme and beneficiary, Suncoast Mental Health Center.
"It's OK to ask for help," said Stewart. "The film projects are a way for us to have a discussion point for people to know that this is something you can talk about. Your mental health is just as important as your financial health and your physical health."
Vero's own Chloe Cappelen received the Next Up Award for "Poison Park," enabling her to spend time on location with director Jeff Woolnough on the set of "The Expanse." Christian Garcia, former co-owner of the Patisserie with the late Mark Edmonds, announced that she will also receive $1,000 from the Mark Edmonds Foundation in his memory.
The Vero Visions Award was presented to "¿Cómo Fue? A Cuban Journey," about Guillermo Vidal, now a Vero Beach resident, who arrived in the United States from Cuba as part of Operation Pedro Pan and overcame odds to become mayor of Boulder, Colo.
Afterward, a film panel hosted by Lyons with Vidal, Takei, "American" director Richie Adams and "Her Magnum Opus" director Marta Renzi provided an interesting contrast in viewpoints.
When asked what they draw from to create cinematic art, Takei replied, "I think all artists are shaped by the human society that we live in."
To which Vidal added, "All you can control is how you behave and how you tell your story. So tell it as truthfully and as beautifully as you can, and then it is up to everybody else to accept it and to learn from it."
Additional Saturday events and VBWFF Sunday events will be featured in next week's issue – stay tuned.    
Photos by: Denise Ritchie, Gordon Radford,
Mary Schenkel, and Stephanie LaBaff
Click HERE to see more or buy photos