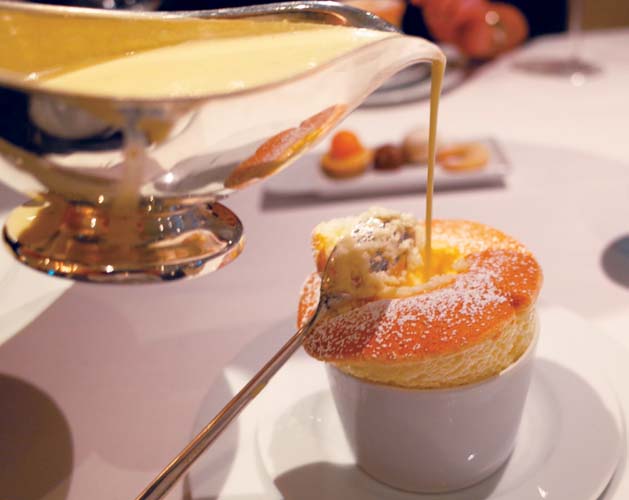 Talk to any veteran cruiser, and you are likely to hear the lament that cruise ship dining is not what it was in the good old days.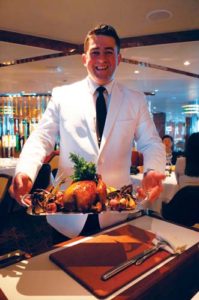 This is for the most part true, and actually quite understandable.  Ships – even those of upscale lines – keep getting larger; it's tough to prepare haute cuisine for hundreds of diners, let alone thousands; and as cruise lines compete for passengers, the cost-cutting needed to hold fares down has impacted not just the quality of ingredients, but service as well.
Recently, a number of cruise lines have attempted to mask this decline through high-profile deals with celebrity chefs, who variously serve as menu consultants or lend their names to shipboard "specialty" restaurants (where passengers can dine at an extra charge).
We have experienced the cruise ship cuisine of Iron chef Jose Garcas, Food Network star Geoffrey Zakarian, celebrity chefs Jamie Oliver and Todd English, and James Beard Award-winning chef Michael Schwartz, among others, and have generally been less than wildly impressed.
But for the past two weeks, we have been sailing aboard the newest ship of a cruise line that has partnered with another celebrity chef, Thomas Keller, and have found the total dining experience unrivaled by anything we've hitherto seen or tasted at sea.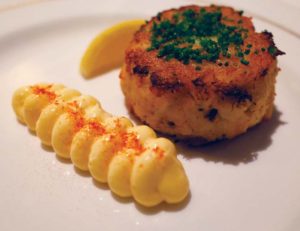 Keller is, of course, founder of the French Laundry in the Napa Valley and New York's Per Se – both Michelin three-star restaurants – and his restaurant aboard the Seaborne Ovation, simply named "The Grill," is his fifth for this ultra-luxe cruise line.
This steakhouse is unlikely to win Keller more Michelin stars, but it's mighty fine dining with tableside preparations of everything from Caesar salads to Dover sole meuniere. And with a menu that focuses on Keller's versions of iconic dishes, I would rank The Grill overall right up there with some of the best chop houses in Florida.
While on our first visit we savored Snake River Farms rib-eyes from the same purveyor who provides steaks served at the French Laundry, on our second visit I persuaded my husband to join me in the roasted free-range chicken for two, a gorgeous bird carved tableside and served with thyme jus (along with sides of crème fraiche whipped potatoes, wilted spinach and sautéed mushrooms scented with brandy).
I love a good roast chicken, and the classic Thomas Keller recipe produced one of the juiciest and most delicious tasting roast chickens I have put fork to.  With crispy skin and tender breast meat, even my husband (not a chicken enthusiast) had to reluctantly agree it made for a great meal.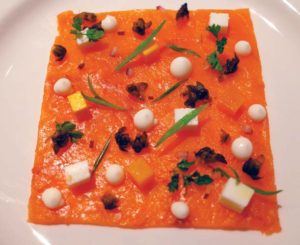 While The Grill is not quite as difficult to get into as the French Laundry, most nights on this recent cruise found us taking dinner in the Ovation's gourmet dining room, named simply The Restaurant.
My husband would tell you the best part of these evenings came at dessert time, when each night The Restaurant featured a different souffle. Pistachio souffles, bittersweet chocolate souffles, hazelnut souffles, tangerine souffles, bourbon whiskey souffles – he had them all, each airy creation a thing of perfection.
And Keller's influence is found in The Restaurant as well.  Several nights a week, the dining room features a "Thomas Keller selection" not offered in his eatery.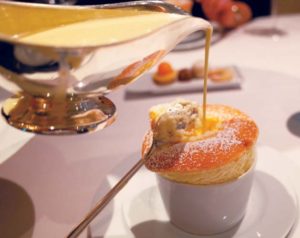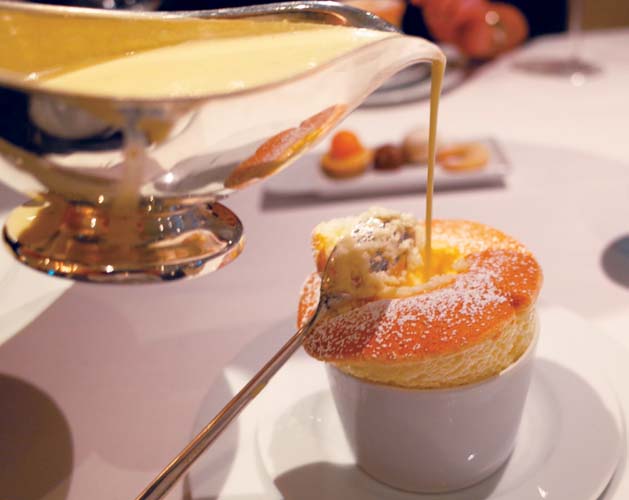 On one evening, I feasted on his Sonoma Duck Breast "Poele" with crispy "rillettes," glazed Harukei turnips and pickled blueberry "gastrique;" on another, I had a mouth-watering herb-roasted saddle of Elysian Fields Farmlamb with ratatouille.
These experiences were highlights of two weeks of cruising and dining aboard the Seabourn Ovation. If there is a better culinary experience to be had at sea, I haven't yet found it – but I welcome reader comments and suggestions.
The writer, who reviews restaurants for Vero Beach 32963, currently is on holiday.