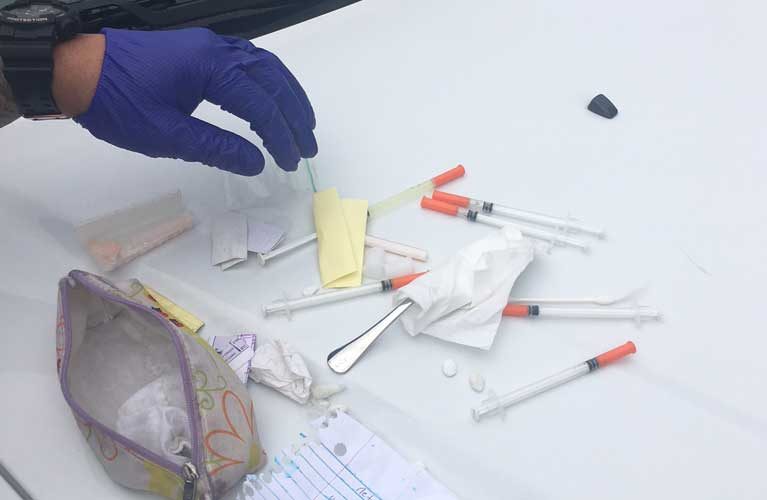 VERO BEACH – A woman who scammed family and friends out of money to cover cancer treatments and  "help" the Sheriff's Office "catch a dirty cop" was arrested Monday afternoon, accused of violating her probation.
The woman, identified as 32-year-old Heather Grey, of Vero Beach, reached out to family and friends via social media, first asking for money to help pay for cancer treatments in $60 to $75 increments, according to the Sheriff's Office.
Later, Grey began asking them for funds because she said she was working with Sheriff's Maj. Eric Flowers to "catch a dirty cop" and needed funds to "set him up" – referring to the alleged dirty cop, the Sheriff's Office said.
Grey was not, in fact, working with the Sheriff's Office, and, instead was trying to get money for the purpose of buying drugs, according to officials.
Investigators obtained a search warrant for Grey's home and discovered several needles in her possession, including one loaded with a brown liquid authorities believed to be an opioid.
"The opioid epidemic is very real and Heather Grey is a perfect example of what we have seen in our county," Sheriff's Deryl Loar said. "She has been lying to her friends and family about having cancer to get money for drugs. Since her arrest, we have heard from dozens of people who all heard the same story about needing cash for cancer treatments."
Sheriff Loar said that, while many people did not give her money as requested, authorities have confirmed that approximately five people did – using Facebook and Paypal.
Grey was initially arrested for violating her probation, which stemmed from an original arrest on theft charges from CJ Cannons in Vero Beach where she used to work. She remains at the Indian River County Jail without bond for violation of probation warrants.
Further drug charges are pending while the investigation continues into the extent of her scams.
Grey is also considered a person of interest in the recent scams where a caller was posing as Maj. Flowers telling people they had outstanding warrants and demanding payment via gift card.
The Indian River County Sheriff's Office is seeking any other victims of Heather Grey. Anyone with information about her should call (772) 978-6075.