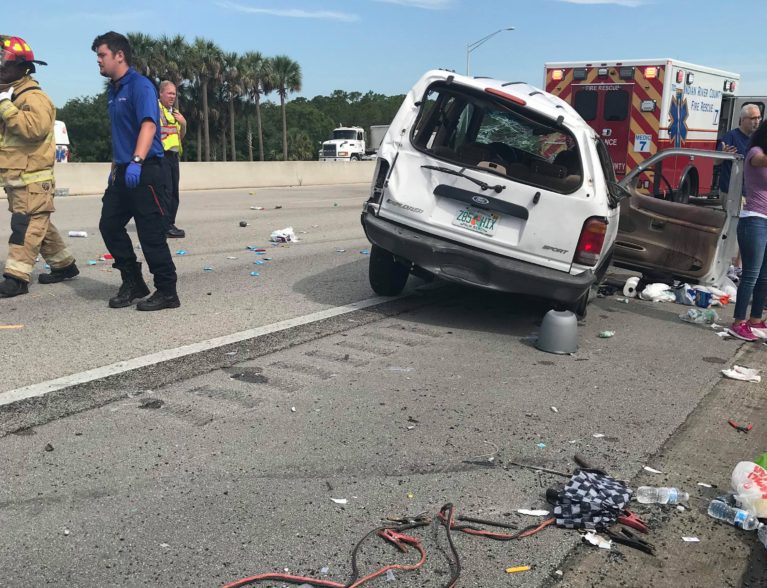 Photo provided by Jamie Beck
INDIAN RIVER COUNTY — Florida highway troopers identified a woman killed in a rollover crash that blocked traffic on northbound Interstate 95 for nearly five hours Tuesday.
The crash happened at 9:45 a.m. Tuesday on northbound I-95, near the 145 mile marker.
Troopers said passenger Silvana Lopez, 50, of Lake Worth, was pronounced dead at the scene. Lopez was the only occupant not wearing a seat belt at the time of the crash, reports show.
Another motorist traveling behind the vehicle in which Lopez was a passenger said the woman was jolted in the air during the crash.
Two other women who were also passengers in the vehicle, Doris Vazquez, 41, of West Palm Beach, and Doris Gonzalez, 47, of Lantana, have serious injuries, troopers said. The driver, 23-year-old Mariana Orellana, of West Palm Beach, has minor injuries.
Vazquez, Gonzalez and Orellana were taken by ambulance to Lawnwood Regional Medical Center & Heart Institute in Fort Pierce for treatment, according to troopers and Indian River County Fire Rescue spokesman Cory Richter.
Lopez was traveling as a passenger in a 1998 Ford Explorer with the other women on the interstate. Orellana, for an unknown reason, lost control of the sports utility vehicle.
The vehicle veered from the center lane into the paved shoulder and overturned, troopers said. The SUV finally came to a stop partially in the outside lane and in the paved shoulder.
The crash was just south of State Road 60 and east of the Fort Drum Wildlife Management Area in west county.
Witness Reaction
Motorist Jamie Beck said he was only 50 yards away from the white SUV when he saw the vehicle veer to the left and right, and then rollover multiple times. While the vehicle overturned, Beck saw windows breaking, items flying out of the vehicle and a woman's body hurled about 20 feet into the air.
"She had a faint pulse," said Beck, 46, of Sebastian, about him checking on the woman after the crash. "It was a chaotic scene."
Beck, who manages Action Equipment shop in Vero Beach, said he had just picked up a piece of metal from Apple Machine and Supply in Fort Pierce and was on his way back to the store. When he saw the Ford Explorer overturn in front of him, he got out of his vehicle and went to help those who were hurt.
"The (vehicle) was smoking. I thought it was going to catch on fire," Beck said.
Other motorists also stopped to help and called 911, Beck said. Law enforcement then arrived soon after.
"I've seen a lot of crashes, but this is by far the worst one," Beck said. "Put your seat belts on. It can make a difference."
Photos provided by Jamie Beck