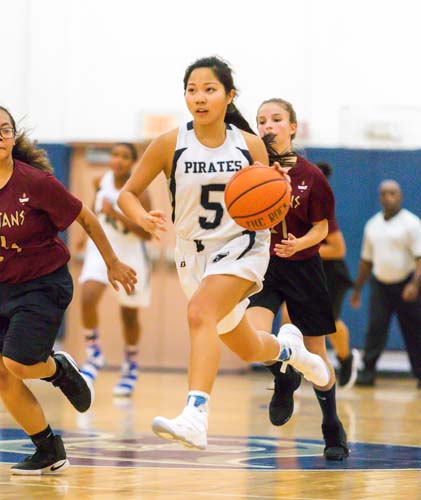 It's beyond axiomatic that identical twin sisters Tea and Trisha Tee share a lot in common. In addition to coming into this world just minutes apart, they started at St. Ed's in kindergarten and made it all the way through high school as best friends.
Also well-established is a dual legacy of outstanding accomplishments in every area of school life. Both will enter a pre-med curriculum in college. Aspiring to be medical doctors has a genealogical component as well. Their father is a cardiologist.
Arriving at a crossroads in life, the sisters decided to up the ante. Knowing that the next chapter was about leaving the comforts of home, they decided it was time to separate, fully aware that some hurt would be involved.
"We actually considered going to college together," Tea said. "But when we looked at what we wanted to see in a school, we saw ourselves going in different directions. It wasn't intentional that we didn't want to be together. It's just that we didn't have the same college life in mind."
Both applied to Georgetown and Boston College, and were accepted at BC. When they realized that being together would be the main reason for going there, it just didn't seem right.
"We thought it would be better to go to different schools so we could learn more about ourselves – and how to be independent," Trisha said.
The upshot is that Trisha will be going north to McGill University in Montreal while Tea is going south to the University of Miami. Trisha wants to be a cardiologist like her father. The pathway ahead for Tea is still emerging at this point. "Right now my major at Miami will be biochemistry," Tea said. "There are a lot of research opportunities there, and the sciences are my thing. I may go into psychology … But overall I will be on a pre-med track. The goal is to be a medical doctor."
The twins were highly motivated in athletic activities as well. They were together on several varsity lacrosse teams, but Trisha drifted toward volleyball and soccer, while Tea took to cross country and basketball.
"Basketball is definitely my favorite," Tea said. "I like the quick pace, it's fluid, and you have to get into that mindset. I started playing in sixth grade with Maya (Jenkins). She encouraged me to play because she wanted a buddy."
Notably, in the ensuing years under head coach Paula Robinson, the Maya Jenkins/Tea Tee combo resurrected a girls basketball program that was on the verge of collapse. While basketball was always No. 1, Tea keeps cross country and lacrosse in the discussion.
"I definitely want to keep up with all the sports that I've done," Tea said. "For basketball and lacrosse I definitely want to do something like club or intramurals. For cross country I will just go on a bunch of nice runs around campus.
"I always thought that cross country was a solo sport, which was something I wasn't used to. You learn a lot about yourself because it is all in your head."
Tea went out in style as a senior. She averaged just under 11 points and four steals per game while constantly disrupting her opponents with tons of energy on the basketball court. She contributed nine goals and three assists for the 13-1 lacrosse team.
To cap it off, the Treasure Coast Sports Commission recognized the top male and female student-athletes from 20 area schools. Tea Tee received the female award this year at St. Ed's.