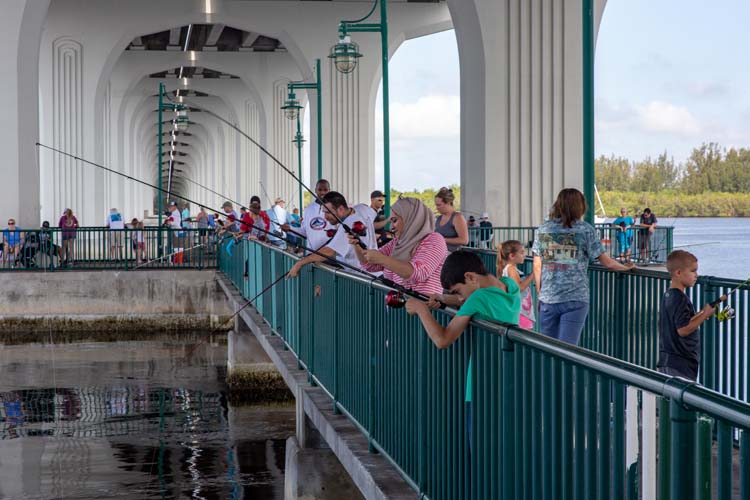 One of the coolest spots in town last Saturday morning – weather-wise and as an angling adventure – was at the 28th annual Take a Kid Fishing Tournament, hosted by the Kiwanis Club of Vero-Treasure Coast.
Youngsters peered excitedly over the railing of the Barber Bridge's shaded fishing catwalk, laughing with glee as they caught fish after wiggly fish; crying out with expressions such as "I got one!" "It's a stingray, a big stingray!" and, of course, "What do I do??"
"The catches have been bigger than I ever remember," said event chair Jim Wolfe. "A black drum was so big it broke the line; it would have needed a net."
"We're going to add a new prize – too big to land," said George Fetterolf. The new prize will join others awarded in two age brackets.  "It was probably about 24 inches and 15 pounds; the biggest I've ever seen here."
Each year, the club sends flyers to schools and youth-oriented nonprofits, inviting children ages 5-12 and their families to attend the free event.
"The local tackle shops give us a lot of support; they provide hooks, sinkers and prizes," said Wolfe, referencing Professional Outfitters, Man O War Fishing Company, Discount Tackle and the Pipe Den.  "And Vero Tackle provides all the shrimp for bait."
Kiwanis volunteers were joined by Key Club members from local high schools to lend out rods, untangle lines, cut up bait shrimp, measure and mark catches, and remove hooks from the wriggling creatures before tossing them back.
As usual, newcomers were a little unsure about the "icky" parts, but seasoned anglers had no qualms.   And while some anglers had bites soon after dropping their lines in the water, others quickly learned that fishing can be a waiting game.
"It teaches them patience; it's not that instant gratification that everyone expects these days," said Staffan Lundberg.
"The best part is seeing the kids with a fish on their hook; they're all so excited about what they caught.  And then, of course, everybody enjoys a good cookout. They may not catch a fish, but they can get a hotdog."
Children and their families were all treated to burgers, hot dogs, chips and assorted sodas immediately after the festive fishing frenzy.
"To incorporate the natural environment of the ocean and marine life into a day of action and participation for the children of Vero Beach and surrounding area, makes us all very, very happy," said Carolyn Mac Evoy.
The Kiwanis Club sponsors a variety of community service and fundraising events throughout the year and annually provides college scholarships to high school seniors.
Winners
Ages 5 to 9
William Nesper, most fish (16)
Elijah Dantel, ugliest fish (blowfish)
Kayden Wilson, smallest fish (3 inches)
Jayden Clayton, biggest fish (25-inch stingray)
Eric Stevens, most unique fish (hog snapper)
Colin Antoshia, the one that got away (2-foot black drum)
Ages 10 to 12
Isaac Garcia, most fish (13)
Ashlin Kline, ugliest fish (puffer)
Charlie Phillips, ugliest fish (star gazer)
Richard Hite, smallest fish (4-inch snapper)
John Clayton, biggest fish (23-inch stingray)
John Clayton, most unique fish (shark)
Ethan Laboda, most special fish (drum fish)
Photos by: Denise Ritchie
Click HERE to see more or buy photos