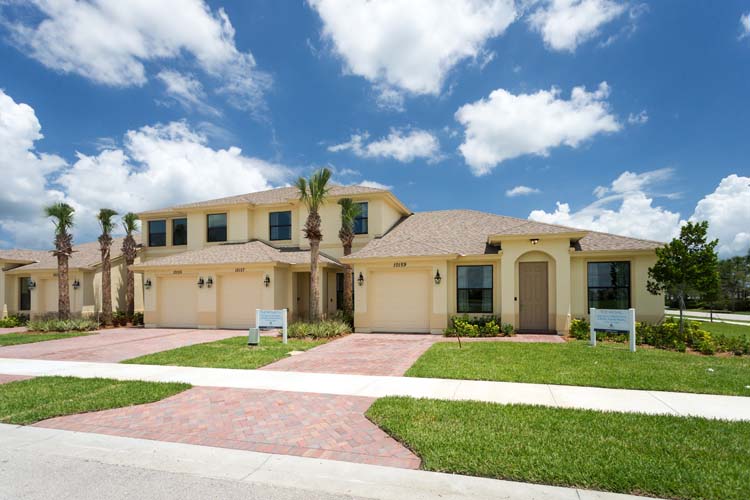 Verona Trace, a Lennar development, is offering some of the best prices for new housing in Indian River County. The homes are "smart" too, Lennar being the first homebuilder "Wi-Fi Certified" by the Wi-Fi Alliance.
The sprawling community, which includes single-family homes and townhouses priced between $185,000 and $250,000, is located at 98th Avenue and 12th Street, about half a mile west of I-95 and a mile south of SR-60.
That is at the outer edge of suburban development in the county, but still in a convenient spot, close to shopping centers and restaurants, with handy access to the interstate for commuters who work in Melbourne, Port St. Lucie or West Palm.
Lennar, the second-largest home builder in the U.S. and the largest in South Florida, has partnered with Amazon to put "Alexa" software in its Verona Trace homes, according to Bloomberg. The software allows homeowners to control most home systems – lights, HVAC, security and entertainment – with voice commands and goes hand in glove with integrated Wi-Fi networks carefully calibrated and structured for maximum effectiveness.
"Wi-Fi has become one of the most widely used and successful technologies of our day. It delivers over half of all internet traffic, and it's absolutely foundational to connectivity today," Kevin Robinson, Wi-Fi Alliance vice president of marketing, told Builder Magazine last year.
"Users want a seamless experience where the technology itself just fades into the background," Robinson added. "That's when you're truly successful as a technology, when individuals can accomplish what they need to accomplish but they almost don't even realize they're using the technology."
"Wi-Fi is no longer an option or an upgrade, but a key piece of new home construction," said Lennar Ventures president David J. Kaiserman.
After a home is sold, Amazon technicians visit the homebuyers to program, test-run and instruct them on the system's use and capabilities.
"To retrofit a house with the wiring these homes come with would cost between $18,000 and $30,000," said Lennar Area Sales Manager Barbara Wasinger.
Verona Trace is not new. It was launched in 2007, and 64 single-family homes and 57 townhomes in nine buildings were completed before the housing downturn brought things to a halt.
Instead of selling the property, though, Lennar let it lay idle until the market improved, relaunching in 2017.
Now the community is coming back to life. Homes are under construction, buyers are signing contracts, and the county recently approved construction of 4,075 square foot clubhouse with a fitness room, pool and pool deck.
When it is totally built-out, there will be 447 homes, including 156 single-family "estate" homes and about 290 townhouses. The development is laid out in quadrants with a square-shaped lake at the center of each section. The clubhouse and other amenities are at the center of the quadrants, creating a pattern like a four-petaled flower with the cross-pollination happening at the core.
Lennar is offering three single-family home designs with two elevations, which range in size from 1,805 square feet to 2,268 square feet and have starting prices between $230,000 and $250,000. One- and two-story homes are available.
There are three townhouse layouts, too, arranged in four-, six- and nine-unit buildings, priced between $185,000 and $197,000. All come with three bedrooms and a one-car garage.
"We have the best price in Indian River County," said Lennar New-Home Consultant Lori Russell. "For under $250,000 you can have a three-bedroom, three-bath, three-car garage home in a Homeowner Association community. The HOA fee is $133 a month and includes basketball, tennis, playground, swimming pool and club house."
All the homes have paver driveways that can accommodate at least two more cars outside the garage, while overflow parking is near the communal center, not on the street.
Russell said buyers at Verona Trace are "a nice, fifty-fifty mix of retirees and families."
Lennar is offering modest sales incentives to medical professionals, teachers, police officers, active military, veterans and firefighters, giving them a $1,000 discount.
City Furniture and Ashley HomeStore, local businesses that interior-designed and furnished the model homes, will give four hours of free design services to homeowners who buy more than $1,500 worth of their furnishings.
Lennar was founded in Miami in 1954 and has pioneered a number of homebuilding trends. The brand encompasses a range of specialty builders, along with mortgage, title, insurance and solar energy companies.
Active in 21 states, Lennar built more than 29,000 homes in 2017, generating $12.6 billion in revenue, according to the company website. Publicly traded on the New York Stock Exchange for the past 46 years, the builder has a market cap of more than $18 billion.
Vital Statistics
Location: 98th Avenue, between 8th St. and 12th St.
Developer: Lennar
Partner: Amazon, providing "smart" home features that allow occupants to use voice control to run various functions. Each doorbell is equipped with a video camera allowing owners to see visitors on their digital devices, whether they are home or not.
Wi-Fi Certified: Superior connections in every room for all wireless devices with no dead spots.
Community features: Tennis, basketball and playground are built; the clubhouse and swimming pool are coming soon.  Attention to landscaping, four large lakes and meandering sidewalks.
Exterior features: Concrete-block construction, brick-paver driveway, walkways and patios, automatic garage door opener, hurricane-rated garage door and hurricane shutters.
Interior features: Large ceramic tile, colonial-style baseboards and door casings, marble windowsills, stainless steel appliances, wooden cabinets, cultured marble bathroom counters, walk-in showers, roman tubs, pedestal sink in powder room, large washer and dryer.
Prices: Single-family home prices range from about $230,000 to $250,000. Townhomes are priced from $185,000 to $197,000, without upgrades.
Contact: Welcome Home Center, 10005 W. Verona Cr., 866-314-8481; https://www.lennar.com/new-homes/florida/treasure-coast/vero-beach/verona-trace-single-family