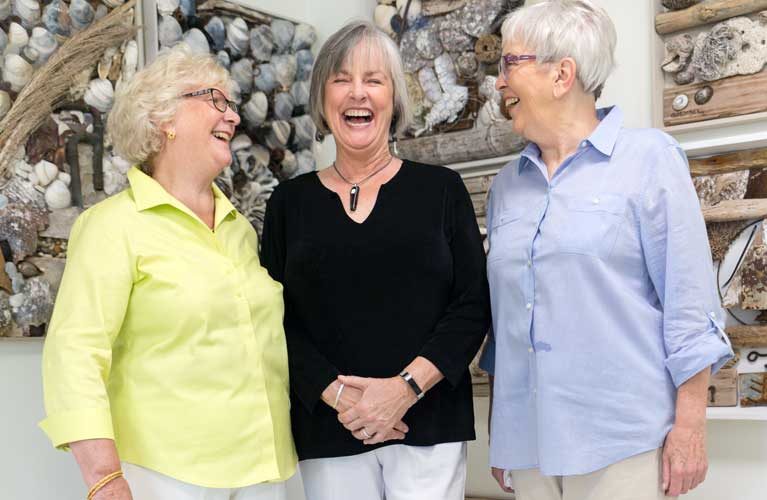 On a recent spring day in Florida, members of Vero's newest combined art gallery and studios gathered to discuss their recent move from a storefront in Sebastian's Village Square to a second-floor suite at 3349 Ocean Drive. All beachside residents (three of the quartet live in the same subdivision), Gayle Fayerweather, Elise Geary, Margaret Goembel and Andrea Lazar work well together as studio mates.
The aesthetic outlook of all of the women is nature-based. "We just work in different ways," says Geary.
Fayerweather, who was not present for this interview, is represented by three seascapes in the gallery; all show her interest in semi-abstract compositions with low horizons and vast skies. A painting on canvas and two smaller works on paper are almost monochrome in palette. In each, the ultramarine blue-and-white color scheme is relieved by a sliver of light brown at the bottom edge, where white foam meets sea-dampened sand.
Lazar is known for her paintings of animals; her medium is acrylic on canvas. She is currently working on a Shore Birds Series; on view are three paintings of ibises dabbling at the ocean's edge. On an easel, a work in progress depicts a flock of royal terns, resting on the beach and facing, as is their habit, all in the same direction.
Lazar has recently branched out into the human form – at least in part. Each of the three paintings in her Boot Series, titled "Mounted Boot," "Dusty Boot" and "Calf Roping Boot," shows the denim-encased calf and spurred boot of a cowhand at work. A fitting companion piece hangs nearby. Titled "The Stare Down," it depicts a trio of brown steers gazing placidly in our direction.
"We say she's working her way through the alphabet – birds, boots and cows," laughs Goembel.
Geary is an abstract painter, who is currently working in oil on canvas. Her 4-foot square painting, "Easter Morning," is one of the first things you see upon entering the gallery. The painting's atmospheric blue ground is marked by scattered clouds of color.
On the adjacent wall hang seven other paintings by her; among them an abstract that suggests the ocean's ceaseless flux.
"I didn't want to paint rocks, I didn't want to paint waves; I wanted to give the feeling of the force of waves hitting rocks," Geary says of the Turneresque painting she calls "Force of Nature."
Nature played its part in producing the materials Goembel uses in her assemblages of seashells, coral branches and driftwood. On display is her recent Boathouse Series, named for objects that might be found in such a structure: hinges, eye hooks, a weathered patent medicine bottle and a rusty eel spear – in addition to the organic treasures of Goembel's continuing Coastal Memories theme.
The popular success of her assemblages is surely on Goembel's mind as she speaks of going in a new direction with her art. While she still has "about 20" assemblages in progress, she looks forward to focusing on her work in paper collage this summer. Goembel has a store of papers she has pre-painted in vivid colors for the purpose; she intends to combine them with a selection of Asian papers she purchased on a trip to Seoul, South Korea, last year.
Ocean Drive Gallery is comprised of three rooms. The first is the gallery itself, accessed by stairs from the west side of the building or by a small elevator on the building's north (Beachland Boulevard) side.
The gallery room serves as a communal exhibition space as well as a studio for Lazar and Fayerweather. At the east end of the gallery are two smaller rooms with doors; these are Geary's and Goembel's studios. Each has a window that overlooks Ocean Drive.
It is hard to imagine that the doors to the studios of Geary and Goembel are ever closed; there is so much to see there. In Goembel's room hang recent assemblage pieces, including "Yellow Sea Fans" and "Horseshoe Crabs." On one long wall hang 10 white-framed paper collages, each composed around a different color note: orange, indigo and moss-green. Shelves in the room hold baskets and clear glass vases full of different-sized shells, coral branches and driftwood.
In Geary's room an easel holds pride of place. A long counter to its right holds a glass palette, a tray of brushes, and an array of solvents and tubes of paint organized in open wood boxes. Against the walls, completed paintings hang or lean in stacks. On this visit a commissioned work stood on the easel.
Measuring 36 inches high and 48 wide, the painting is a horizontal version of a Geary seascape that hangs just inside the gallery's door. That painting, "Transition," shows a blaze of light at the horizon of a dark blue sea; the sky above is a luminous haze of pink, blue and gold.
No matter how much space each artist occupies in the gallery, all agree that while their three-year tenancy in Sebastian was fun and productive, they have more buyers coming into the shop from Ocean Drive than they did off U.S. 1.
When they first began to think about relocating their gallery last fall, the artists initially thought of moving into a larger space at Village Square that had recently been vacated by photographer Greg Hills. It was Geary who suggested that "if we are going to move, let's move, move," meaning that the trouble of relocating would be the same whether they moved across the street or to another part of the county. So why not look around?
Geary credits Fayerweather for finding their current home away from home.
"Gail was the one who said we needed to move either to a location like 14th Avenue in downtown Vero, or we needed to move somewhere on the island. She was the best bird dog ever. She looked into for-lease signs everywhere and we followed up, visited a few places. Then she found this."
"We just jumped at it," says Lazar, to which Goembel adds, "It just spoke to us when we walked in."
The artists were delighted that the suite's walls were already painted white; its light-colored floors were another bright plus.
The neighbors are also to their liking. The artists of Ocean Drive Gallery hope to share an open house or two each season with fellow artists down the street at Palm House Gallery & Studio.
Like the entrance to Palm House, which is reached through an arcaded passageway and a flight of stairs, finding the Ocean Drive Gallery is worth the effort.
Ocean Drive Gallery is open from 1 p.m. to 4 p.m., Wednesday through Sunday afternoons, or by appointment.