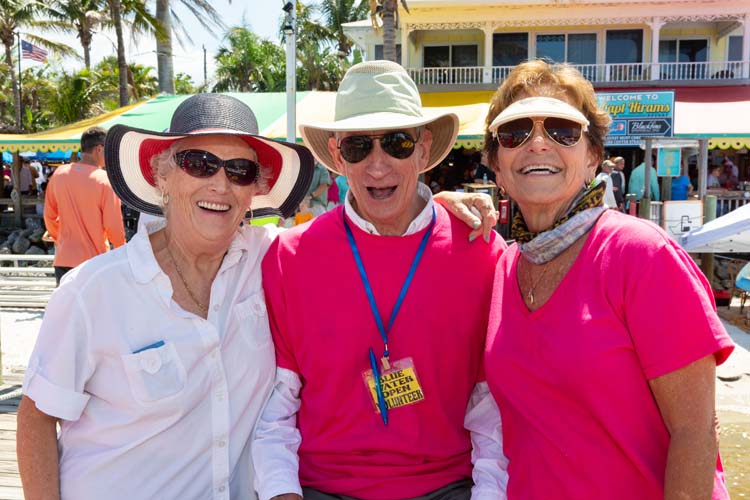 The morning of June 2 dawned brightly as 145 boats headed out in the early-morning hours laden with anglers, each aspiring to reel in the biggest catch during the Exchange Club of Sebastian's 25th Anniversary Blue Water Open Charity Fishing Tournament.
Capt. Hiram's served as tournament headquarters for the event, which kicked off Friday evening with a Captain's Party filled with fish tales about the one that got away and a bucket of good-natured ribbing about who would bring in the biggest fish and earn their share of the $19,000 purse.
"Afishionados" enjoyed raffles, auctions and drawings before turning in early, making sure they would be in peak form for the offshore challenge. There were Main Board payouts for top boat, junior and lady anglers, and for the biggest grouper, kingfish, wahoo and dolphin.
As participants baited their hooks and dropped their lines, the shine of the fish scales this year was amplified in celebration of the tournament's silver anniversary.
After a long day on the ocean, anglers headed back to Capt. Hiram's, where their catches were weighed and measured. Members of the Boy Scouts Venturing Crew were on hand to help the weary participants unload their heavy catches
The top boat weighed in at 63.55 pounds, the first-place grouper was 57.85 pounds and there was a wahoo at 51.15 pounds.
"It was nice and flat out there today. We saw a lot of action," said Shari Eggen of Team Easy Drinking, as she turned in her 23.35-pound kingfish.
The Exchange Club of Sebastian members cast their net wide in hopes that the tournament would reel in $65,000 this year.
"We've had a fantastic response and we're on track to exceed this year's goal," said Michael Natale, event co-chair with Eva Chapman.
Since the tournament's founding 25 years ago, the club has donated more than $567,000 to local charitable organizations.
Proceeds help members fulfill their mission of inspiring communities to become better places to live through three Programs of Service: Americanism, youth programs and community service, with the prevention of child abuse at the core of the programs they support.
Natale cited a new Youth Guidance program focused on child abuse prevention, adding, "the Exchange Club also fully funded the first year of the radKids program (Resisting Aggression Defensively) in Sebastian."
Natale said he was hooked on the organization after the first tournament he fished in, adding, "after that first fishing tournament I found out what the Exchange Club was really all about and I joined the club."
To get the next generation's feet wet, their club also hosts the Junior Blue Water Open each October.
"We take 40 to 50 kids out fishing for the day, usually from the Boys and Girls Club. It's one of the other ways we like to give back as a club," said Natale.
For more information, visit fishingforcharity.org.
Photos by: Denise Ritchie
Click HERE to see more or buy photos