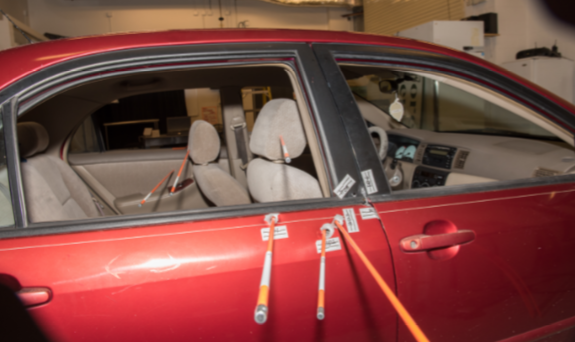 INDIAN RIVER COUNTY — A 29-year-old driver who investigators said fired 16 rounds from a 9 millimeter Glock pistol at another motorist – ultimately killing him – during a 'road rage' incident will not be charged, prosecutors decided this week.
The decision comes after the state attorney's office ended the investigation into the deadly Nov. 16 shooting involving Timothy Sartori, who deputies said shot and killed Dennis Hicks after Hicks threatened to shoot him. Hicks, a father of two young girls, was struck four times, including in the head and chest, as he sat in his red Toyota Corolla.
No firearms were found in Hicks' vehicle, reports show.
"Mr. Satori, without fear of increasing the danger to himself or Ms. Antler (Sartori's passenger), could have avoided this tragic encounter had he made an effort to retreat his vehicle," memorandum reports show. "However, as is now patently evident, in Florida, the present state of self-defense law does not require him to do so."
Florida, which allows residents to use deadly force as part of the Stand Your Ground law, allows for defendants to assert immunity from prosecution if they can show they were faced with possible great bodily harm or the threat of death. Prosecutors in Stand Your Ground cases have to prove otherwise.
In a 911 call that came moments after the deadly confrontation, Sartori claimed self-defense and told dispatchers that another driver, Hicks, had threatened to shoot him while they both were stopped at a traffic light.
"He looked at me and said what's your problem, and I told him I don't have a problem," Sartori told 911. "He said 'I'm going to put a bullet in your ass.'"
Investigators at the scene found Hicks' car in park and saw he was not wearing a seat belt, indicating that Hicks was considering getting out of the vehicle to confront Sartori, reports show.
Hicks' family was distraught after the shooting and called for Sartori to be arrested.
"He has no right to walk the streets," said Hicks' mother, Vera Thomason, 57, of Vero Beach, in November. "No matter what (Hicks) did, he didn't deserve to be shot down. I hope (Sartori) thinks about this for the rest of his life."
Hicks' family was not immediately available for comment Wednesday on the shooter not being charged.
Prosecutors said Hicks was "disabled" and had a suspended driver's license at the time of the shooting. They also pointed out both Hicks and Sartori's prior arrests.
Prosecutors mentioned that Sartori, a veteran, was being treated for post-traumatic stress disorder from serving as security in Iraq for a year.
Video taken by Nick Samuel Nov. 16. *Note for videos – Click the audio icon in the lower right hand corner for sound. 
.Indian River County Sheriff's Office Lt Thom Raulen gives more details on fatal shooting.

Posted by Nick Samuel on Thursday, November 16, 2017
Deputies responded to the shooting about 7 p.m. Nov. 16 at the State Road 60 and 53rd Avenue intersection, next to Applebee's and down the street from a Walmart. The victim, Hicks, 38, of Vero Beach, was found dead at the scene and was removed from his vehicle by emergency personnel.
Sartori, 29, drove himself and his girlfriend, Melissa Antler, 27, to a nearby parking lot and called 911 following the incident.
"I just shot somebody at the corner of State Road 60 and 53rd Avenue," Sartori told dispatchers.
Numerous people gathered toward the intersection and saw what appeared to be a body wrapped under a white sheet. Agents investigated Hicks' car, which was riddled with seven bullets.
A toxicology report showed that Hicks had traces of methadone, a drug that relieves severe pain, and a muscle relaxer called cyclobenzaprine.
Another vehicle, driven by a father along with his 3-year-old son in the back seat, traveling westbound was struck by the gunfire. The father and son were not harmed, according to deputies.
Sartori works as a sky dive instructor at an airport in Sebastian, reports show. He also served in the National Guard for six years.
Photos contributed by Hicks family
This story will be updated.