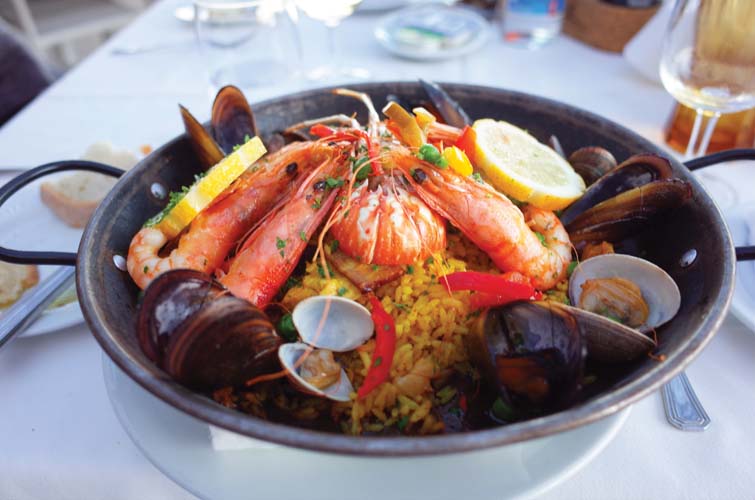 Many years ago, on a visit to Lisbon, we made a side trip an hour up the coast to the sleepy Portuguese fishing village of Cascais.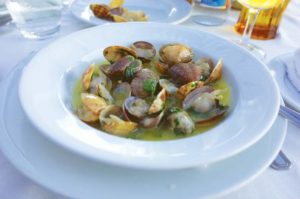 There, we lunched on some of the most amazing fish and langostinos – grilled fresh from the sea – that I've ever seen or tasted.
Last week, we returned to Cascais – now a cosmopolitan seaside resort – to recover from jet lag before embarking on a European cruise.
Our challenge during our all-too-brief stay: finding which of the 50 or 60 restaurants now devoted to seafood (this guesstimate may be on the low side!!) are serving the best fresh fish and crustaceans.
The four we wound up trying – based on a variety of recommendations – were Maria Pia overlooking the Cascais harbor; Mariscaria and Beira Mar, both across from the Cascais seafood market; and Furnas do Guincho, set on the rocky  Atlantic coast just north of Cascais.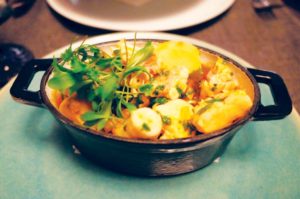 The first one we visited was Maria Pia, where through the windows, we could see fishing boats bobbing at anchor down below.
For starters, the proprietor suggested that I try the seaweed Brás – a uniquely Portuguese dish made with potato and egg – topped with a seared scallop.  The scallop was heavenly. My husband, meanwhile, had a half dozen oysters so fresh you could almost taste the sea.
We then enjoyed a caldeirada – fish stew based on what's available each morning in market. Tuesday was obviously a great morning, and the seafood and broth could not have been more flavorful.
The second night, we dined at Mariscaria, a restaurant just up from the harbor about a half block from the Cascais seafood market.
For starters on this evening, we began what turned into a nightly ritual – sharing a bowl of about three dozen tiny steamed local clams (regular readers may recall how I love steamed clams).
Then for entrées, I ordered the dourada – a very common fish in Portugal and Spain – which was grilled and served whole with lemon and just a touch of olive oil. Delicious. But my husband's choice was the hit of the evening – an enormous grilled octopus. Hard to believe those meaty arms could be so tender and succulent.
On the third night, we went to the restaurant next door to Mariscaria, Beira Mar. Once again, we started with steamed clams. Then for an entrée, I tried what I was told was the restaurant's signature dish – hake lightly battered and fried. A nice fish, but not my favorite preparation.
My husband, however, went for Beira Mar's rendition of bacalao – the classic Portuguese dried and salted cod – and pronounced it excellent.
The final evening, we ventured just outside town to a gorgeous restaurant, Furnas do Guincho. There, we feasted on what I thought were the tastiest clams of our visit, prepared with lots of garlic and spices.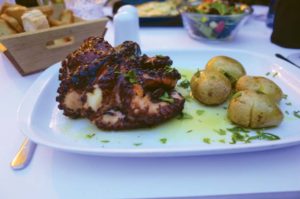 My husband then concluded our Portuguese dining experience with an excellent swordfish steak, and I had a beautiful and perfectly cooked seafood paella.
At this final restaurant, which was the priciest of those we visited, the swordfish was about $20 U.S. and the paella $35.  Entrées at the other restaurants were in the $17 to $24 range.  We also enjoyed excellent wines for $16 to $30 a bottle.
Notwithstanding the dollar's weakness against the Euro, Portuguese dining is a tremendous bargain.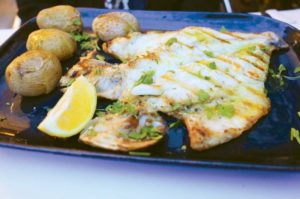 So the verdict?  If you just had one night in Cascais, we'd probably suggest Maria Pia. But were you to visit Cascais and dine at any one of these restaurants, you would not be disappointed.
I welcome your comments, and encourage you to send feedback to me at tina@verobeach32963.com.
The reviewer dines anonymously at restaurants at the expense of Vero Beach 32963.