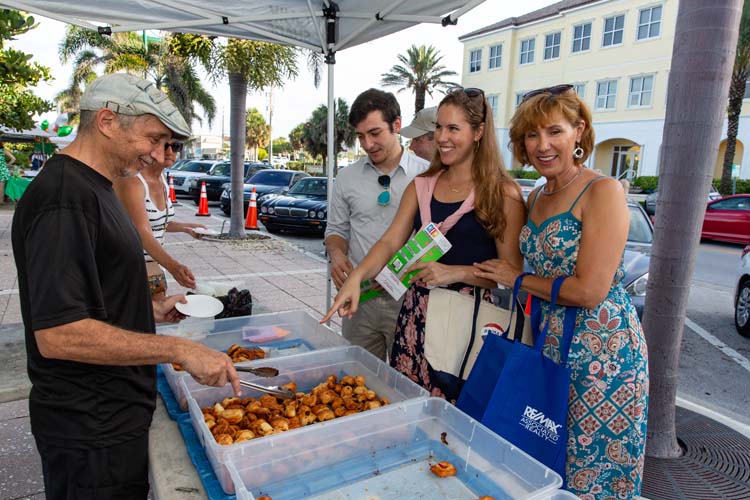 The Oceanside Business Association was put to the test with this year's Taste of Vero, but Mother Nature eventually sympathized – offering up a gloriously rain-free evening last Wednesday. It was a perfect night for a stroll along Ocean Drive to enjoy delicious tastings from some of Vero's most popular eateries.
OBA sponsors helped man the booths and various musicians entertained attendees as they waited to be served, chatting with old friends and making new ones.
"We always overcome whatever problems come up, but it's been a stretch to have the Taste of Vero this year on all angles," said Georgia Irish, OBA board president. An earlier-than-usual Easter pushed the date to May 16, but then severe thunderstorms forced a postponement.
"If it's a light rain or misty it's OK, but when the weather is really bad, we want people to be safe.  Riverside (Theatre) was awesome in working with us – not only selling the tickets but also helping those ticket holders who needed a refund – because that takes a lot of effort on their part."
A few of the 450 tickets were still available at the start of the event, but fortunately, the beautiful weather brought people out, leading to tickets and food being quickly gobbled up.
The restaurants presented an assortment of dishes to suit everyone's taste and, to wash it down, American Icon Brewery, Treasure Coast Seltzer, the OBA and Sip, Sip Hooray offered an assortment of liquid refreshments.
There were lots of seafood dishes, from the Green Marlin's yummy oysters on the half-shell and the Wave Kitchen's tuna poke, to the shrimp cocktails served up by Rhonda's Seafood and Joey's Seafood Shack (along with meltingly good eggplant), tropical crab salad from Vero Beach Yacht Club and Cobalt's seafood salad. Folks got a little messy eating Ocean Grill's crab cake stuffed mushrooms, and Counter Culture's zoodles with sautéed shrimp, but nobody minded. Ethnic foodies enjoyed Siam Orchid's spicy octopus salad and grilled pork, and Blue Agave's carne asada tacos, while those favoring simpler fare preferred Sean Ryan Pub's chicken salad, Artisan Café's buttery croissants and Bistro Fourchette's frisée salad with goat cheese crostini.
The Osceola Bistro booth drew long lines, and not just for the conch fritters and corn dogs. After Chef Chris Bireley announced the restaurant would close that week, many came to wish him well. "I'm a Vero-onian; I'm not going anywhere," said Bireley, adding that he hoped to find a partner and eventually open another restaurant. "Something's going to happen; it's all good. I'm ready for the next chapter."
Proceeds from Taste of Vero help fund beachside beautification projects, such as streetlight banners and flowers boxes; events including Sunset Saturday Night Concerts, Farmers Market, Christmas Parade and sidewalk sales; and various undertakings in conjunction with the city.
"We're a group of professionals that take commerce seriously and community seriously," said Irish.  "We care about what happens on the beach – from the safety aspect to beautification to the various business and restaurant sectors. Everyone has a piece of the pie down here and we're trying to keep it as friendly and cohesive as we can."
Photos by: Denise Ritchie
Click HERE to see more or buy photos