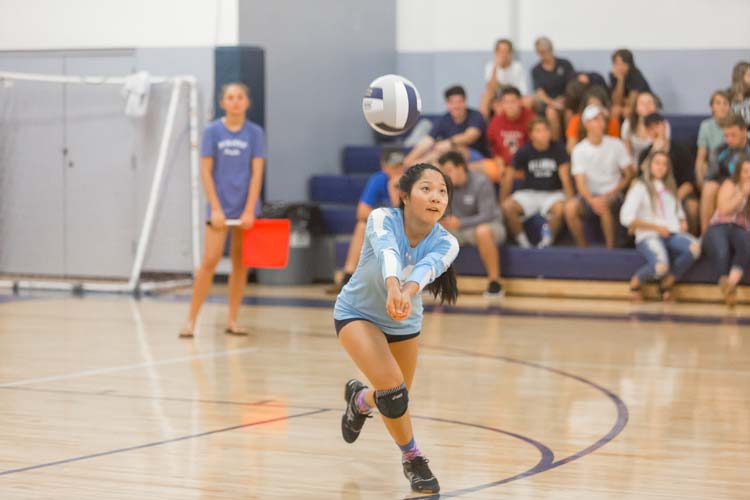 While striving to excel in both academics and sports at St. Ed's, Trisha Tee harnessed an irrepressible competitive spark that will continue to propel her onward toward a career in medicine. It will be a decade-long journey, and outcomes this early are always unpredictable, but one thing is certain: You can feel the heat from the fire that burns inside.
This brand-new high school graduate is looking forward to attending McGill University in Montreal. When she heads north of the border, with her will be a roll-up-your-sleeves-and-get-to-it approach that is as obvious as the determination that was on display in volleyball, soccer and lacrosse.
"I want to keep my options open, but I really like cardiology," Tee said. "My dad is a cardiologist and I want to study medicine, so I'm going into pre-med. That's four years of undergrad, four years in med school, and two years of residency."
McGill was one of the favorites from the beginning, in part because her mom is Canadian. Other factors included a desire to study abroad, as her older sister, Taylor (Class of 2016), is doing at St. Andrews in Scotland. Ultimately, though, it was a visit to Montreal in ninth grade that tilted the balance.
"I went to McGill for a Model U.N. conference and loved it there," Tee recalled. "McGill is a good school that has everything I was looking for. You feel like you are abroad, but I won't have to go across the pond to experience a different culture. I know a little bit of French and I plan to learn more when I get there."
Brushing up on French would be wise for everyday living in Quebec. However, new challenges generally don't faze this young woman. Her academic and athletic background at St. Ed's was not only about competing; it was about bouncing back until you are personally satisfied with the results.
"I played a lot of sports every year since sixth grade. It kept my schedule busy and I had to organize my time. I love school and academics first, but I also really like competing in sports. I learned how to balance things out and keep from going insane.
"Sports taught me to keep working hard and know my limits. I only played team sports, so I learned how to work with other people – even if I didn't agree with them. I know that will help me in the future when I meet and work with new people.
"Also, obviously there are losses in sports. But you learn to overcome, reflect back, and work even harder. That helped me with academics too. After a bad test score I always look back, see what I did wrong, and go from there."
We are confident those bad test scores were a rarity for a student presented with numerous academic awards in science, language (English and Chinese) and music (she plays the flute). She was part of St. Ed's all-girls Envirothon (competition involving environmental issues) team that won third place this year in a statewide competition.
The only thing that held her back over the past two years was a series of concussions. Nevertheless, she even found a way to turn that into something positive.
"My concussions occurred twice in soccer and once in lacrosse. Those were bad incidents, but again it helped me to overcome and move forward, especially during a period when I was preparing for college.
"I became intrigued about concussions and ended up doing a research project on concussion awareness for St. Ed's Advanced Scholars Program. It's a summer program for rising seniors with certain credentials. I was able to learn a lot about concussions from academic and real-life standpoints. It was nice to be able to put those two together."
Tee toyed with the idea of giving up contact sports altogether. She did not play lacrosse as a senior, but may be having second thoughts going forward.
"Varsity and club sports are available at McGill. I was planning on playing club lacrosse, but I'm still undecided because of those concussion issues. If not lacrosse, then I'm going to try out for the varsity volleyball team."
That would be a natural fit. This year Tee was named to the All-District volleyball team by the Florida Athletic Coaches Association.
One thing that won't be natural is separation from her identical twin sister, Tea. They have been at St. Ed's since kindergarten.
"We have been at St. Ed's forever, so that alone is going to be a real big change. It was always a big topic that we would go back and forth on, but we thought it would be better to go to different colleges so we could learn more about ourselves.
"There's a definite sadness about it."