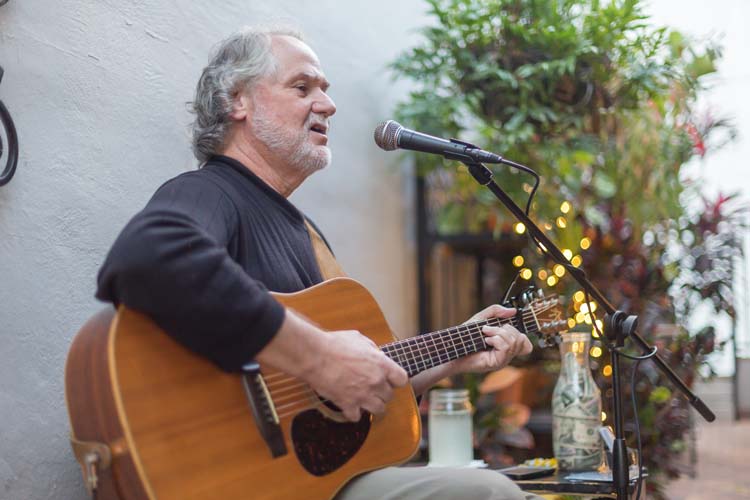 In a day when contemporary music is often filled with profanity and social commentary, it's refreshing to listen to ballads and love songs that actually touch the heart. Paul Skyland is a frequent performer at local restaurants.
"I was born in Maryland but spent all of my formative years in Colorado," says Skyland. "John Denver was a huge influence in my life and is one of the reasons I pursued music as a career. I never really wanted to do anything else. As a teenager I picked up the guitar, taught myself to play and started a high school band."
Skyland says he considered pursuing a career in philosophy, psychology or the social services field, but after a year in college could not ignore his creative calling. He decided to drop out of school and began playing professionally in coffee houses and small venues in Colorado, before moving east to follow the mainstream college market.
"I spent years and years playing on college campuses, festivals and performing arts theatres. I'd go wherever people would listen," says Skyland.
And listen they did. Replete with clear, impassioned vocals and an intimate style, his appeal was infectious; transforming the stage into a personal experience that touched his audiences. Forty-five years later, he's still captivating audiences with a golden voice and melodic acoustical guitar.
Skyland's repertoire of more than 400 songs, drawn primarily from easy listening, adult contemporary, country and light-rock genres, spans a broad spectrum of ages and musical preferences.
"As we get older, we start thinking about our life and identifying those things that really matter," Skyland reflects.
"Our preferences change with our thinking. I now appreciate the music of my parent's generation; singers like Perry Como and Andy Williams are classic and timeless. I incorporate them into my show right along with my favorite singers like Dan Fogelberg and James Taylor. Of course, I tailor my music selections to the audience. I'll play more Jimmy Buffett at a casual, seaside venue and more Andy Williams at a fine-dining venue."
Skyland's sensitive expression has earned him recognition as a songwriter as well.
"I'm a sucker for a song that tells a story," he explains. "Lyrics were such an intricate part of the music of the '60s and '70s and something that is missing in today's heavy metal, pop genre. If my music doesn't do anything else, I hope it conveys who I am and what I believe in. I want the listener to see and feel me. I love to incorporate some of my original songs into my performances. Some of them actually made it to record labels and got air play."
Skyland says his first recording was made in 1974 in an 8-track format, adding with a laugh, "for those old enough to remember 8-tracks."
His next, a 45-record entitled "Give me your Love," received a lot of air play and some regional recognition after its release in 1978 with Venture Records.
"Strangely enough, that song was re-released just last year by the Numero Group record label as part of a compilation of previously recorded soft rock songs. Imagine my surprise when they contacted me," says Skyland. He adds with a smile, "It only took 40 years to get my first signing bonus with a record label."
He credits his children as the impetus for relocating to Vero Beach with wife Carole. His oldest son, Dr. Jason Radecke, is a bariatric surgeon at Sebastian River Medical Center.
"Yes, my given name is Radecke, but my chosen stage name is Skyland," he explains.
Their daughter, Jessica Rojas, is employed as a prevention specialist and program specialist with the Indian River County School District and, while youngest son, Joshua Radecke, remains in Charleston, S. C., they visit often.
"My beautiful wife Carole, to whom I've been married for 42 wonderful years, was ready to retire from nursing and I was looking for an easier life where I wouldn't have to tour as much," says Skyland.
"Since our family is everything to us, we moved right along with them. We are very proud of the professional accomplishments our children have achieved. But we are most proud of the sensitive, compassionate, caring individuals they are, while trying to make the world a better place. There is absolutely nothing more important to me than my family. I feel very blessed that I was able to support their dreams and ambitions by perusing my own dream of artistic expression. I am very grateful for all that life has given me. Honestly, I just want to be remembered as a good husband, father, grandfather and also a child of song."
Skyland is a frequent performer at Squid Lips in Sebastian, The Thirsty Turtle in Port St. Lucie, and On the Edge in Fort Pierce. He welcomes the opportunity to get involved with local charity events and fundraisers as a way to give back to the community that has embraced him.
Article by: Kerry Firth, Correspondent