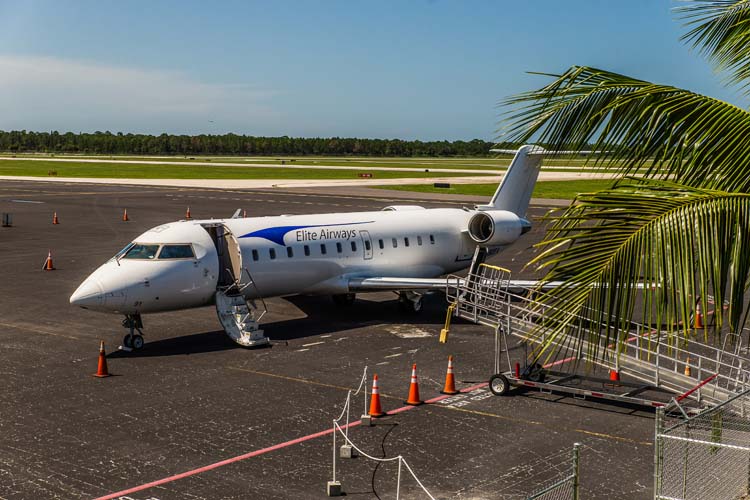 Elite Airways flights from Vero to the northeast – New Jersey, New York and now Maine – have been a big hit with island snowbirds and an even bigger hit with real estate brokers who say convenient access provided by the flights has opened the Vero market to new buyers.
But over the past few months, I've heard from readers complaining that they had experienced lengthy delays and flight cancellations while traveling – or attempting to travel – on Elite, particularly on its wildly popular, non-stop service between Vero Beach and Newark, N.J.
So I made a few calls, curious to find out if there's a problem our local officials might need to know about.
Here's what I've learned: There's no way to verify whether these complaints have merit because nobody keeps track of Elite's on-time performance or its reasons for flight delays and cancellations.
Not the Federal Aviation Administration, which, I was surprised to discover, doesn't monitor such things.
Not the U.S. Department of Transportation's Bureau of Transportation Statistics (BTS), which does keep such records but receives mandatory reports only from larger carriers.
Not even those travel websites, which, as a customer service, rank many of the world's airlines, from global titans to U.S.-based regional carriers, according to their records for on-time departures and arrivals.
The reason? Elite's operation is so small that it isn't worth monitoring.
According to the BTS, only airlines that generate at least one-half of one percent of the total, scheduled-service, domestic passenger revenues are required – under federal law – to report their on-time performance and provide the reasons for flight delays.
Elite doesn't produce enough annual revenue to meet that threshold.
In 2018, in fact, there are only 18 carriers reporting these numbers, which cover non-stop, scheduled-service flights between points within the U.S. and its territories. Among them are the three major airlines – American, Delta and United – as well as JetBlue, Southwest, Spirit, Allegiant and Frontier.
Elite is not on the BTS radar.
"There is no requirement on airlines that do not meet the revenue threshold for reporting," Dave Smallen, the bureau's director of public affairs, wrote in an emailed response to my questions.
Indeed, Smallen said below-the-threshold airlines, such as Elite, are not even required to keep internal records of their on-time performance.
Which prompted me to ask: Does Elite keep those records?
John Pearsall, Elite's president, said he could provide "no numbers" pertaining to his airline's on-time performance on flights arriving in and departing from Vero Beach because it's such a "small market."
As for recent complaints about delays and cancellations, Pearsall blamed the weather in the Northeast, which did endure a rough winter and snowstorms into March.
"We've had a small number of delays, just like many other airlines, but nothing extraordinary," Pearsall said. "Mostly, it was because of weather issues. There were a lot of severe storms in the Northeast and we had to adjust. We have no control over air traffic control.
"It's not a systems or operational issue at all," he added. "If it were, I'd have an explanation and the way we're going to correct it."
Some delays, however, were caused by mechanical issues, or at least that's what some travelers here were told.
Orchid resident Phil Coviello said his daughter was delayed twice on Elite flights at Easter time – for five hours in Newark on Good Friday and three hours in Vero Beach – because of mechanical problems.
He said that while he was waiting with her and his grandchildren in the Vero Beach Regional Airport lobby, he spoke with several others who complained about delays of up to five hours and cancelled flights.
"l was not the only one talking about it," Coviello said. "I spoke with a few John's Island people who were waiting for the plane to take off, and they weren't happy.
"I'm sure some of the delays were weather related, especially during the winter," he added. "But the delays I'm aware of, and the ones I was told about, were almost exclusively related to mechanical problems.
"If this keeps up, I'm worried that Elite is going to develop a poor reputation for reliability."
Why worry?
Coviello said if residents reach a point where they no longer trust that Elite can get them to their destination on schedule – some use the airline for business purposes, especially in the New York area – they might opt to fly another airline out of Melbourne, Orlando or West Palm Beach instead.
"If something happens [to delay your flight]," he said, "you have options at the other airports."
And if bookings decline here, Elite might decide to discontinue its service to and from Vero Beach.
"That could hurt the city's image," Coviello said.
That's one good reason the city should be proactive and do what the feds won't – keep track of Elite's on-time performance and maintain a record of the reasons cited for delays and cancellations.
Another is this: Our community has entered into what amounts to a partnership with Elite, and we have a right to know if the airline is operating as promised.
"It's not that we couldn't do it," Vero Beach Airport Director Eric Menger said of monitoring Elite's performance. "And if it's necessary to help our customer base, we'll certainly look at it.
"But it's nothing we're required to do, and I don't know that there's a reason to," he added. "Our general feeling is that, 90 percent of the time, we're fine. So, at this point, it would be a luxury."
Menger said his "main concern" is making sure the airport meets the Transportation Security Administration's requirements, especially as Elite adds flights and destinations.
However, Menger said he knows Elite has experienced some lengthy delays, because of both bad weather and mechanical issues. And he admitted that he does occasionally hear griping from frustrated passengers waiting for the flights to depart.
Often, he said, the complaints are relayed to him by airport personnel.
"I'll get them indirectly from members of the staff, who'll tell me, 'We had a couple of unhappy people today,'" Menger said. "But most people understand that airlines can't fly unless it's safe.
"I've had people say, 'No problem," and go have lunch or dinner at C.J. Cannon's," he added. "Some people, if it's going to be a long delay, will just go home and come back when they need to. That's one of the conveniences of flying out of a small airport close to home.
"The bottom line is: It's more important to have a safe flight than it is to be on time. Usually, we get both."
Maybe we do.
But until somebody starts keeping track of Elite's on-time performance and reasons for flight delays, we won't know.
And we should.