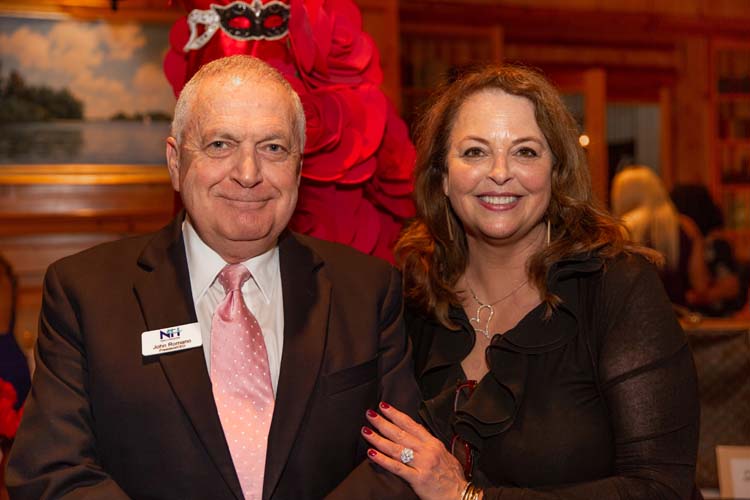 Looking to remove the stigma of mental health issues, New Horizons of the Treasure Coast enlisted the support of local ladies to model chic fashions by Sabre Mochachino at a festive Fashion Unmasked fundraiser last Monday evening at the Quail Valley River Club. Presenting sponsors were Jodi Harvey and Gene Atkinson.
In addition to celebrating May as Mental Health Awareness Month, the event raised funds to benefit New Horizons, which offers inpatient and outpatient services to individuals dealing with mental health and substance abuse issues. The organization currently serves 14,000 children and adults annually, regardless of their ability to pay.
Following a cocktail reception, where guests perused a selection of silent-auction items and posed for professional photos, everyone gathered in the main dining room for the Mochachino fashion show.
Wearing masks created by area artists to represent the unmasking of true identities and self-expression and the removal of the shame associated with mental illness, were models Diane Anthony, Susan Byerley, Grace Carlon, Melanie Coppola, Lewana Dupree, Sammy Fashona, Janice Fleisher, Cindy Goetz, Laura Guttridge, Diamond Litty, Stacey Miller, Alexandra Pavarini, Sana Shareef, Patricia Snodgrass and Tracey Zudans.
The evening also featured entertainment by vocalist Dana Ashton and dancers Maddie Mcintosh and Payton Duke, and a talk by keynote speaker Shotsi LaJoie, a licensed mental health counselor.
LaJoie shared that despite growing up in a privileged household, her mother and father had mental health issues, including alcoholism; both died in their 50s.
"Twenty years later, I'm at a reunion at my grade school and my mother's psychiatrist, the father of one of my classmates, was there. I'd grown up all my life not knowing what the problem was; no one explained it. As kids we knew there was alcohol, but we were not told what the issues were; what it meant," said LaJoie.
As they had both passed away by then, he explained that her mother's alcoholism likely stemmed from her extreme shyness – she couldn't leave the house without a drink – and that her father was likely bipolar. "All of this time, their drinking and crazy behavior was probably caused by an underlying mental illness."
LaJoie noted that 57 percent of New Horizons' clients are indigent; no surprise in that living in poverty causes extreme depression and anxiety even without any underlying mental illness.
"I believe that many New Horizons clients were either raised by mentally ill and/or addicted parents or are mentally ill themselves," said LaJoie. Add poverty to the mix, "I cannot imagine how they survive. I lived in a house that had no poverty and it still created problems for us."
Proceeds from the event will go toward client services at the two Vero Beach outpatient offices. Open 24 hours a day, 365 days a year, New Horizons does not turn anyone away due to a lack of financial resources.
"I have to tell you, New Horizons has been a Godsend for me; they've been such an advocate in helping my sister," said Camille Yates. "They've helped get her through her mental illness so she can have as normal a life as possible. She's been a patient for 15 years, so I'm very, very grateful."
Photos by: Denise Ritchie
Click HERE to see more or buy photos