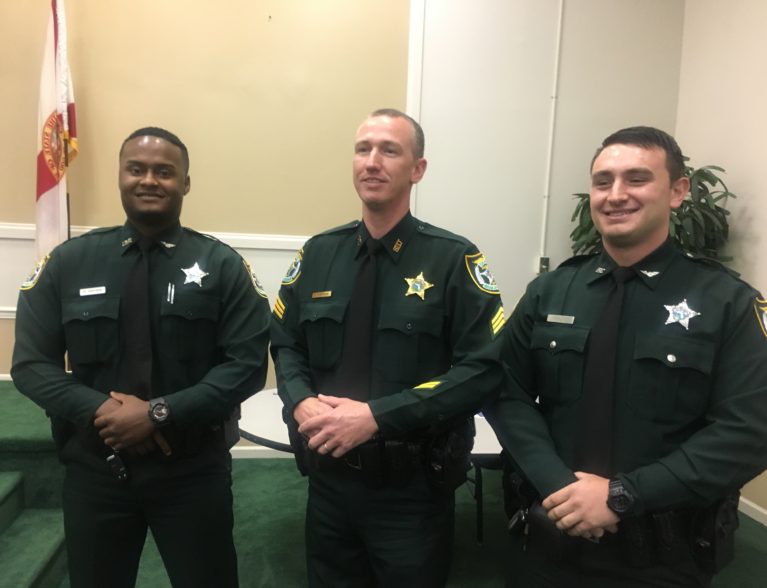 INDIAN RIVER COUNTY — Three deputies said they didn't think twice before running through 'choking' smoke and intense heat to save six residents – including an older woman and a man who is deaf – from a weekend condominium fire.
The deputies smashed windows and escorted residents away as the raging flames overtook the complex.
"At that point, you don't really think about it. You just proceed with caution," Indian River County Sheriff's Deputy Romeo Santana said. "Our task at hand was very clear before we got there – evacuate as many people as safely as you can – and that's what we did."
Deputies Cameron White, 21, and Romeo Santana, 24, arrived shortly after 2 a.m. at the Vista Royale community complex, 97 Spring Lake Drive. White, who was the first deputy on scene, said he ran through the smoke in a fully engulfed building to look for residents still inside.
The law enforcement officers said they carried out an older woman, used a wheelchair to evacuate a deaf man and patiently escorted the other residents out of the building as flames spread through the complex.
"They were panicked and didn't really know what to do. It was hard trying to get them to move," White said. "I had to wheel (the deaf man) through a pillar of smoke. I couldn't see, so I can only imagine how he felt not hearing or knowing what was going on."
Vero Beach resident and witness Kyle Bishop videotaped intense flames engulfing the complex.
Sgt. Jeremy Shepherd, 37, arrived soon after as Santana and White helped the last resident out of the building.
White said field officers are trained to handle the worst case scenarios and to have multiple backup plans. "It's instinct and training. As you show up on scene, you start formulating those plans and act on them," White said.
*Note for videos – Click the audio icon in the lower right hand corner for sound. If that doesn't work, try refreshing the page.
Three Indian River County Sheriff's Office deputies said they didn't think twice about running into a burning condominium complex to save 6 residents, including one elderly resident that was carried out. Here's what Deputies Cameron White, Romeo Santana and Sgt Jeremy Shepherd have to say about the raging fire. Story to follow #VeroNews

Posted by Nick Samuel on Wednesday, May 30, 2018
White had to be treated by Indian River County Fire Rescue crews for smoke inhalation.
"If anyone has been (pepper sprayed), that's how it feels," White said.
As Shepherd arrived on scene, he radioed for no other law enforcement officers to enter the buildings as he and White searched through more smoky units for any other residents. The three deputies said they went back on patrol after the incident.
No one was injured in the flames, officials said. What caused the blaze remains under investigation by the state fire marshal. Fire investigators have not released any information on damage estimates.
Shepherd has worked for the Sheriff's Office for 14 years, Santana for 11 months and White for about a year.
"The (residents) are lucky to be alive. If it were not for the quick actions of (White and Santana), I wouldn't have been surprised if there were a fatality," Shepherd said.
Photos provided by Indian River County Sheriff's Office
Video provided by Kyle Bishop