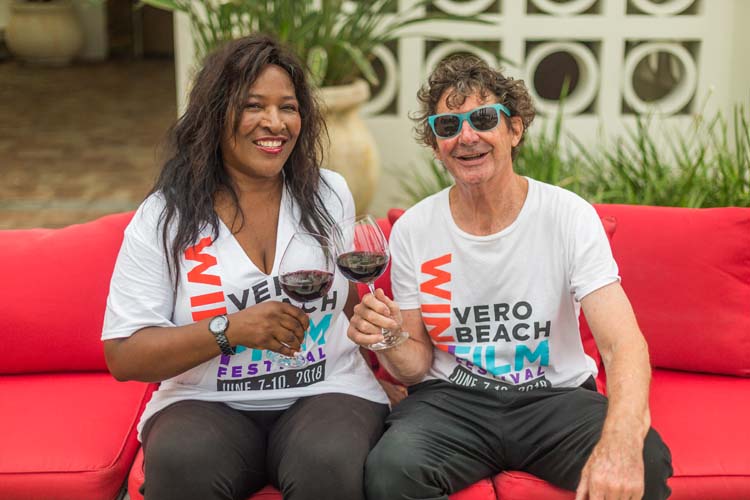 The Vero Beach Wine and Film Festival is edging further away from its 2016 premiere and, though it can hardly be called an institution yet, the festival's hard-charging founder and organizer, Jerusha Stewart, is publicly declaring her own staying power.
"I'm still here!" she declares. "And people are still asking!"
At least she has help now – a paid staff assistant and an intern. Even with those additions, the massive organizational effort it takes to stage the four-day festival has her in whirling dervish mode with two weeks left to go.
By June 7-10, Stewart, a Hawaiian-born, Stanford-educated attorney who arrived in Vero six years ago, will have pulled together vintners, filmmakers and ticket-buyers to people a panoply of sites and screenings. Thursday through Sunday, film screenings continue all day long at various venues.
Along with that sparse staff, at her side are a contingent of volunteers and board members, wine experts and filmmakers, many returning for their third year. Among them: Molly Smith, an executive producer of "La La Land"; Jeffrey Lyons, nationally known film critic in print and on PBS; and George Taber, a former Time magazine reporter now living in Vero Beach, whose book "Judgment of Paris" was the first to be written about the event that inspired the movie "Bottle Shock."
The celebrity vintner this year, charged with pouring at the festival's Vino Veritas Vintner dinner at Costa d'Este Resort, is Deerfield Ranch Winery's Robert Rex. He was just named Winemaker of the Year in a prestigious competition at Florida International University, in which 28 tasters judged 630 wines from 200 wineries. Rex, who majored in chemistry at UC Berkeley and taught himself to cook by working his way through Julia Child's Mastering the Art of French Cooking, specializes in organic blends from Sonoma Valley vineyards. The opening night dinner starts at 6:30 Thursday, June 7, and includes a talk by Rex.
"He's a very unusual winemaker in that his focus is on 'clean' wines," Stewart says, explaining some of Rex's theories on lowering histamines and sulfites in wine. She and 11 others from Vero met Rex in late March at the Vero festival's sister festival in Sonoma.
"He literally takes you on a tour of your palate," she says. "You feel as if you're at the knee of a master story teller because he's just so captivating and funny and self-deprecating."
The dinner is included in the festival's premier pass ($495) and costs $135 on its own. Seating is limited; the dinner is typically a sell-out, Stewart says.
"I'm expecting that dinner to explode."
The next day, Friday, June 8, the not-to-miss event, in Stewart's estimation, is the opening night party at the Wow Tasting Lounge – a giant tent set up in Riverside Park. Five hundred people are expected to crowd into the tent. Rex will have an encore seminar on wines made with grapes from before and after the California fires. Vero's Bob Stanley, former host of a local TV wine show, will be hosting a blind tasting poured into black glasses, "so you can't tell if it's red or white," says Stewart.
Pre-party that night, the action is inside Riverside Theatre with Cinema Uncorked, when films, not wine, take center stage, and the weekend's awards are announced by the film jury. That starts at 6:30 p.m. Film critic Jeffrey Lyons will announce the winner of this year's Life Worth Living Legend award. Stewart won't give hints as to the winner, but she admits they won't have the local ties of the prior winners, Gloria Estefan and Burt Reynolds.
Saturday, June 9, at lunchtime is the VIP tasting reception at the Vero Beach Museum of Art, with the premiere screening of "Andre – The Voice of Wine." Narrated by Ralph Fiennes, the documentary tells the story of the aristocrat Russian émigré Andre Tchelistcheff, who brought his European knowledge of wine to Napa Valley and helped transform northern California into an internationally respected wine producing region. Andre's nephew, Mark Tchelistcheff, is the film's director and is flying in from Berlin for the occasion. He'll be joined by Robert Rex and George Taber. The event begins at 12:30 p.m. – convenient to the 3 p.m. grand tasting in the Wow tent nearby.
Others may opt to cross town for another Stewart recommendation: "West Bank Story," a live-action short that won an Academy Award in 2006. Its director, Ari Sandel, will lead a panel discussion after the screening at the Vero Beach Theatre Guild. That starts at 2 p.m. Saturday.
Later on Saturday, filmmakers gather downtown at American Icon Brewery to socialize with fans in the radically transformed former diesel power plant. That event, dubbed Dining with Directors, costs $40 and starts at 6:30.
Sunday, things wrap up with a $30 gospel brunch from 11 a.m. to 2 p.m., also at American Icon. The festival's wrap party, dubbed the Fete Finale, starts in the Wow tent at 3 p.m.
As for other films scattered throughout the weekend, Stewart has accommodated Vero's love of shorts – film shorts, that is – by holding four different sets of them in various locales. She also urges film buffs not to miss a full-length documentary called "Rumble: The Indians Who Rocked the World," screening Saturday at Riverside Theatre beginning at 10 a.m. The movie honors Link Wray and other Native American performers who influenced a range of American musical styles. Hard Rock Casino and Resort, owned by the Seminole tribe, has donated a $750 prize to be raffled; it includes an electric guitar.
Another is the Florida premiere of "Her Magnum Opus," a narrative feature directed by Marta Renzi about an aging mentor and the people she inspired who continue to visit her in her waning years. That screens at 4:30 p.m. at the Museum of Art. "It's a film meets dance, a visual feast," Stewart says.
The other film Stewart says not to miss is "Push," a documentary about Grant Korgan, a nanoscientist and adventure athlete who was paralyzed from the waist down when he burst-shattered a vertebra. He went on to become the first person to reach the South Pole in a sit-ski. The film, part of the festival's Best of Sonoma series, screens at the Theatre Guild on Friday, June 8 at 10 a.m.
The full festival schedule and ticket prices are available at vbwff.com.