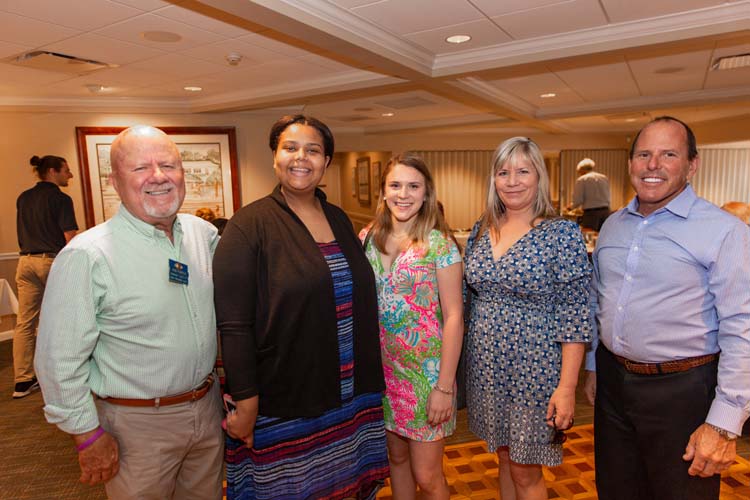 Members of the Kiwanis Club of Vero-Treasure Coast presented scholarships totaling $15,000 to a dozen students graduating this year from Vero Beach High School, Sebastian River High School and Indian River Charter High School at a celebratory luncheon last Wednesday afternoon at the Vero Beach Yacht Club.
"We made a decision many years ago to honor the kids who put in over 300 community hours," said Al Sammartino, Kiwanis Scholarship chair for the past 12 years.
Young people get involved as volunteers through Key Clubs at the local high schools and through a group, unique to this Kiwanis Club, called Youth in Action, co-founded in 1995 by Sammartino and Richard Schlitt and sponsored in part by local churches.
Students earn community service hours working on service projects such as spoil-island and beach cleanups, sprucing up and helping with renovation projects at local nonprofit organizations and the homes of those in need, and undertaking food drives for elementary school children.
"Most of these, over 85 percent of these young men and women, graduated with a two-year college degree already. They just saved their parents well over $100,000 for two years. And most of them worked over 500 service hours. Seriously, I don't know when you kids slept," said Sammartino, noting that in addition to their school work and volunteer time, many also held down jobs.
"All in all, we're very proud of every one of you that we picked. I'm honored to be here and present you with a check," said Sammartino. "I hope you come back and let us know once in a while how you're doing; we'd love to hear from you so send us a note."
Scholarships were awarded to VBHS graduates Tahja Brooks, Florida Atlantic University; Jared Lamothe, University of Central Florida; Destiny Patterson, University of South Florida; Isabel Morby, Florida State University; Emmalyse Brownstein, New York University and Shabeen Raza, University of Florida; SRHS graduates Gavin Wunderlich, Florida Gulf Coast University and  Katie Toperzer, Florida Institute of Technology; and Charter HS graduates Madeline Stromak, University of Florida; Savanna Williams, Flagler College; Brianna Aversa, University of North Florida; and Deanna Rose Kreinbring, University of Florida.
Board president Kevin Brown thanked the parents in attendance as well as the Kiwanis members, and reminded the graduates "this is just a little pause as you continue your journey, so continue the good work and we wish you the very best."
Their small but exceptionally involved club was founded 45 years ago and is open to women as well as men. Members meet Wednesdays at Noon at the Vero Beach Yacht Club. The scholarship money was primarily raised through sponsorships and participation in their annual Kiwanis Golf Tournament fundraiser.
For more information, visit verokiwanis.com     
Photos by: Denise Ritchie
Click HERE to see more or buy photos