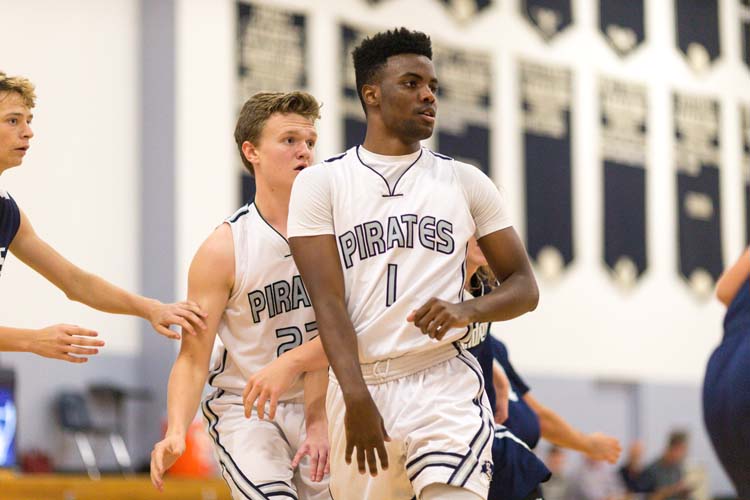 The Brandon Succes story from day one through graduation at St. Ed's is one of steady improvement in every critical aspect of high school life.
Any mention of his name conjures up the image of a silky smooth basketball player, and by his senior year he had undoubtedly earned that distinction. It didn't happen overnight, however. Instead, it was a more of a steady climb that can be measured directly on the stat sheet.
Academically, the rise was equally dramatic. By his own admission he was not the best student coming to St. Ed's for his freshman year. Throughout elementary and middle school in Port St. Lucie the classroom situation was often chaotic and not at all conducive to either teaching or learning. Succes may have even contributed to that dysfunction more than he was victimized by it. A change of scenery was desperately needed.
When he was informed by his parents that he was enrolling at St. Ed's, Succes recalled that, "I had never even heard of the school. I wasn't too psyched about going to a private school, let alone a school that I didn't even know.
"I came here freshman year and met a lot of new people, and that started to change the way I looked at school. I hadn't really taken school as seriously as I probably should have up to that point. But at St. Edward's I found that the teachers really do care about you.
"My freshman and sophomore years went by, and then I told myself that I really wanted to take school seriously now. When my junior year came I started applying to colleges.
"There are only 250 kids (in the Upper School) and not a lot of people have such a great opportunity. Now that I'm a senior I'm really glad that I came here. I don't regret it for anything."
Even with a commitment to take advantage of his new opportunity, it took a while to reverse course academically. The same was true in athletics, where basketball was always his first love. His brother Nick transferred to St. Ed's at the same time as a junior and instantly became an established part of the varsity basketball team. Brandon decided to do something innovative.
"I was encouraged to try different sports and so I said why not," Succes told us. "I decided to try football my freshman year and that was my first time ever putting on pads and cleats. But it wasn't really my thing.
"I found out that football was never really in my blood. I had many chances to quit, but stayed until the end of my sophomore year – and never came back. I decided that I should start taking basketball more seriously."
Succes already knew that being serious was working for him. After a brief stint on the JV team as a freshman, he was soon playing with the older guys. His scoring average that first year in limited action with the varsity was 2.3 points per game. He practically doubled that annually over the next three seasons. His point production climbed to 5.4 as a sophomore, 10.2 as a junior and 17.0 as a senior.
The 6-foot, 2-inch 185-pound guard posted double-digit points in every game but two this past season. He shot nearly 50 percent from the field and led the team in steals and assists. Succes was voted to the All-District team by the Florida Athletic Coaches Association, and was Second Team All-State in the Sunshine State Athletic Conference.
A resume like that normally paves the way for interest from college coaches, but Succes relegated any idea of that to the back burner, at least for the moment.
"I will be going to Florida International University in Miami. I'm going to major in information technology and follow in the footsteps of my dad. I will go into computer programming, or software engineering, or something along that route.
"I'm debating about whether to play basketball. I'm not really too sure about it. I love basketball more than anything, but at the same time I want to focus on academics. I haven't contacted the coach or anything like that. If I do play basketball it will be as a walk-on. It's something in the back of my mind right now.
"I really enjoyed playing at St. Edward's. This past season wasn't the best (8-18), but we really played hard and it brought us closer together as a team. Coach (Greg) Zugrave took me under his wing and taught me everything he knows. He helped me be a better player and a better person.
"Being at St. Edward's opened a lot of opportunities that I will carry on for the rest of my life."