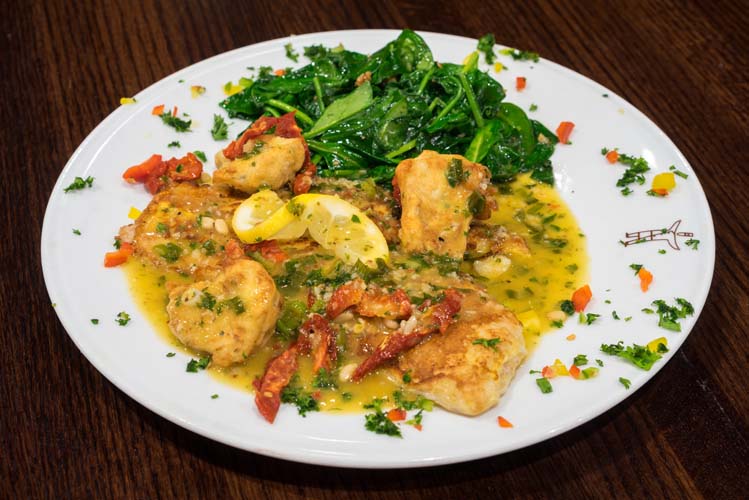 On a delightful Vero spring evening, we dined on the patio of the Scampi Grill for the first time since it moved into its new home on 20th Street.
When the weather is right – neither too chilly nor too steamy and humid – this may be the best way to enjoy this venerable trattoria, as the tree-shrouded patio has a very open feel and conversation is much easier than in the main dining area.
On this visit, I decided to start with the calamari fra diavolo ($11.95) and my husband somewhat skeptically ordered the escargot special ($12.95).
This is a far cry from your classic French escargot appetizer. Executive Chef Alessandro Amelio prepares the snails out of the shell, tops them with shitake mushrooms, spinach and feta cheese, and finishes them in a white wine lemon sauce.
Amazingly, this combination of tastes works wondrously. My husband pronounced it a great alternative to the traditional preparation.
The calamari, of course, were excellent – sautéed with roasted garlic, Italian herbs and olive oil, tossed in a mildly spicy marinara sauce.
Then for a main course, I selected the ultimate vongole ($21.95), and my husband decided to try a relatively new menu item here, the octopus pappardelle ($22.95).
The sautéed Rhode Island little neck clams served over linguine were seasoned with just the right amount of garlic, and the tender sliced octopus – tossed with roasted garlic, roma tomatoes, basil, wild mushrooms, roasted pancetta and finished in a spicy ragu sauce – was a big winner.
A tremendous evening.
But you can't always dine al fresco, so on our most recent visit on a blustery, rainy evening, we were shown to an inside section of the restaurant lined with booths.
On this visit, my husband opted to start with the steamed clam appetizer ($12.95), and then have one of the evening's specials – locally caught Atlantic triple tail – as his entrée.
I decided, however, to go with one of the Scampi Grill's summer specials, which on Wednesdays offers a choice of six appetizers and then either a surf or turf dish as your entrée ($22.95).
For my starter, I picked the baby artichokes "Francese" – tender baby artichokes lightly egg-battered with Italian herbs, and finished in a lemon caper butter sauce.
This was so good that instead of reaching over with bread to mop up the sauce from my husband's clams (though I did steal a couple of those beauties), I mopped up my own appetizer. I loved this dish.
Then for entrées, I went the surf route and chose the seafood mix – jumbo shrimp, clams, calamari, lump crab meat and morsels of fish prepared with roasted garlic and Italian herbs, and finished in a creamy saffron sauce over linguine.
The seafood was very tender and tasty. You can also have this dish finished in a marinara sauce, or a white sauce.
My husband's triple tail was a thing of beauty. The firm, white filets were crusted in almonds, served over a delicious risotto, and finished in a white wine lemon sauce. Mighty good eating.
On both of these visits, we finished the evening with espressos.
The summer specials – which vary from night to night – are tremendous bargains. You get the same great preparation as regular menu items at a sizable discount.
Whether you try one of the specials or choose an old favorite – and whether you dine inside or out – it's hard to beat the Scampi Grill.
I welcome your comments, and encourage you to send feedback to me at tina@verobeach32963.com.
The reviewer dines anonymously at restaurants at the expense of Vero Beach 32963.  
Mimmo's Scampi Grill
Hours: Monday through Saturday, 5 pm to 9 pm
 Beverages: Beer & Wine
Address: 815 20th Street, Vero Beach
Phone: 772-563-9766
Photos by: Gordon Radford
Click HERE to see more or buy photos