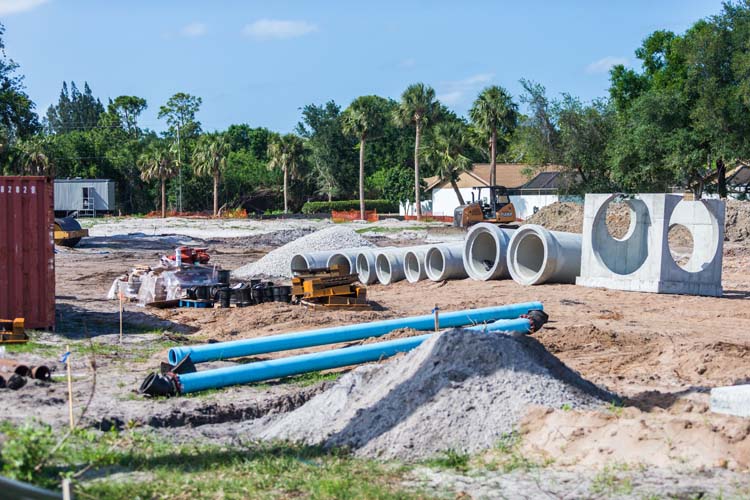 After more than seven years on the  drawing board, the assisted living facility formerly  known as  Reflections,  and now called Pleasantville, is finally underway in north county, on a  6.8-acre site  at 10670 U.S. 1, on the east side of the highway, adjacent to a residential community also called  Reflections.
If the project, three miles north of CR-510, continues on its current trajectory, it could open its doors by mid-2019, according to the Indian River County Planning Department.
The 3-story, 98-unit development started making its way through the system in 2011, but, when the recession slowed building to a crawl and funding evaporated, the developer, Bayland Homes Development Corp., was  forced to take "a [really long] pause," says County Chief of Current Development John McCoy.
Because the property is "split-zoned" – light commercial and residential multi-unit – a conditional use permit was required, and granted.  According to McCoy, site plan approval and permits are now in place, land clearing is complete, and work is underway on water, sewer and drainage infrastructure.
Bayland Homes, according to its website, is a "builder and developer of luxury estates," based in New Jersey. Its managing partners, brothers-in-law Raffi Alaverdian and Mehrdad Amirsaleh, have 30 years' experience in "commercial and residential property development and construction, primarily in New Jersey and Florida."
Alaverdian is listed as the registered agent on the State of Florida Limited Liability Company document for Pleasantville Assisted Living LLC, filed in January 2016. Project contractor is R.C. Stevens Construction Company, based in Winter Garden, and  Sustainable Engineering Design  in Vero Beach is the engineering firm.
A  separate 3/4-acre section of raw land at the south end of the property is on the market through Crown Remax Realty, listed for $550,000. Remax Manager John King suggests it  would be an excellent location for a doctor's office or other professional service compatible with  its assisted living facility neighbor.