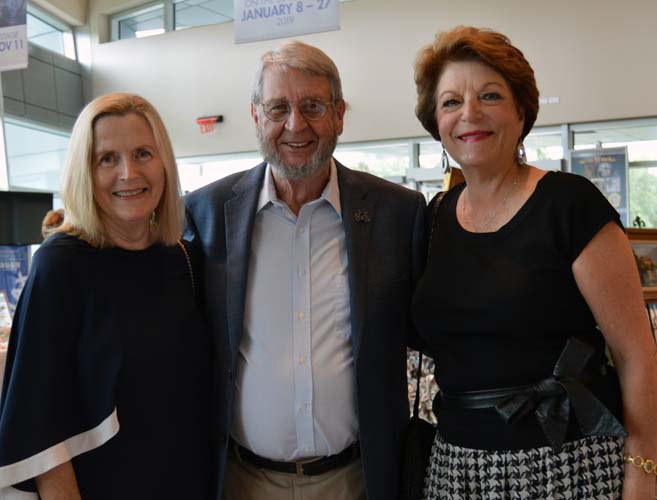 Arts and cultural enthusiasts gathered at Riverside Theatre last Wednesday evening for the 2018 Cultural Council of Indian River County Laurel Awards Presentations, recognizing individuals and businesses that support the arts through philanthropy, volunteerism, education and leadership.
Arriving guests enjoyed a cocktail reception and hors d'oeuvres, while perusing a Lobby Gallery display of 150 works from nine local galleries.  Once in the auditorium, the award presentations were interspersed with entertainment directed by Mark Wygonik.
"Tonight you will be seeing a sampling of the arts and culture that sets our community apart," said Barbara Hoffman, Cultural Council executive director, before introducing attorney John Moore, the evening's emcee.
"William and Marlynn Scully both have demonstrated exceptional leadership in promoting the cultural arts and have encouraged, involved and motivated others to do the same," said Jon Moses, Riverside Theatre managing director, who, with Diana Stark, presented them with the Richard A. Stark Award for Cultural Leadership.
The couple has supported Riverside since 1999, including as founding members of its Patron Producers program.  Bill serves on the board of trustees and numerous other committees and Marlynn is a long-time member of the Friends Committee, its major fundraising arm. Their philanthropy extends to many other charitable, cultural and community endeavors, including the Scully-Welsh Cancer Center at Indian River Medical Center.
"Leadership is doing what needs to be done, when it needs to be done, the way it needs to be done, whether you like it or not, or whether they like it or not," said Moses.  "Richard Stark was the epitome of that and so are Bill and Marlynn Scully.  We couldn't have become what we have become without their generous support and their efforts."
Bill Scully fondly remembered Dick Stark saying, "It's a real honor to be here on the Stark Stage, getting the Stark Award, when I knew this man and – what a wonderful man he really was. It sends goose-bumps down my back."  Crediting Allen Cornell, Moses and a host of others, he added, "There's an awful lot of people who have done a wonderful job to make this theater what it is today."
"This has been part of our hearts; both Bill and I have thoroughly enjoyed our time with Riverside Theatre," said Marlynn Scully.
The Alma Lee Loy Award for Volunteer Leadership was presented to Bonnie Pendleton by prior recipients Susan and Ed Smith in recognition of her Emerson Center volunteer efforts, particularly the Emerson Center Humanities Speakers Series.  Susan Smith shared observations by Rev. Scott Alexander, pastor of the Unitarian Universalist Fellowship of Vero Beach, who said of Pendleton, "Bonnie is just wonderful; she's so great with people, well organized and coordinates 50 volunteers throughout the season."
Pendleton, who inherited her parents' love of "music, birds, flowers and hard work," gave a shout-out to the roughly 75 volunteers who "year-in and year-out do all the work necessary to provide outstanding educational, cultural and entertaining programs for our community.  This award really belongs to them."
The Willie C. Reagan Award for Educational Leadership was presented by its namesake to Shanti Sanchez, Vero Beach Museum of Art's School, Youth and Community Impact Programs manager for her outreach efforts, liaising with the school district to facilitate the integration of literacy and arts into all classroom subject areas.
Sanchez said it was during her first teaching experience that she "fell in love with the creative challenge of the learning process," and stressed the importance of ensuring that every child can thrive and that parents and teachers are given the tools to make that happen.
Chris Beals, owner of ABC Printing for 43 years, was presented with the John J. Schumann, Jr. Award for Business Leadership by prior recipient Keith Kite, for his support of the nonprofit community. Kite noted that the area's colorful streetlight banners were designed, created and printed with ABC Printing's help and guidance.
Beals praised his wife and staff members, saying they were the reason for the award, before adding, "And remember; whenever possible, buy local."
In closing, Patrick Farrah, board chair, said that it has been a tough year in the legislature for arts funding, adding, "The message couldn't be more clear; arts funding must be a local matter."
Photos by: Stephanie LaBaff
Click HERE to see more or buy photos