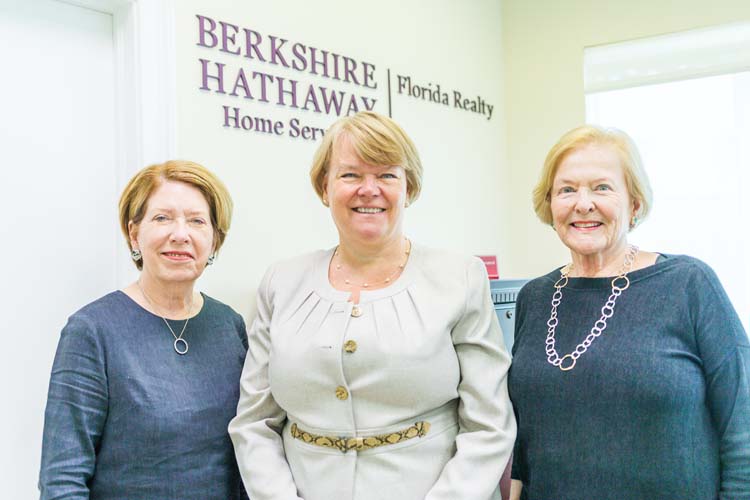 Carol Prezioso, managing broker at the sea-foam green real estate office on Ocean Drive that was Norris & Company for many years, is upbeat about the changes that have taken place there since it was acquired by a Berkshire Hathaway franchise a little more than two years ago.
Likewise Carol Hill, regional manager for Berkshire Hathaway HomeServices Florida Realty, which bought the business in February 2016. "The success of the office has exceeded our expectations," says Hill, in an intentional understatement.
Another way of putting it would be that the deal has turned out to be a blockbuster success for all concerned.
Income, transaction sides, market share and agent count are all up – in some cases dramatically.
Comparing figures from the fourth quarter of 2015, right before the acquisition, with the fourth quarter of 2017, Prezioso says transaction sides were up more than 38 percent, from 93 to 129, while dollar volume jumped just a hair under 40 percent, from $39,747,706 to $55,614,000.
Agent count is up as well, from about 38 to 44, and market share has grown across the board, according to Prezioso.
Success has continued into 2018. In the first quarter, the small island office was among the top three out of thousands in the 17-state Berkshire Hathaway HomeServices south region, measured by increase in agent commissions.
"We were thrilled by that," says Prezioso.
"The Vero office has arrived," Hill adds.
The changes began with a phone call in 2015, when Hill reached out to Norris & Company owners Gina Grove and Jane Schwiering to see if they were interested in selling. Hill had done her research and knew the brokerage was a successful, well-run business and wanted to see if she could scoop it up for her company.
"We had received many such calls over the years, had many suiters, but were never interested," says Grove.
Once they met Hill, though, and considered the details of the deal she was offering, they decided it was time to make a move.
"Going ahead with the acquisition was a fantastic decision," says Schwiering.
Prezioso says the chief thing Berkshire Hathaway brought was "resources, resources, resources," online and in person.
Nationwide, Berkshire Hathaway HomeServices has more than 1,200 offices and 43,000 sales professionals. The Florida Realty franchise, which is owned by Lennar, includes 45 offices in central and south Florida and 1,800 agents.
Prezioso says, "They have an office in Sunrise that is dedicated to helping the branch offices" with marketing, technology and other services.
When the acquisition took place, people from the Sunrise office descended on Ocean Drive and stayed for weeks, helping the agents and managers learn the Berkshire Hathaway back office systems and otherwise get up to speed.
"Carol Hill was here for a month," says Grove.
Hill continues to visit the office several times a month to check on operations and offer assistance and additional training.
"The training is extraordinary," says Schwiering. "There are seminars, in-person training and webinars agents can dip into anytime."
Another plus that came in with Berkshire Hathaway is a steady stream of referrals from other Berkshire offices that have helped boost business.
The benefits of the training and referrals to agents at the Ocean Drive office can be inferred from their success. In 2017, Debbie Bell was the No. 2 individual agent among 1,800 Florida Realty agents in terms gross commission income, and the office's Sand and Land Team, which includes Maria Caldarone, Ashley Harris and team leader Beth Livers, was the No. 2 team in the company.
Grove and Schwiering are still active broker-associates at the office, listing and selling houses and condominiums, and consulting with the two Carols on management matters.
"It is still fun to come to work," says Grove with a big smile. "In fact, it is more fun because now Carol [Prezioso] has to handle the problems."
"She will have to take our keys if she wants to get rid of us," Schwiering says.
"Vero Beach has been a very interesting discovery for our company," says Hill. "It is a hidden gem in a certain sense. Many people know and love Vero, but it has managed to keep its small-town appeal. The real estate market here is very vibrant and we are excited about the future."