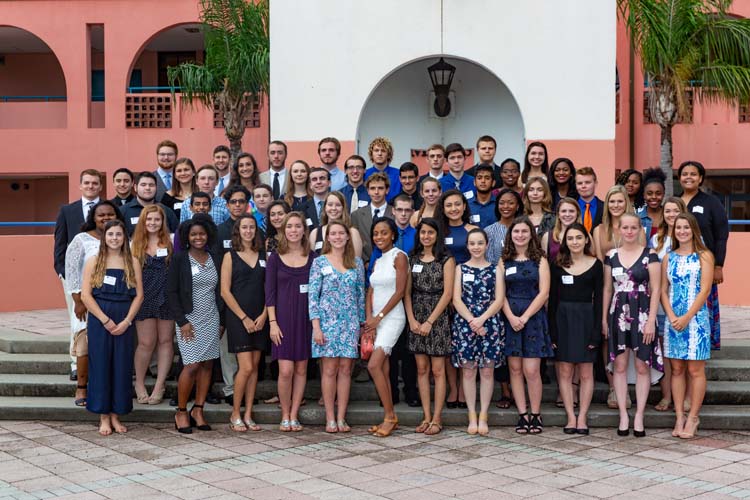 Students of distinction arrived at the Sebastian River High School full of confidence and pride for the 53rd annual Scholarship Foundation of Indian River County Awards Ceremony. A total of 112 scholarships totaling $699,500 were awarded to 55 students, affording them an opportunity to fulfill their dreams of attending colleges and universities.
The scholarship recipients, from all the local public and private high schools, will attend 18 different colleges in nine states. Since 1955 the foundation has awarded more than $11.8 million in need-based scholarships to 2,920 deserving Indian River County students.
"Seeing these kids receive their award for all their hard work is my favorite night of the year," said Camilla Wainright, Scholarship Foundation executive director. "Their scholarships range anywhere from $2,000 to $25,000 based on their grades, community service and needs. They may also be getting Bright Futures assistance and grants, but we fill in the gaps."
"This organization has always been near and dear to my heart," said Michael Stutzke, who received a scholarship from the foundation 48 years ago and recently retired from teaching at Sebastian River High School. "Their gift to me literally changed my life. We are so blessed to live in a community that is able to do what this foundation does. You'd be hard pressed to find any community in the United States that year in and year out comes up with a half-million dollars or more for our young people. This group is our hope for a better tomorrow."
Joan Cook, president of the foundation, spoke directly to the students, reminding them that the impact of kindness, particularly from strangers, can never be underestimated.
"How incredible is it that people you've never met are going to help you pay for college?" she asked. She further encouraged them as they head off to college to pursue their education and careers, to follow their dreams and draw from within to determine what makes them kinder and to be their best possible selves.
Kadin Campbell, 2013 SRHS graduate, attended the University of Florida thanks to a foundation scholarship, where he received a bachelor's in history and a master's in social studies education. He is currently giving back to the community as a seventh-grade civics teacher at Oslo Middle school.
"The gift I received from the foundation helped me achieve my dreams," he said. He recounted the difficulties of paying for college with limited resources, sharing that despite his parents being hard-working individuals, coming up with an additional $20,000 per year for college expenses was nearly insurmountable. "The Scholarship Foundation helped finance my education and allowed me to attend the school of my choice. My advice to you is to identify what is important and go for it. Capitalize on the opportunity that is presented tonight. This gift is opening the doors for your future. You've been shown the door, so get going!"
Article by: Kerry Firth
Photos by: Denise Ritchie
Click HERE to see more or buy photos