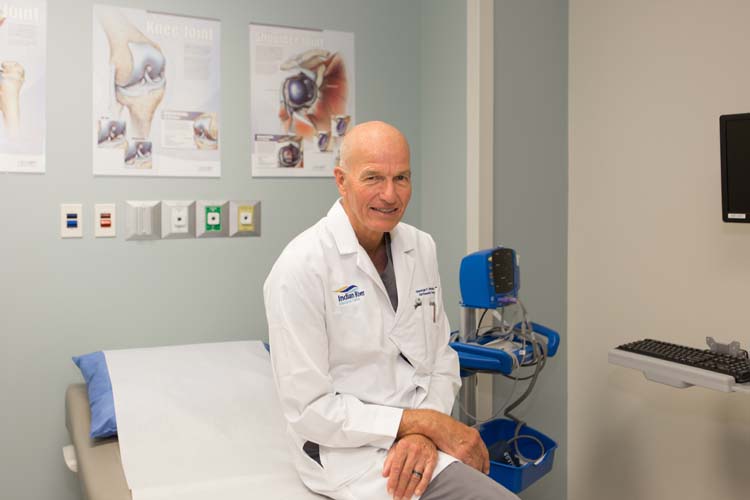 In January of this year, the Centers for Medicare & Medicaid Services removed total knee arthroplasty (knee replacements) from its formerly ironclad list of in-patient-only procedures.
As a result, some patients who need to have their knee replaced can now have the procedure done in the morning and go home later that same day.
That's a huge change from the not-too-distant past.
According to Vero Beach orthopedic surgeons George Nichols, "historically for joint replacements, maybe 30 years ago, patients would come in to the hospital and they'd be in the hospital five or six or seven days. Over the past 10-to-12 years, we've been shortening that up. You'd be in the hospital maybe three days," and until this past January, "most of my patients were in the hospital just overnight."
Now that hospital stay can be less than one day.
Determining who qualifies for these same-day knee replacements, however, is still a work in progress.
"It's interesting because there are no written [Medicare] guidelines as to who it's OK for and who is not," says orthopedic surgeon Dr. Richard Steinfeld.
The American Academy of Orthopaedic Surgeons partially defines who's eligible for the outpatient procedure when it says "there is a small subset of patients that could appropriately receive outpatient total knee arthroplasty."
New York's Hospital for Special Surgery says these outpatient knee replacement candidates "must be in excellent health with no underlying medical problems or comorbidities. They must have no history of heart or lung disease."
Other factors that can nix a same-day knee replacement are the patient's age, weight, body mass index or a lack of at-home support.
In other words, if Nichols or Steinfeld does recommend a same-day knee replacement for you, you're likely healthier, more fit and younger than the average knee replacement patient in this country.
"The largest growing segment of people who need knee replacements are not 80-year-olds," Steinfeld says. "They're the 50- to 70-year-olds. So, you have some people that are not on Medicare or in the early phase of Medicare. There are a lot of very healthy, active people who would be prime candidates for something like this."
And when Steinfeld says "largest growing segment," he's not exaggerating.
Currently, according to the CDC, some 700,000 knee replacements are performed each year, and the University of California Irvine projects that number will increase five-fold within 12 years, jumping to 3.5 million per year.
Indeed, by 2030, NIH estimates "20 percent of all Americans – about 70 million people – will have passed their 65th birthday and will be at increased risk for osteoarthritis," by far the leading medical problem leading to the need for knee replacements.
Outpatient knee replacement – as radical as it may sound – could be just the beginning.
"Most of us think that within a year – April of 2019 – not only will hip replacements probably be approved but shoulder replacements as well, and then maybe even an approval to [do operations] outside of the hospital surgery centers. It's a definite trend towards working folks to an outpatient setting."
It's been less than six months since outpatient knee replacements were approved by Medicare, so there is not nearly enough statistical evidence to compare the outcomes to pre-2018 procedures, but both these Vero surgeons seem enthusiastically optimistic.
Meanwhile, whether it's a same-day stay or longer, the most important element in any joint replacement, according to the Hospital for Special Surgery, is the doctor's level of experience.
It bluntly states "it's especially important to choose a highly-experienced orthopedic surgeon who specializes in joint replacement surgery," and Nichols and Steinfeld certainly fit that description.
Nichols has been practicing here in Vero since 1984, while Steinfeld has nearly 20 years of experience under his belt.
Dr. George Nichols is with the Indian River Medical Center with offices at 1155 35th Lane, Suite 302. The phone number is 772-794-1444. Dr. Richard Steinfeld is with the Orthopaedic Center of Vero Beach at 1285 36th Street, Suite 100. The phone number is 772-778-2009.