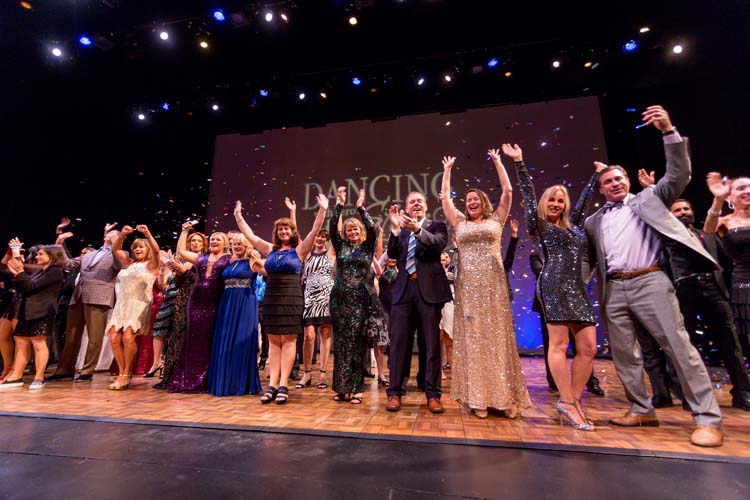 Local stars lit up the stage at Riverside Theatre last Saturday night with one megawatt performance after another at the 10th annual Dancing with Vero Stars to benefit the Indian River County Healthy Start Coalition and support its efforts to establish a system of care that optimizes the health of all local mothers, babies and their families.
In the end, Grand Prize winner Tracey Zudans and her partner Robert Scott were the winners of the coveted Mirror Ball Trophy. A triple threat, Zudans earned a perfect dance score and was the top online and overall fundraiser.
The star dancers all made it look effortless as they spun, whirled, shimmied, leaped and flitted across the stage, but in truth had put in grueling hours learning dance routines and fundraising. Ultimately, they raised an unprecedented $349,554 for HSC.
With event co-chairs Karen Franke and Lisa Thompson Barnes (2015 and 2017 winners) leading the way, there were more sponsorships and individual dancer fundraisers than ever before.
In true Hollywood fashion, dancers arrived in chauffeur-driven cars and made their way along the Red Carpet to the cheers of frenzied fans for a chat with emcee Tiffany Corr.  Later, guests gathered in the lobby for cocktails and hors d'oeuvres while hobnobbing with the dancers.
Hamp Elliott of WOSN returned as show emcee, kicking off the evening by introducing the judges – Barry Johnson, owner of Melbourne Ballroom; Chris Foster, owner of FW Productions; and Dee Rose-Imbro, Vero Beach High School drama teacher. CPA Ross Cotherman of Rehmann again oversaw and verified the voting.
Stars and their professional partners danced their toes off in titillating tangos, steamy sambas and willowy waltzes. Overall scores were based 50 percent on dancing skills and 50 percent on money raised for Healthy Start.
Angela Novak, co-owner of Filthy's Fine Cocktails and Beer, popped, locked and boogalooed in a hip-hop with Sergio Cisneros, earning a 24. "Girl, you can shake a drink and you can shake your booty," said Rose-Imbro.
City Clerk Tammy Bursick and partner Joe Wynes took civil service to a whole new level, earning a 22 for a fusion medley of merengue and bachata mixed with west coast swing, hip-hop and disco. Rose-Imbro proclaimed, "You've got some bumps and grinds, girl."
Richard Giessert, Wells Fargo Bank vice president, and partner Marianella Tobar scored a 29 for their Argentine tango, along with Johnson's praise, "The tango is a man's dance, and a good sign that you are doing well is that we can't take our eyes off of her."
Ben Earman, Senior Resource Association marketing and events manager, wowed judges with partner Kaylan Keathley in a steamy Brazilian zouk and cha-cha medley that earned a 28. Foster noted, "I like my salsa spicy and that was hot."
Dr. Katya Bailor waltzed her way around the stage with Manolo Soler for a score of 26, demonstrating that the cosmetic and reconstructive surgeon has a gentle touch. "That was beautiful, and you were breathtaking," said Foster.
Ron Toperzer, director of fitness at Sea Oaks Beach and Tennis Club, and Shari Tessier enacted a disturbing dream in an interpretive dance showcase that earned a perfect score of 30. Johnson admitted being so wrapped up in the dance that he forgot to score the couple.
Spicing things up, dentist/prosthodontist Dr. Giuliana Diaz Jones showed her true colors, enticing partner Joe Tessier to heat up their salsa with a Latin medley and earning a score of 29. Foster noted "this dance had more tricks than a French hooker and I'm a happy John."
There was no taming Tor Jones, president of Jones & Jones Advertising, as he and Karren Walter danced the samba with the aid of a lion tamer and circus performer, scoring a 27. Said Johnson: "That samba had all the bells and whistles."
David Thomas, a professional makeup artist at Dillard's, and Yvonne Miller were introduced by drag queen 'Hell on Wheels' before dancing the cha-cha-cha and a score of 24. "You really got the crowd going," said Johnson.
Volunteer Tracey Zudans, who juggles intricate steps daily as a mother, and her partner Robert Scott were mesmerizing as they glided across the floor in an elegant foxtrot. A nearly speechless Foster said, "Every ounce of you danced."
Guests adjourned to the lobby for a dessert reception while scores were tabulated, before returning to the auditorium for the big announcement.
First runners-up were Ron Toperzer and Shari Tessier, and the second runner-up team was Dr. Giuliana Diaz Jones and Joe Tessier.
Photos by: Gordon Radford and Stephanie LaBaff
Click HERE to see more or buy photos