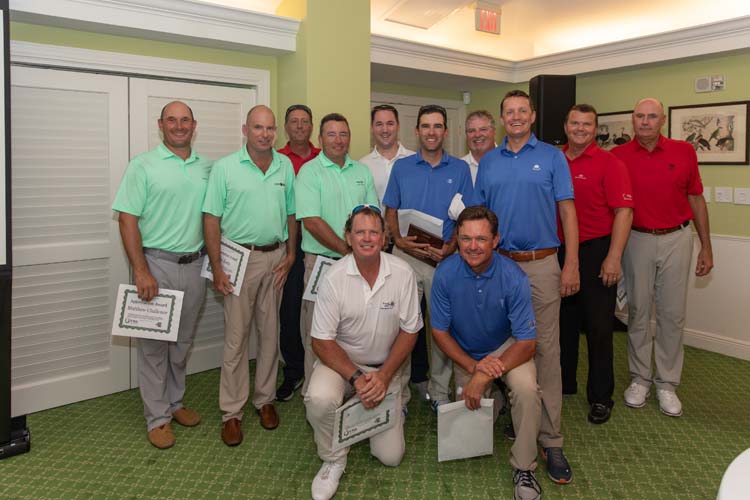 They teach and play the game of kings for a living, but every spring local golf pros volunteer their time to take it to the extreme, playing 135 holes to raise money for the VNA & Hospice Foundation. This year's 28th annual Golf-A-Thon, co-chaired once again by Robbie Saxton and Carrie Trooboff, saw 12 golf pros teeing off under sunny skies at the Riomar Country Club.
Riomar host pro Drew DiSesa was joined this year by Patrick Cerjan, Pointe West Country Club; Matthew Challenor, Windsor Club; Pat Gorman, Bent Pine Golf Club; Bob Gruber, The Moorings Club; Randy Hedgecock, Vero Beach Country Club; Steve Hudson, John's Island Club; Joe Kern, Grand Harbor Club; Ian Killen, Indian River Club; Don Meadows, Quail Valley Golf Club; Bela Nagy, Sandridge Golf Club; and Rich Waage, Orchid Island Golf Club.
The various club members (in a competitive rivalry as good-natured as that of the pros) contribute on behalf of their respective players, as do supporters of the VNA at what has become its single largest fundraiser. Final contributions are still being tallied, but this year is already a record-breaking total of more than $335,000.
Numerous volunteers, many with first-hand knowledge of the caring services provided by the VNA & Hospice, help out before and after the event, and out on the course itself, zipping around the links as 'pro caddy' drivers, raking bunkers and repairing divots.
"There are very many people in our county that can't afford healthcare of any sort," said Kathie Pierce, VNA & Hospice Foundation board chairman, speaking to pros, volunteers and supporters at a post-golf cocktail reception. "We pride ourselves on always helping everybody; we never ever turn anybody away.  All of your dollars go directly to healthcare for charity. The VNA is very proud of that fact."
Lundy Fields, appointed this May as president/CEO of Visiting Nurse Association of the Treasure Coast, said he accepted his new role after having served as a VNA board member, where he saw the need for their services.
"I was introduced to places in Vero Beach I've really never seen before; not really great places," said Fields. He shared the story of meeting a man who became a quadriplegic following a car accident and the great strides made through his efforts working with VNA therapists, using equipment funded through the foundation.
"He says thank you; he'll never be able to come to an event like this to say thank you," said Fields.  "I'm saying thank you on his behalf. From the bottom of my heart, thank you very much. On behalf of the VNA and all the people we serve, thank you, thank you, thank you."
The inaugural Golf-A-Thon took place at the then-new Orchid Island Golf Club, when four pros played 100 holes and raised $26,000. The event will return to Orchid on May 6 for the first time since that initial year, with Catherine Reichert and Mo Reilly, accepting the 'ceremonial golf ball' as 2019 event co-chairs.
The VNA & Hospice provides home health and rehabilitative services, hospice care and bereavement counseling, as well as community wellness healthcare services to anyone needing care, regardless of their ability to pay.
Photos by: Denise Ritchie
Click HERE to see more or buy photos