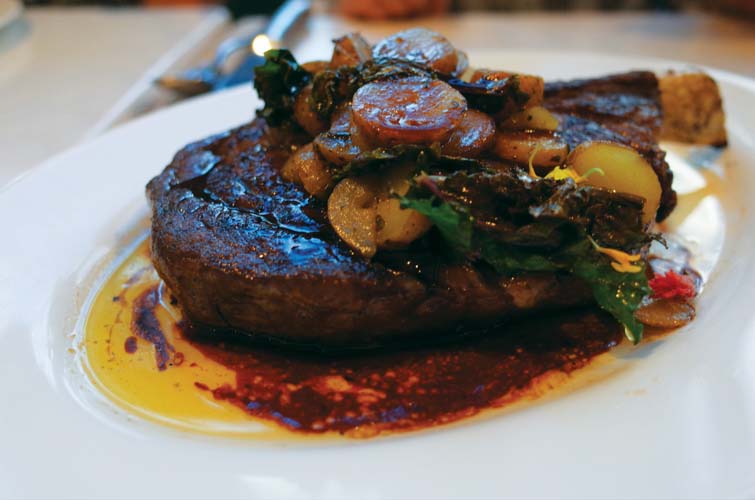 A few months ago, considerable fanfare accompanied news that Chris Bireley, highly regarded chef-owner of Vero's Osceola Bistro, was opening two additional upscale restaurants a half block from the Sunrise Theater in downtown Fort Pierce.  Last week, we paid a visit, and found only one of the two open – and more surprising, Bireley no longer in the picture.
Headline news: The two restaurants planned for the Galleria at the southeast corner of Second Street and Orange Avenue – Rooster in the Garden and the Braford Steakhouse, both featuring Adams Ranch natural beef – remain on track, we were assured.
But only Rooster in the Garden is currently serving dinners, with the very attractive steakhouse now not scheduled to debut for another couple of months.
While Bireley helped in the late-March launch of Rooster, which, like his Vero restaurant, had a farm-to-table emphasis on food grown locally, he is out of the venture, we were told, and new executive chef Gregg DeAquair, a veteran of several Vero kitchens, already is tweaking the menu (though the focus appears to remain the same).
Look & Feel: Rooster in the Garden has three eating areas — an indoor courtyard, a dining room and an outdoor courtyard – separated by large glass windows that make the dining room bright and airy.  The restaurant has a smart, casual feel – cloth napkins, no tablecloths – and the adjacent Braford Steakhouse has an even more upscale look.
Food: Our party of three sampled three appetizers and three entrees.
For starters, I ordered one of the specials, pan-seared sea scallops ($9), my husband went for the soup of the day, an oyster chowder ($7), and our companion opted for the heirloom tomato and cucumber salad ($12).
My two plump sea scallops, served atop a garnish of mashed potato and drizzled with a lemon beurre blanc sauce, were absolutely wonderful. My husband's chowder featured one very, very large Pensacola oyster in a cream-based soup with carrots, celery, onion and diced potato. Our companion's salad consisted of what looked like cherry tomatoes (yes, cherry tomatoes apparently can be heirlooms) and cucumbers.
For entrées, I ordered the Adams Ranch ribeye ($34), my husband went for the tuna au poivre ($34) and our companion picked another of the evening's specials, herb crusted Colorado rack of lamb ($28).
The 12-ounce ribeye was delicious but accompanied mostly by fingerling potatoes and a little braised kale from the Birdie Hogan farm in Vero. The Kissimmee River oyster mushrooms from Okeechobee, part of the reason I ordered this dish, were missing entirely.
My husband's nicely seasoned tuna steak was perfectly prepared, as was our companion's rack of lamb, served with grilled asparagus and mashed potato and finished in a sherry demiglace.
Drink: The Rooster had a nice selection of moderately priced wines, and also offers beer and cocktails.
Service: Under the watchful eye of general manager Kate Shanaphy Maingot, a familiar face to Vero diners, service was both attentive and knowledgeable.
Prices: Prices for starters range from $6 to $13, with entrées running $18 to $34.
Initial impressions:  At this point, it is a bit hard to tell where this all is headed, since the Braford Steakhouse is months behind schedule and the Rooster in the Garden is undergoing a transition in culinary leadership. But the concept is good, and the food the night we were there was very good.
Hopefully between now and next season, these two restaurants will become as big of a hit as any of the shows at the Sunrise.
I welcome your comments, and encourage you to send feedback to me at tina@verobeach32963.com.
The reviewer dines anonymously at restaurants at the expense of Vero Beach 32963.
Rooster in the Garden
Hours: Lunch from 11 am, Dinner from 5 pm
Beverages: Full Bar
Address: 100 S. 2nd Street, Fort Pierce
Phone: (772) 882-9786