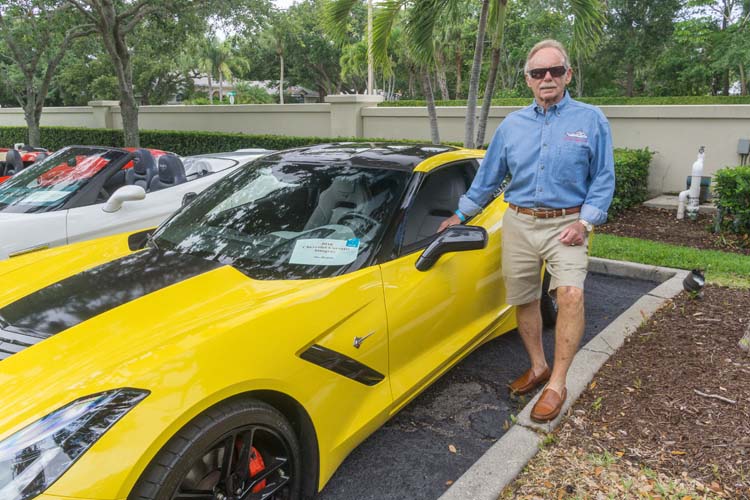 Car enthusiasts flocked to Quail Valley River Club last Saturday afternoon to admire some of the finest vehicles ever produced and marvel at a jet dragster that can blow them all away in a quarter-mile.
"Driving this jet car is literally a blast!" exclaimed Kathryn 'Kat' Redner, our own home-grown celebrity driver. "You line up your car, give it power and you are flying down the track at 280 mph in 5.5 seconds.  The rush is indescribable."
Redner currently attends Florida Institute of Technology, where she is studying multi-platform journalism with a focus on STEAM (Science, Technology, Engineering, Arts, Mathematics) education.  She has also interned at Larsen Motorsports for nearly three years, crewing and coordinating its marketing and communications. This past January she earned a position on the 2018 Larsen Motorsports jet racing team, becoming one of only eight women jet dragster drivers in the nation.
Redner was taught by one of the best – Elaine Larsen, a two-time World Champion jet dragster driver and president of Larsen Motorsports.
"Kat worked with me behind the scenes for 2 1/2 years. And seeing her transition to the driver's seat and gain confidence behind the wheel fuels the LMS business model of helping create the next generation of high-performance professionals," said Larsen with pride.
"My husband Chris and I changed our focus from racing to make money and acquire trophies, to figuring out a way to inspire the next generation to continue improving the cars and the sport. Eighty percent of our employees are college interns from FIT, who earn college credits while developing new technology and learning about the motorsports industry."
Kat's mother, Martha Redner, is Quail's director of membership and marketing and is also executive director of Quail Valley Charities, the event's beneficiary. "We help fund 35 charities that focus on education and children within Indian River County and all the proceeds from this event will go toward those charities," she said.
"Many of our members are car enthusiasts and this was a perfect opportunity to blend the love of cars with the philanthropic goals of our club. We have 37 museum-quality collector cars at this show belonging to our members and team associates. The oldest is a 1936 Ford Phaeton and the newest is a 2018 McLaren. The appearance of the jet dragster makes  it even more special."
To view a schedule of events where you can see Kat Redner and other drivers race to the finish line, or to request a tour of the facility, visit LMSJETS.com.
Article by: Kerry Firth
Photos by: Gordon Radford
Click HERE to see more or buy photos