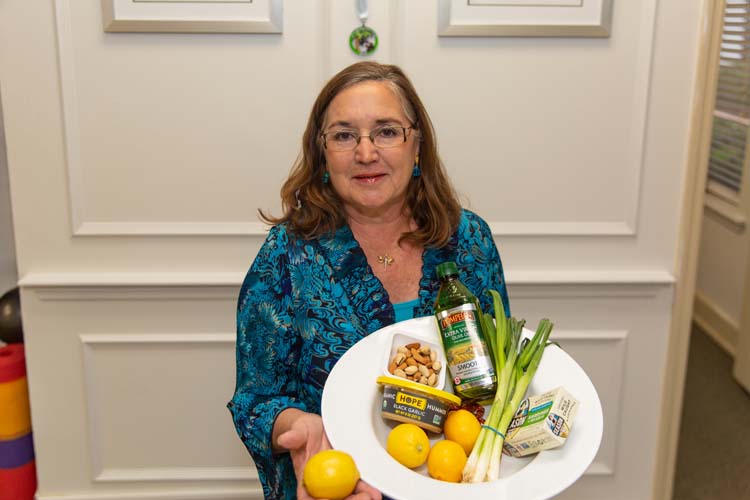 A new study from the University College London in the United Kingdom suggests that older adults can reduce their risk of frailty by following a Mediterranean diet, helping them stay independent as they age.
While frailty may seem like a vague term, it has a specific meaning in geriatric medicine: it is a progressive decline in multiple body systems that increases the risk for serious illness, falls, fractures, dementia and premature death. Frailty is also associated with low energy levels and a diminished quality of life.
The researchers reached their conclusion after analyzing data from previously-published studies that compared the incidence of frailty in older adults with the type of diet they followed.
Colleen Symanski, co-owner of A Healthier Me, a health and fitness studio on the barrier island, is a registered nurse, health coach and certified diabetes educator. She's familiar with the U.K. study and says there are other studies that support the numerous health benefits of embracing a Mediterranean diet.
Dr. Kate Walters, joint study leader and director of the Centre for Ageing and Population Studies at University College London, says the evidence of reduced frailty is consistent: "People who followed a Mediterranean diet the most were overall less than half as likely to become frail over a nearly four-year period compared with those who followed it the least."
The Mediterranean diet was first defined by researchers in the 1960s. It draws on the healthy eating habits of people from a number of different regions, including Crete, Greece, Spain, southern France, Portugal and Italy.
As defined by WebMD, the Mediterranean diet is characterized by:
High quantities of vegetables, such as tomatoes, kale, broccoli, spinach, carrots, cucumbers and onions
Fresh fruit, such as apples, bananas, figs, dates, grapes and melons
High consumption of legumes, beans, nuts, and seeds, such as almonds, walnuts, sunflower seeds and cashews
Whole grains such as whole wheat, oats, barley, buckwheat, corn and brown rice
Olive oil as the main source of dietary fat, along with olives, avocados and avocado oil
Cheese and yogurt as the main dairy foods, including Greek yogurt
Moderate amounts of fish and poultry, such as chicken, duck, turkey, salmon, sardines and oysters
Moderate amount of eggs, including chicken, quail and duck eggs
Very limited red meats
Very limited sweets. And no sweetened drinks at all.
While water is specified as the main beverage of the Mediterranean diet, the lifestyle does include one glass of wine per day. Vero's Colleen Symanski says, "Red wine is more closely associated with the Mediterranean diet than white wine, as red wine is made with the skins and seeds of the grape, which contain most of the healthy compounds."
Because it focuses on plant foods and natural sources, the Mediterranean diet contains valuable nutrients such as healthy fats and fiber; it is also low in sugar and has a high vitamin and mineral content. In addition to its anti-frailty benefit, the Mediterranean diet is linked to good heart heath, protection against stroke, and prevention of diabetes. Moderation in the amount of food consumed is recommended, as the diet does have a high fat content.
By all accounts, the Mediterranean diet should be paired with an active lifestyle for the best results.
The U.K. research was published in the Journal of American Geriatrics Society. The analysis pooled results from studies in France, Spain, Italy and China that included nearly 5,800 participants.
Symanski's advice to the community, which goes beyond the benefits of a Mediterranean diet: "Eat more foods closer to their natural source, such as vegetables, nuts, whole grains and fresh fruit. Enhance foods with herbs, spices and olive oil while trying to limit table salt and butter. Eat more meals with family and friends. Move your bodies more, even if it's in small increments of time. Get enough restful sleep; take a nap if you need to. Laugh more."
A Healthier Me is located at 2855 Ocean Drive, Suite C-2 in Vero Beach; Symanski's phone number is 772 231 5555.