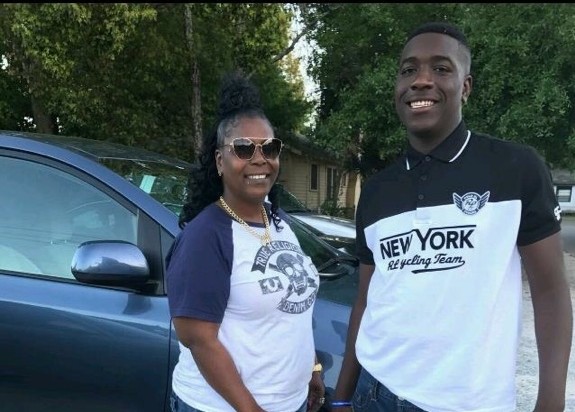 INDIAN RIVER COUNTY — A former prominent football player at Sebastian River High School was arrested early Tuesday on several felony charges – including first-degree murder – in connection with the April drive-by shooting death of Christard Hicks, authorities said.
The arrest is the latest incident in the fall of a young athlete once looked at with potential to play on a college team.
"Today's arrest is a fine example of how community cooperation can help us find justice in these horrific acts of violence. Jamal Riggins was arrested as a result of witness statements corroborating physical evidence obtained by our detectives," Sheriff Deryl Loar said in a statement.  "It is a safer day in Indian River County now that Riggins is behind bars."
Deputies charged Jamal Levon Riggins Jr., 19, of the 700 block of 5th Place Southwest, with first-degree murder, five counts of attempted murder, possession of a firearm by a convicted felon and shooting or throwing a deadly missile. Riggins remains at the Indian River County Jail without bond.
Riggins' arrest report was not available.
In late April, Christard Hicks was injured in a drive-by shooting in the 4400 block of 25th Avenue as he was standing outside with a group of friends, according to deputies and family members. Then shots rang out and Hicks collapsed.
Hicks was taken to a hospital, where doctors pronounced him dead.
A black Chrysler fled the scene and was eventually found by detectives, deputies said. Since the shooting, detectives spoke to witnesses and processed evidence, which led to Riggins' arrest.
For the family of Hicks, the arrest brings closure, but they're hoping the charges stick. The 19-year-old was killed nearly a week before his 20th birthday.
Hicks' family does not think he was the intended target in the shooting. The victim's aunt, Lillie Hicks, said a friend of Christard Hicks, and the suspect, Riggins, had exchanged words at a grocery store prior to the shooting.
"(The charges) won't bring my nephew back. There are tears we still have to cry," Lillie Hicks said. "Whether (the bullets) were intended for my nephew or not, (Jamal Riggins) still needs to be held accountable. He had a bright future but he made stupid mistakes. "
Lillie Hicks spoke to one of her nephew's friends, who said she, Hicks and another person drove to a nearby grocery store on 33rd Avenue sometime before the shooting. The female stayed in the car while Hicks and his other male friend walked inside.
Hicks' male friend "exchanged words" with Riggins, who was also at the store, the friend told Lillie Hicks. Hicks and his two friends then left the store and drove to a home on 25th Avenue.
The friend told Lillie Hicks they saw Riggins in a white car earlier, which they saw circle around the home twice. They think Riggins switched vehicles and got in the black Chrysler, where bullets sprayed and hit Hicks, Lillie Hicks said.
"That's premeditated," Lillie Hicks said.
Hicks had been staying with Lillie Hicks in Fort Pierce to finish school at Performance Based Preparatory Academy. He was only three classes short of earning his diploma.
Christard Hicks' Funeral
The family of Christard Hicks remembered his life at 3 p.m. April 28 at House of God Church in Fort Pierce, Lillie Hicks said. Nearly 400 people attended to pay their respects to the well-known teen who had dreams of becoming a professional baseball player.
Jamal Riggins criminal history
Riggins was previously arrested on charges of child abuse and lewd and lascivious battery for an incident that happened in November 2016. Riggins was accused of having sex with a 14-year-old girl in a team room after being ejected from a game at Sebastian River High School, 9001 Shark Boulevard.
Deputies arrested Riggins again during a traffic stop Feb. 2017 in the 3300 block of 45th Street on a charge of carrying a concealed weapon. Riggins, who does not have a concealed carry license, told deputies he got the firearm from his uncle, an arrest report shows.
Riggins was convicted of child abuse in June 2017, court records show. Riggins pled no contest to the charge on June 9, 2017, and was ordered to serve five years of probation, court records show.
Riggins' family was not immediately available for comment.
Homicide Case
The homicide case remains active regarding others who might be involved, deputies said. Anyone who has information on the incident should contact Treasure Coast Crime Stoppers at 1-800-273-TIPS or tcwatch.org.
Callers can remain anonymous and possibly be eligible for a reward of up to $3,000.
Photos provided by Christard Hicks' family
This story will be updated.