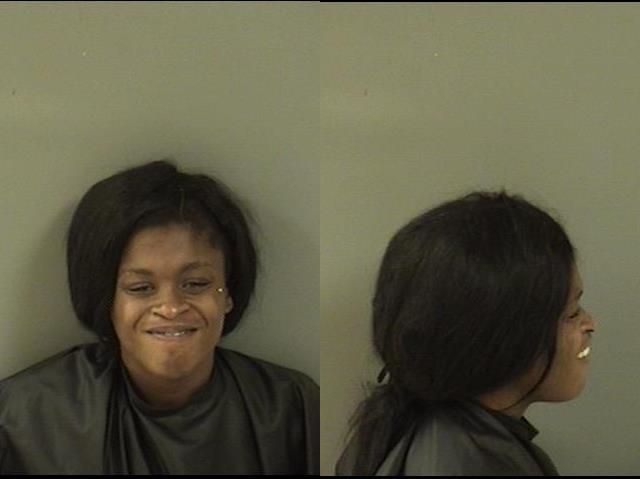 INDIAN RIVER COUNTY — A 21-year-old woman suspected of striking a highway trooper's vehicle during a pursuit told authorities she smoked marijuana and ingested a sedative drug earlier in the day, authorities said.
Florida Highway Patrol troopers arrested Jamyiah Patrice Tillman, of the 600 block of Fleming Street, Sebastian, on a variety of charges including aggravated fleeing and eluding, driving under the influence, possession of marijuana under 20 grams and resisting arrest without violence.
Tillman is being held at the Indian River County Jail without bond.
An FHP trooper was traveling northbound about 3:41 p.m. May 5 on U.S. 1 when he noticed a green Chevy truck rear end a small vehicle. The minor crash happened south of County Road 510.
The trooper spoke with the truck driver, later identified as Tillman. Tillman was slumped down in the seat and appeared intoxicated, an arrest report shows.
The trooper instructed Tillman to pull directly in front of his vehicle. Instead, Tillman drove off through the northbound intersection, which had a red light, troopers said.
The trooper followed the truck as it made several U-turns and then headed southbound on U.S. 1. Tillman tried to make a right turn from U.S. 1 to 57th Street when the vehicle veered off the roadway and struck a fence, authorities said.
Tillman put the truck in reverse and struck the trooper's vehicle, an arrest report shows. The truck was "hooked" to the patrol car with its rear wheels off the ground.
The trooper got out of the patrol car, opened the driver's door to the truck and grabbed Tillman. Tillman was able to push the trooper away and ran southbound on the sidewalk on U.S. 1.
A motorist that was passing by gave the trooper a ride to catch up with Tillman. Then, a citizen helped the trooper detain Tillman, an arrest report shows.
The trooper seized a bag of marijuana from Tillman's truck. Troopers took Tillman to the county jail, where she admitted to taking drugs that day, troopers said.
Tillman has an arraignment at 8:30 a.m. June 6, court records show.