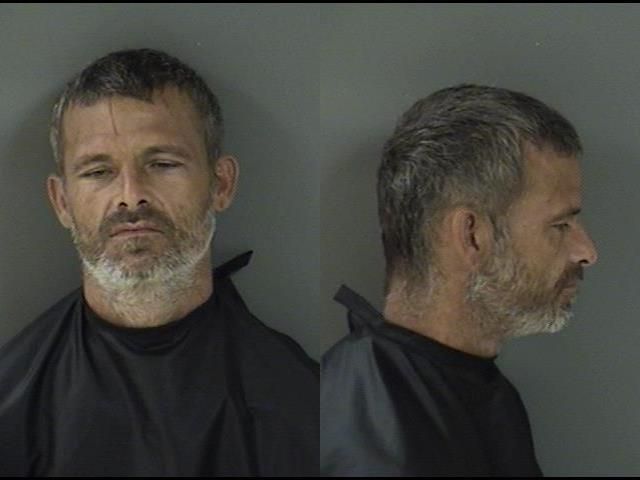 INDIAN RIVER COUNTY — A 40-year-old man is suspected of trying to break into two homes in one day, all while walking his dog on a leash, authorities said. The incidents were captured on security footage at both residences.
Deputies arrested Ralph Jolly, of the 6100 block of 6th Place, on a charge of attempted burglary and two counts of loitering and prowling. He is being held at the Indian River County Jail on $25,000 bond.
Deputies spoke with a resident who said a man, later identified as Jolly, was walking around his home about 1:30 a.m. Tuesday in the 3300 block of 57th Avenue. The resident woke up to his own dog barking, alerting him to something outside.
The resident said he heard a yell and then heard someone trying to open the front door, an arrest report shows. The resident woke up his wife and they both looked out the window to see Jolly near the street with his dog.
The resident went on his front porch and said, "Who is there?" deputies said. Jolly replied, "I'm looking for my dog."
Surveillance footage at the residence captured Jolly walking up to the front door with the dog, an arrest report shows. The resident later notified his neighbor, who said Jolly also tried to break into his home that same day.
Deputies spoke with the neighbor, who said his house alarm went off about 9:30 p.m. Tuesday. The neighbor inspected the residence the next day and found a window partially open.
The neighbor checked surveillance footage and saw a silhouette of Jolly and his dog near the window on their back patio, an arrest report shows. Jolly was later spotted by the neighbor sitting with his dog outside of Publix located at 2040 58th Avenue.
The neighbor called law enforcement and Jolly was arrested. Jolly has an arraignment at 8:30 a.m. June 6, court records show.