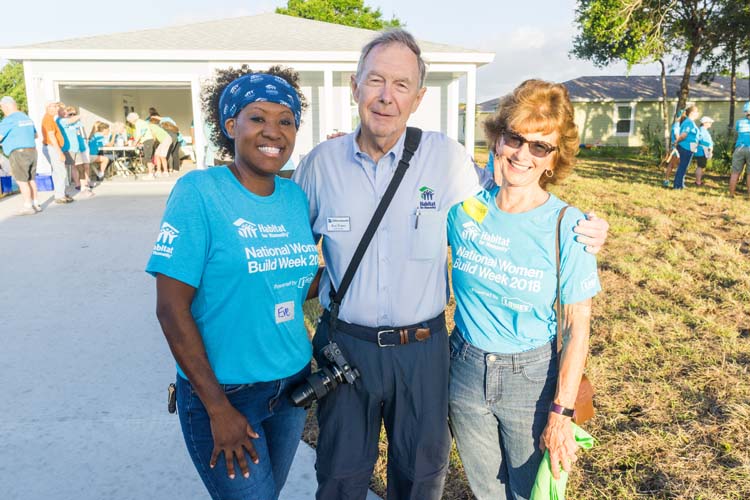 More than 100 women hammered home the mission of Indian River Habitat for Humanity to bring people together to build homes, communities and hope during the 11th annual National Women Build Week last Saturday morning at Habitat's Waterside Community in South Vero Beach.
"We build homes and help dreams come true," said Connie Poppell, IRHH board president.
With Mother's Day just around the corner, the women created a cacophony of support as they measured, sawed, drilled and hammered all morning long to assist three single mothers who are working to create a better life for their children.
"It's not a women's build; it is women build. That is an emphatic statement," said newly appointed Habitat president/CEO Sheryl Vittitoe, addressing the crowd of female framers. "We as women build a lot of things.  And today we thank you for your time to assist and to contribute to building lives; changing not only individuals' lives but also changing generations of families and their lives."
Habitat for Humanity is based on the premise of 'a hand up not a handout,' so several future homeowners were on site to pitch in.
Ja'Licia Gachelin said she is looking forward to moving into her new home with her son in December. As she looked across the street at the sea of women working on what will be her home she said, "It's been an unbelievable experience; meeting so many people helping to build the future for me and my son."
"When you come from nothing you are either gonna have nothing, or you're gonna gain something," added future homeowner Lakeydra Bell. "I wanted my kids to see me do better."
Bell works three jobs to make her dream of owning a home a reality. When she first applied to Habitat, her job as a dietary aid wasn't enough for her to qualify, but she's willing to do whatever it takes to give her children a place to call home.
"At Habitat for Humanity, as certain walls go up, other ones come down," noted Eve Kyomya, Habitat director of community development. "As you're working together, you meet people that you may never have come across during your everyday life. But then you come together to volunteer to build a Habitat house and you begin to build community."
Volunteers ranged from first-timers to veteran builders, local business notables and government officials.
"I love doing this kind of work," said Karen Mersky, a first-time Habitat builder but no newcomer to volunteerism. "It's exciting that a group of women can give back as a collective group and do it for the community."
"It's very rewarding for me to see the family in a safe home," added team leader Leslie Balcerak, who has been volunteering with Habitat for 10 years. "It makes me feel good knowing that I've probably changed a life and empowered women to give back."
For more information, visit irchabitat.org.     
Photos by: Gordon Radford
Click HERE to see more or buy photos