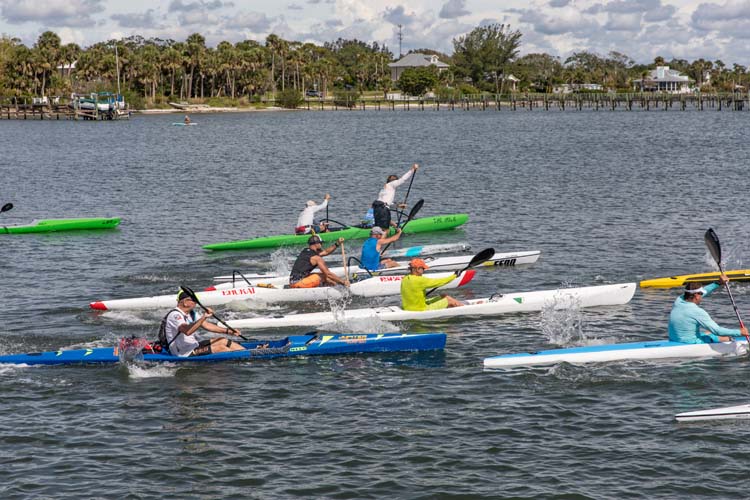 Water enthusiasts dipped their oars into the Indian River Lagoon and paddled their hearts out at an inaugural Pareidolican Watercraft 5K last Sunday morning to benefit the Piper's Angels Foundation, whose mission is to support and improve the lives of families in the cystic fibrosis community through awareness, education, life-expanding activities and urgent financial support.
Paddlers departed the beach near the Sebastian Yacht Club in everything from kayaks and outriggers to standup paddleboards and surf skis, and afterward cooled off at Pareidolia Brewing Co. with a free beer, music by Unit 5, raffles and awards for top finishers in each class.
Inspired by Crossing for a Cure – a 75-mile endurance charity paddle across the Gulf Stream from Bimini in the Bahamas to West Palm Beach – the Pareidolican was a means to raise money for individuals suffering from cystic fibrosis, according to event organizer Jason Malick.
"I was attracted to this cause because my wife has bronchiectasis, which is like a mild form of cystic fibrosis," explained Malick. He said he was moved by the determination of Piper's Angels founder Travis Suit to help others battling CF. Six years ago, when Suit's daughter, Piper, was diagnosed with CF at age 4, Suit adhered to the belief that "no matter what obstacles we face in life, we can always use the gift of choice to persevere."
Rather than focusing on drug research, as has been traditional in the CF community, Piper's Angels supports families and individuals with the disease.
"There's been a void in the focus on quality of life," said Suit. "That factor is pretty important because when you spend a lot of time in the hospital battling this disease, the good days are the good days and you've got to cherish them. Our motto is: Inspire every breath and be bold in the face of fear."
After surfers with CF in Australia noticed a marked improvement in airway clearance from saltwater exposure, the observation led to a study funded by the Cystic Fibrosis Foundation and reported in the New England Journal of Medicine. Their findings were that while CF causes thick mucus to clog the lungs, leading to chronic infections and damage, the saltwater appears to help to thin the mucus.
"When you're in the hospital for three weeks you need to rebuild your strength," said Suit, noting that once out, watersports are a good way to build up strength while getting exposure to salt water. In their case, he would take his daughter out on a paddleboard, seeing dolphins and manatees along the way.
"Today, she's paddling in her first race," said Suit.
Pareidolia Brewing Co. owner Peter Anderson had welcomed Malick with open arms, sponsoring the event and opening the brewery for the after-party.
"Pretty much every event we do we tie to a charity," said Anderson. "We try to raise as much money as we can for charities."
For more information about Piper's Angels or the June 16 Crossing for a Cure, visit pipersangels.org.
Photos by: Denise Ritchie
Click HERE to see more or buy photos