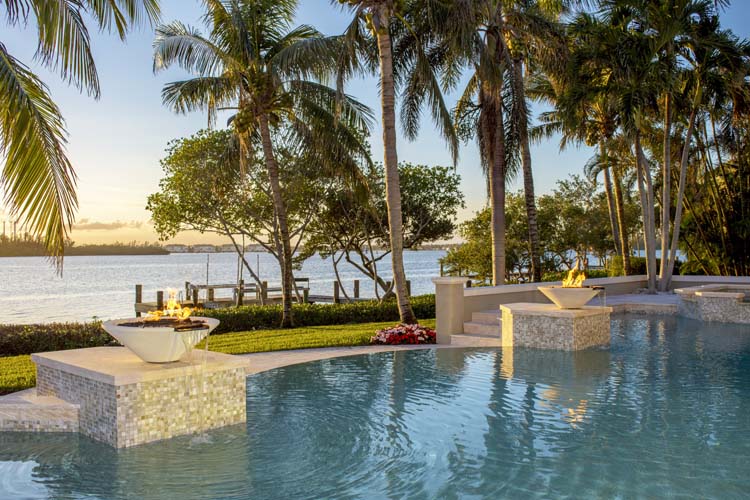 Treasure Coast Sotheby's broker Michael Thorpe has high hopes for an innovative partnership he has launched with the top luxury brokerage in Maine to cross market properties in Maine and Vero.
"I anticipate a couple of sales a month to begin with," says Thorpe. "That will be easy to achieve. The coastal, water-sport, luxury lifestyle along the Maine coast and here in Vero are similar and the seasons are opposite.
"Their nicest months are July, August and September, when it is hot and muggy and rainy in Vero. September is heaven up there – sunny, low humidity and temperatures in the 70s. Once people realize the genius of spending the best months here and the best months there, the idea sells itself, especially with Elite Airways now flying direct from Vero to Portland. Those flights are the tipping point."
The partnership is with Legacy Properties Sotheby's International Realty, which is owned by Chris Lynch and has five offices along a 110-mile stretch of the Maine Coast between Kennebunkport and Camden, all located in picturesque seaside towns with strong luxury markets that regularly appear on lists of the prettiest and most pleasant places in the state.
According to figures provided by Lynch, Legacy sells more homes priced at $400,000 and up, and more homes priced at $1 million and higher, than any other brokerage in Maine, by a wide margin.
Legacy's main office in Portland is less than two miles from Portland International Jetport.  Elite offers one-way flights to Vero from the Jetport for $199. Lynch, who lives 15 minutes from the Portland airport, says he can leave his house 45 minutes before takeoff and make the flight with no problem.
The partnership between the two Sotheby's brokerages came about when Lynch and his wife, "who will soon be empty-nesters," decided to buy a Florida home. The couple had a group of friends with ties to Vero Beach and The Moorings Yacht and Country Club.
They first laid eyes on Vero in January, and Lynch says "we felt very much at home. The lifestyle is not dissimilar to where we live, with boating and fishing and spending time at the beach."
The Lynches went out with Thorpe and his wife and partner, Kim Thorpe, on that first visit and looked at a dozen or so houses, including a 2,200-square-foot house with a pool and dock on Windward Way.
They looked at another "10 or 15 homes" on a second trip, but kept their eye on the Windward Way property, in the community where they had friends, and when the price dropped, they pulled the trigger and purchased the home.
The deal closed in mid-April and Lynch says the Vero-Maine connection got an immediate boost the day of the closing.
"I was hanging around the house the day of the closing and out in the yard and met some of the people in the neighborhood. Two of them are already working with our agents to rent summer places in Maine."
When he is not using it, Lynch plans to make his Moorings home available to his agents, so they can experience Vero's charm and learn about the market as a prelude to selling homes here to their clients.
Treasure Coast Sotheby's marketing director Kayla Montgomery says there will be an integrated cross-selling strategy that will include Legacy advertising Vero properties in Maine and talking up the town, while Treasure Coast Sotheby's advertises and talks up vacation homes in Kennebunkport, Portland, Brunswick, Damariscotta, Camden and other seaside towns in Maine.
"We will use print advertising as well as all of our social media channels," says Montgomery. "I expect that Mike will go to Maine to speak with Legacy's agents and give them an inside feel for the Vero market and Chris Lynch will come and speak with our agents here."
"This will be an ongoing, permanent campaign," Thorpe says. "There has been a slow trickle of folks from Maine who have discovered Vero, not many yet, but they are here. And they are trying to get their friends and relatives down here and the Elite Airways direct flight is going to increase exponentially.
"For people up there, coming to Vero during the cold Maine months after Christmas – January, February and March  – is ideal. Same with Vero folks, living here nine months out of the year and spending July, August and September up there."
"I have no doubt it will be a great situation" for both Sotheby's brokerages, says Lynch, who is looking forward to coming to Vero with his family next season.