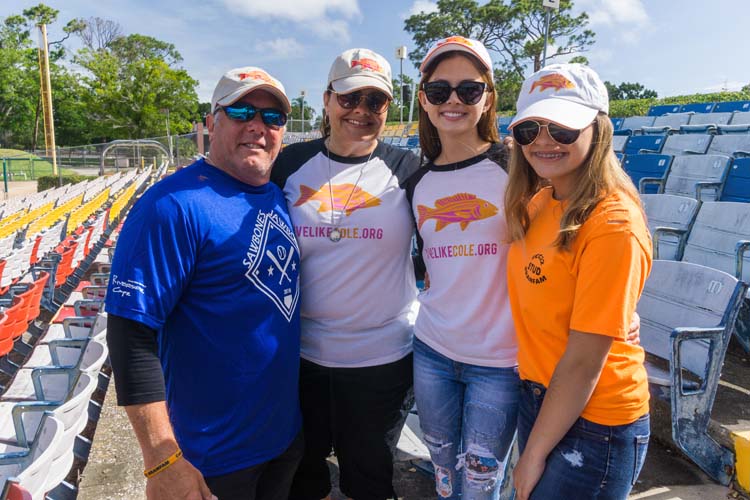 Stormy forecasts and threatening skies couldn't dampen the competitive spirits of the doctors and lawyers who gathered at Historic Dodgertown's Holman Stadium for the sixth annual Doctors vs. Lawyers, aka Sawbones vs. Jawbones, Softball Game and Spring Picnic.
Fortunately, the sun shone brightly on the baseball diamond as the teams took to the field for some friendly competition, playing for charities honoring two young men taken too soon.
"While this competition has been going on for years, this is the sixth year we've played the game for charity," said attorney Jesse Larsen, stepping off the plate after batting practice. "This year we are supporting the Live Like Cole and Jimmy Graves Foundations. In the past we've raised between $4,000 and $5,000, and the proceeds will be split equally between the two foundations.
"We are honored to be beneficiaries of this event," said Dr. Nicholas Coppola of the Live Like Cole Foundation, founded in memory of his son Nicholas "Cole" Coppola.
"After we lost my 16-year-old son to a drunk driver 3 ½ years ago, I came to the conclusion that every time the world loses a child it loses great potential. We at Live Like Cole try to give back a portion of that potential. In the past two years the foundation has given $50,000 in scholarships to local kids, schools and sports teams. We've given $100,000 to local charities and we've built a new fishing pier in Riverside Park."
He noted that they are now working on three new projects: a bike share program to hopefully ease the beachside parking problem; making repairs to hurricane-damaged docks at Royal Palm Pointe; and working to raise $60,000 to send the Vero Beach High School band to London for the New Year's Day parade.
Attorney Joe Graves thanked the doctors and lawyers for designating the Jimmy Graves Foundation as the second beneficiary this year.
"My 15-year-old son was killed in a boating accident in December 2016," said Graves. "Shortly after we established the foundation, the county decided to sell 11 acres across from the high school. We bought the property with the promise to turn it into a community asset that would benefit our youth. Our vision is to build a track that can be used by the high school and community track teams with a turf infield so soccer and lacrosse can take place as well."
As for the competition, Larsen claims "Jawbones won by at least 10 runs," adding with a laugh that the exact score isn't known as "the scoreboard keeper appeared to be asleep on the job."
But the score really didn't matter. The day was more about two brave fathers turning grief into good and two teams of dedicated doctors and lawyers – all playing ball together for the betterment of youth in our community – showing the true heart and soul of Vero Beach.
Article by: Kerry Firth
Photos by: Gordon Radford
Click HERE to see more or buy photos