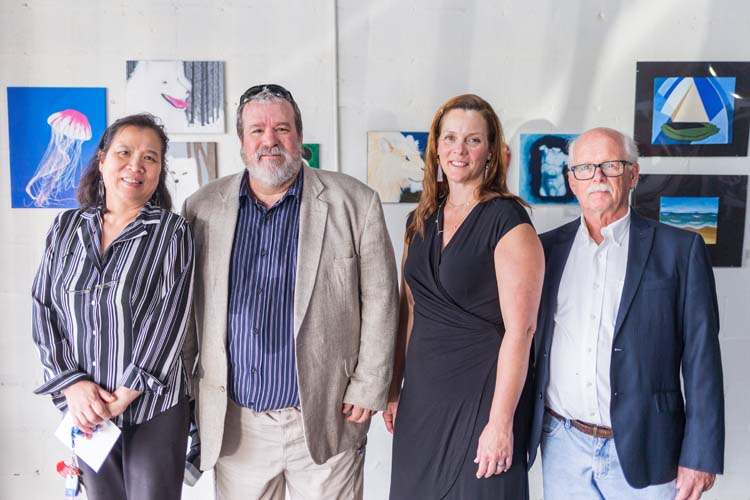 The annual Indian River Charter High School end-of-the-year art show has typically been a jam-packed event. Friends, parents and kids crowd into the school's hallways for a head-spinning celebration of the students' efforts of that academic year.
This year, for what may be the first time, the paintings, drawings, photographs, sculpture, collage and ceramics from more than 100 students are getting the dignity they deserve: a formal Juried Student Contest and Exhibition at the real-world gallery, Raw Space. The opening last Friday night, star-studded if the measure was the talent expressed, was further amped up with hors d'oeuvres, live music and prizes donated by a craft store.
"Wonderful people have offered us this opportunity to have an authentic opening experience instead of in the hallway outside the classroom," says Lucie Burke, head of Charter's art department, who earlier in the week, after a long day of teaching, pulled up to the Old Dixie gallery in a mini-van loaded with boxes of student art.
Against the rugged, industrial-look gallery space, many of the works were eye-catching.
Among them: "Everybody," a charcoal drawing by 12th-grader Ksi Grey that features a throng of people at a banquet and a robotic creature looming over them. Elizabeth Hollers, who aspires to go to Savannah College of Art and Design next year, entered her work on Internet dating – a collage of computer keyboard keys assembled to form a finger pointing at a heart. Madison Torrent, a fellow senior, contributed an abstract still life, "Bottles and Fruit," in vivid pastels.
A freshman Burke described as "incredibly talented," Molly Phillips, displayed a figurative painting and study in perspective showing a pensive young woman in jeans, reclining with her sneakers in the foreground. And Samantha Stalvey showed her still life with the focus on a coral-colored Kewpie doll.
The downtown gallery, owned by Neli Santamarina, is considered the arts district's most innovative. While it typically features works by well-known Caribbean and Latin American artists, many of them circulating through Miami, where Santamarina is based, it was opened several years ago with an eye toward encouraging emerging artists. In that regard, Charter High School has proven a hotbed of talent, much of it on display during evenings of conceptual and performance art in the adjacent Project Space 1785.
The school's Visual and Performing Arts Program, better known as VAPA, offered for the first time this year, what may be the nation's most challenging secondary school arts curriculum: AP Studio Art, a part of the College Board's Advanced Placement program better known for neuron-popping courses like physics, chemistry, calculus and history. Like those traditional subject courses, getting College Board credit for AP Studio Art means passing a rigorous exam at the end of the year. A midpoint or higher grade is the only way students can obtain college credit for the course, including at art and design schools.
Last year, Charter students Tasha Reiner and Sheila Nguyen were admitted to Ringling College of Art and Design. Both won scholarships from the Vero Beach Art Club to defray costs at the Sarasota school, ranked as one of the most expensive colleges in the nation. Though Charter did not offer the AP Studio Art course during their time there, both were part of the school's most advance art class, Portfolio.
Jurors for the show, recruited by Santamarina, included Silvia Medina, who co-owned the beachside gallery Intrepid and now represents artists through her company, Art Concept Alternative.
Two of those artists served as fellow judges, Carlos Perez Vidal, a Cuban-born mixed-media artist and graduate of Cuba's National School of the Arts and the Art Institute of Havana; and Niurka Barroso, also Cuban-born and now based in Toronto. A former photojournalist with Agence France-Presse, Barroso holds a degree in classical languages from Havana University and was part of a three-woman show at Intrepid in 2012.
The judges gladly set aside their own prestige and portfolios to consider the talents of the next generation.
The demands of the AP course have significantly accelerated the production rate of Charter's top art students, according to Burke. While the allotted time for Charter art classes is around 50 minutes, the class requires eight full hours of work a week, she says, meaning much of it must be done after school hours.
The College Board requires students to generate one artwork per week, a pace that flies in the face of aimless young artists waiting for the muse to strike.
While creating is still the operative verb, cranking out may be the more realistic term for what the students, just like professional artists, are faced with every working day.
"A college student from Charter came back from SCAD and I asked her what I could have done better to prepare kids for the rigors of college. She said to have shorter deadlines, because that's the way it is in college," says Burke.
As the school year was drawing to a close, it was not only the end-of-the-year art show but another juried show at the Vero Beach Museum of Art that put the heat on the students. Right on the heels of the shows was the deadline for the AP Studio Art projects that would be graded by the College Board as the course's final exam, using the same notoriously tough standard used in the academic fields.
Burke pulls out a striking portrait of a man in a fuchsia derby, done by one of her top students, Tessa Jannetty and says, "She was frantically finishing it up right when I was ready to leave."
Burke comments that the multiple deadlines are helping to prepare her students for things to come.
"I've been telling my students for the past couple of weeks, when they've been all like, Eeeee!, that if you choose this as a career, this will be what it's like. They know. And it's really good for them."
The Charter High School end-of-the-year art show remains at Raw Space through May 14. The gallery is at 1795 Old Dixie Highway, in the same plaza as Wild Thyme catering.