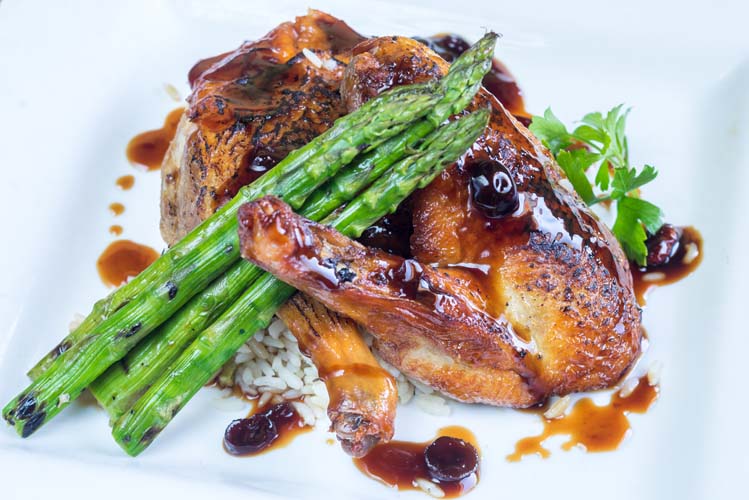 After a decade as the Vero Beach 32963 dining columnist, I must confess there are some restaurants where I look forward to the dining – but not to the reviewing.
Chill & Grill is one of them.  The reason:  The food at this smallish, out-of-the-way restaurant is so reliably wonderful, I have trouble finding new things to say.
I'm tempted to simply rerun last year's review, which raved about Chill & Grill's steamed clams.
I suppose on this visit, I could have tried a different starter – but it simply would have been asking too much of even a dedicated reviewer to expect me to pass up the best steamed clam appetizer in the area.
No one prepares a more sumptuous, addictive bowl of steamed little necks than Chef Scott Burch – who before launching this restaurant with his wife Csilla, was executive chef at Windsor.
Steamed in a pinot grigio, garlic and clam sauce, the broth is to die for. And the bowl is brought to the table with a crusty baguette for soaking up every last drop.
While I enjoyed those, my husband started with his favorite, Chill & Grill's calamari fries.
These look just like French fries, but they are made from calamari cut lengthwise, rolled with panko bread crumbs, and deep fried.
Served with aioli, the calamari make a tremendous appetizer.
But after finishing the clams, I decided to try something new – Chill & Grill's grilled lamb loin chops ($27.95). The juicy, meaty chops were, predictably, excellent as was my husband's entrée, a luscious piece of BBQ glazed salmon from the wood-burning oven.
On previous visits, we've enjoyed the roasted chicken with garlic mashed potatoes (wonderful comfort food); fork-tender short ribs; a very tasty smoked brisket served over mac and cheese; and the shrimp and grits – as good a rendition of this Southern classic as I have ever had in Vero.
The house-made desserts here also are sinfully good.
While it does not have cocktails, Chill & Grill has a more than adequate selection of wines, and an interesting selection of specialty craft beers on draft.
Dinner for two with a couple of glasses of beer or wine should run in the $90-to-$100 area before tax and tip.
The one negative to Chill & Grill, given its midway-between-Vero-and-Sebastian location, is it does not take reservations. Even during off-season, this jewel in the middle of nowhere is frequently packed by its intensely loyal cadre of fans, resulting in a short wait.  But happily, a new gazebo has appeared at the entrance that offers a place to sit.
Now, while you wait for your table, you can enjoy a drink – and anticipate the exquisite tastes that lie ahead.
I welcome your comments, and encourage you to send feedback to me at tina@verobeach32963.com.
The reviewer dines anonymously at restaurants at the expense of Vero Beach 32963.  
Chill & Grill
Hours: Dinner from 5 to 9 pm daily except Monday
Beverages: Beer & Wine
Address: 7401 US 1, Vero Beach
Phone: (772) 562-5477