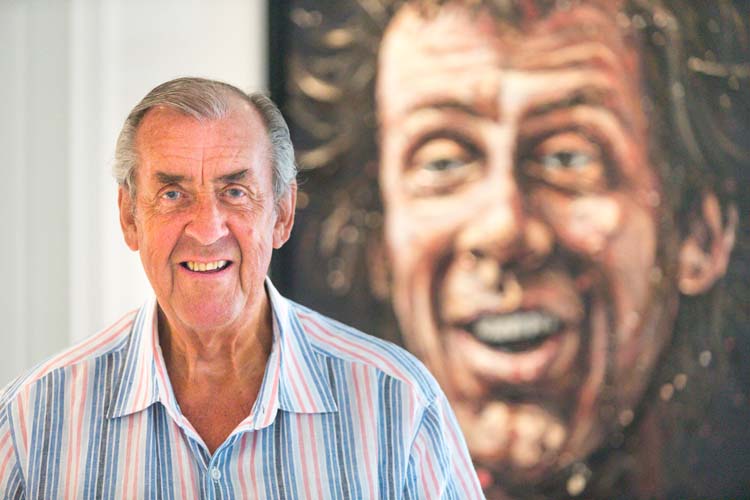 Now a Vero Beach resident, David Hobbs spent nearly 30 years racing through life. The Motorsports Hall of Famer began his love affair with speed at age 16, tooling around the backroads of Warwickshire, England on a Lambretta motor scooter with "Mags," his then girlfriend and now wife of 56 years, on the back.
Following a few inauspicious misadventures – blowing the engine of his mother's 7-year-old Morris Oxford 'shopping car' and rolling his father's sporty Jaguar SK140 – his racing career took off at age 18 when he began driving a Lotus Elite sports car.
By 1969 Hobbs made the FIA (Federation International Automobile) list of graded drivers, a group of 27 racers rated by their achievements as the best in the world.
"I have driven more cars than anybody else, except maybe Mario Andretti," says Hobbs, who has driven endurance sports cars, touring cars, Indy cars, International Motor Sports Association cars, Trans-Ams, Can-Ams, Formula Ones, Formula 5000s, Group Cs and NASCAR.
Hobbs won the 1971 U.S. Formula 5000 championship and the 1983 Trans-Am championships, and has participated in the Indianapolis 500, the 24 Hours of Daytona, and made 20 starts in the 24 Hours of Le Mans.
He says racing was one of those things you could do in the "old" days. He had the added advantage of access to his father's auto shop, where his father, an engineering inventor, had devised an automatic gearbox that was way ahead of its time. But, while racing costs were considerably less, so were safety measures.
"I started in the golden era. Things were much simpler and inexpensive, but it was a very dangerous time," Hobbs recalls.
Noting the similarities to other sports, he says, "You need endurance, quick reactions, good eyesight and you need to be fairly confident and brave. As you get older, you lose a lot of that stuff."
Even after he finally took off his racing gloves, Hobbs lived and breathed the sport. He changed gears to become a race analyst and color commentator, endearing himself to race fans with anecdotes from his own experiences in the driver's seat.
"I got on the TV in 1973 for CBS and I never missed a race for CBS for the next 20 years until I left in 1996," said Hobbs of the start of a 40-year career as a flag-to-flag commentator on American television for CBS, ESPN, NBC, NBC Sports Speedvision and the Speed Channel.
His quick wit, knowledge and posh British accent also opened the door to Hollywood, parlaying roles as a race announcer in the 1983 comedy "Stroker Ace" and in 2011 as the voice of David Hobbscap, a 1963 Jaguar, in the movie "Cars 2," when Lightning McQueen races in the World Grand Prix.
"You don't get as hot driving the camera as you do driving the car. Everybody says you have to be so brave to be a driver, but you're not brave so much as confident in your ability," says Hobbs. He adds that he doesn't miss racing as much as he thought he would, thanks to his work as a commentator. "So I got my fix without actually having to get all hot and sweaty and risk my life."
Although he may have downshifted, his life is still filled with fast cars. Hobbs served recently as a judge and panelist at Amelia Island Concours d'Elegance, he emcees the Race Car Hall of Fame induction ceremony at the Daytona Speedway each year, and he regularly makes public appearances.
His latest adventure is again taking him on the road, to publicize his new autobiography, "Hobbo: The Autobiography of David Hobbs: Motor Racer, Motor Mouth."
At just over 300 pages, the book is chockfull of photographs and stories about international racing from a perspective only someone previously behind the wheel can give.
Written with the skill of a natural-born storyteller, Hobbs weaves in his trademark comedic insights, from a childhood in England during World War II, to firsts on the tracks, changes in the racing industry and his time as a color commentator.
Hobbs admits that he didn't speed through the writing of the book, a 10-year journey that began with his recording stories and was revived by Andrew Marriott, who Hobbs met when he first started club racing.
"I don't know if my stories will fall flat in print, but I gave it a go anyway. Whether it's as good as my verbal stories, I don't know. The jury's out on that."
The book even includes a section on places they lived over the years, favorite restaurants and hotels visited during his time on the racing circuit. The afterword, written by his wife, adds a level of validity shared by someone who has been there from the start.
"It was David's way of becoming his favorite cartoon character: 'Dan Dare, Pilot of the Future,'" says Mags Hobbs, of her husband's entry into racing.
She admits that waiting by the phone for news after each race was at times worrisome, but says the excitement overshadowed it.
"With the energy and innocence of youth, you do not dwell on the bad things that can happen," she says, adding that knowing her husband was a "thinking driver" put her mind at ease, realizing that he wouldn't take unnecessary risks. "We were so young when he started racing. Right at the beginning, I was cheering him on. Go David, faster, faster. I was right in there with him. I guess it's the ignorance of youth. It takes quite a while for you to sort of get a bit mature and think, 'Hang on, this is mad.'"
"Every time I left she didn't know if she'd ever see me again. I don't know how she did it," says Hobbs.
The Vero Beach Book Center will host Hobbs at 4 p.m. on May 10 for a Book Talk and signing of his book, "Hobbo: The Autobiography of David Hobbs: Motor Racer, Motor Mouth."