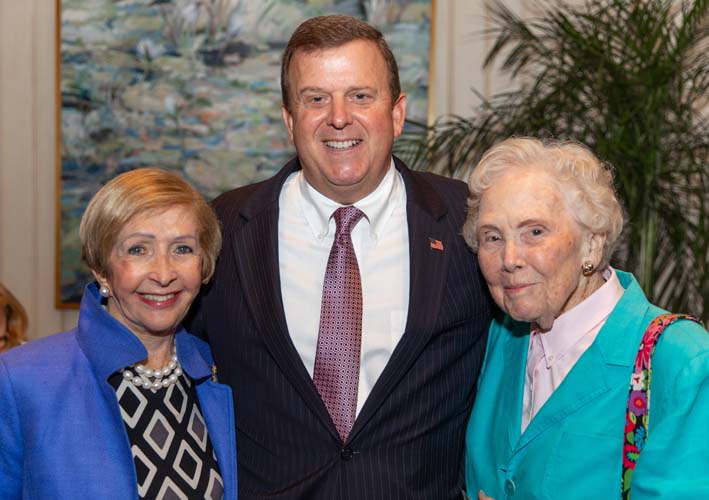 Friends and colleagues gathered in the dining room of the Quail Valley River Club last Tuesday to honor Lois Appleby as the 2018 Pinnacle Award recipient at the 11th annual Pinnacle Award Breakfast.
The annual award is presented by the Indian River Estate Planning Council and Planned Giving Council of Indian River to honor professional advisors for their outstanding voluntary service to local nonprofits in promoting charitable giving through estate and gift planning.
"Tradition has been broken at the 2018 Pinnacle Award and it's not surprising to me that Lois Appleby is the reason," shared Kerry Bartlett, VNA & Hospice Foundation vice president, who nominated Appleby for the award.
"Lois has been breaking tradition, the rules and the glass ceiling for years. Lois will be the first retired estate planning professional to receive the Pinnacle Award. All of us who work in this space, in this sector in our community, are building on the legacy Lois Appleby started back in 1969 when she joined Merrill Lynch."
Bartlett credited Appleby with laying the groundwork from which the community will reap dividends for generations to come.
"Lois did this work not for the accolades or honors or so her professional resume looked good," said Bartlett. "She did it for her clients, who were interested in strengthening support to the causes they cared most about. And probably most importantly, because she knew our local nonprofits, as well as countless others throughout the country, would need the sustainable, long-term funding that bequests, charitable remainder trusts, IRA beneficiaries and charitable gift annuities could provide."
"She's a legend," said Tom Segura, Merrill Lynch senior vice president.
Sue Tompkins, Merrill Lynch vice president, shared a quote by the late Barbara Bush: "You don't luck into things as much as you'd like to think you do. You build them step by step, whether it's friendships or opportunities."
Tompkins noted that while Appleby might say she was lucky in her career, her success was no accident.
A pioneer in the securities industry, Appleby was the first woman in the Merrill Lynch Executive Club, President's Club and Chairman's Club, and was a charter member of its Million Dollar Producers Circle of Excellence. She was held in such high regard by senior management that the firm featured her alongside Madam Curie and Sally Ride in their 1980s Time Magazine ad campaign.
"When women finally broke the glass ceiling in '86, Lois was already looking down on the glass ceiling," said Segura. "She was orbiting the Earth at that point and the others were still trying to take off at Cape Kennedy."
Appleby graciously accepted the award from last year's recipient Michael Kmetz, saying, "It is a great honor for me to accept this special Pinnacle Award from such a most prestigious group of professionals. I've been watching the growth of philanthropy in Vero Beach since my arrival in 1964 and I think that's longer than some of you are old."
Photos by: Denise Ritchie
Click HERE to see more or buy photos