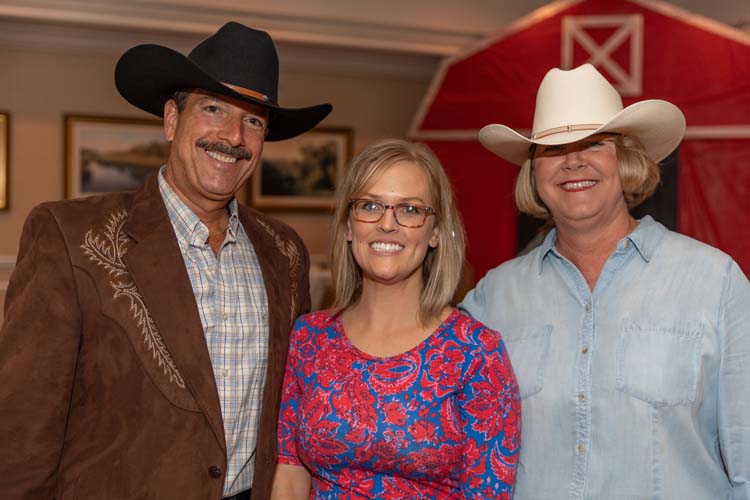 Donors ponied up for Special Equestrians of the Treasure Coast April 28 at the Denim & Diamonds Gala at the Vero Beach Country Club, sponsored by the Bernard Egan Foundation and George E. Warren Corporation.
Outfitted in cowboy hats, boots, bolo ties, glittery belt buckles, diamond-covered jeans and denim jackets, guests strutted their stuff "Like a Rhinestone Cowboy" while David Goodman strummed his guitar in front of a faux barn, complete with hitching posts and wagon wheels, lending an air of authenticity to the theme.
Guests sipped on a special pony punch and nibbled on hors d'oeuvres as they perused a variety of horse-centric silent-auction items to support the nonprofit's mission of bringing the healing power of horses to children and adults with physical, emotional and intellectual disabilities through equine assisted activities and therapy.
Before dinner, Bethany Gilman shared the improvements made by her daughter Aurora through her therapeutic equine encounters. Aurora is one of only 200 people diagnosed with DDX3X Syndrome, a rare spontaneous mutation at conception that presents with intellectual disabilities, seizures, autism, low muscle tone, abnormalities of the brain and delayed physical development.
Aurora began riding in January and Gilman said they have seen a huge jump in her progress. "She's gone from needing full support on the horse to supporting herself in a few short months."
As slides played in the background, Gilman shared that Aurora has shown an overall improvement in core strength, balance, vocalization and cognitive awareness.
"Now when we pull in she knows where we are; she starts smiling and babbling immediately. She's excited to see Elsa," said Gilman, referencing one of SETC's gentle horses. "Her core strength and her balance have improved tremendously. I think her time with Special Equestrians has sped up her progress by at least a year or two."
That progress has also carried over into other areas. Once told that her daughter would never walk, Gilman reported through tears of emotion that Aurora has taken several steps on her own at home. She attributes Aurora's ability to an increase in stamina and confidence. "We are so thankful for the Special Equestrians. I wish everyone could do this."
"This is why we do what we do; for riders like Aurora and her mom," said Vinnie Parentela, SETC board president. "We couldn't do this without the support of everyone in this room and the community."
"There are more than 3,000 children recognized as needing adaptive school programs in Indian River County," said Vickie Penly, SETC treasurer and program director, of the huge need for their services.
For more information, visit specialequestrianstreasurecoast.org.    
Photos by: Denise Ritchie
Click HERE to see more or buy photos