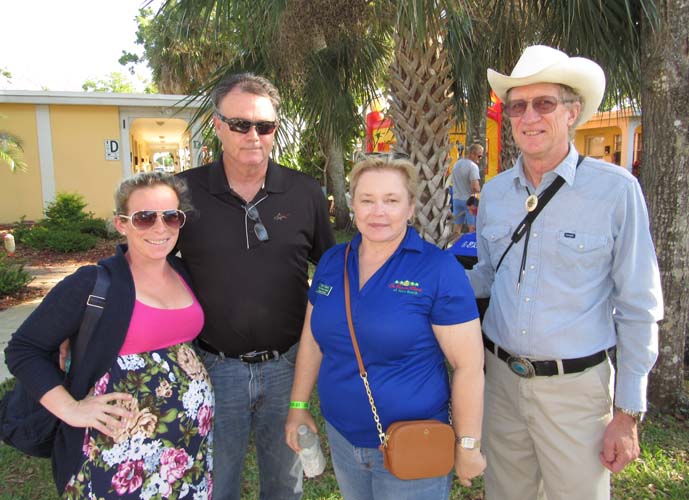 There was a particularly celebratory mood at last Saturday evening's annual All American Country BBQ & Bash to benefit St. Francis Manor. A lovely little hidden gem, St. Francis Manor was founded in 1974 to provide limited-income seniors, ages 62 and above, a place where they can live independently in an "attractive, safe and socially supportive environment."
The buzz Saturday centered on the successful completion of a $2.025 million Capital Campaign which has enabled the construction of 18 new units, bringing their total number to 116 rentals. The one-bedroom units, built by Barth Construction, are geared for the first time toward couples.
"The challenge will be getting the word out that we have availability for couples," said Louis Schacht, campaign co-chair. "But it will get around, because affordable housing for seniors is really a need, and it is only going to grow. The manor is a unique place for that in Vero Beach."
Indian River County is home to an aging population of residents who are in no shape to actually retire. They are typically individuals who have served the community well in underpaid positions such as teachers, service industry personnel, independent workers without a pension, or those who may have previously been well-off but have seen savings depleted due to unexpected medical expenses. Many would find themselves homeless if not for St. Francis Manor where rents, well below market rates, range from roughly $350 to $550 per month.
"That's our mission – to keep it affordable. Because if you're spending more than one-third of your income on your housing, you are behind the eight-ball," said Schacht. Of the successful campaign, he added, "It's a testament to the community that we had a broad base of support. So we're really happy about that."
Sunrise Rotary members did all the heavy lifting at Saturday's BBQ – preparing and serving a delicious spread that included pulled pork, hamburgers and hot dogs, and all the fixings, manning the liquid libations and presiding over raffles and silent-auction items – while attendees mingled with St. Francis Manor residents and enjoyed the toe-tapping music and refreshments.
"I'm still pinching myself that I'm retired and living in Florida at St. Francis Manor," said resident Elyne Strauss, commenting on the many services and activities available to them.
Sal Taschetta, invited to attend by a co-worker who serves on the board, said he was unaware of the facility, despite having driven past it numerous times.
"It's really awesome; it's just what it needs to be," said Taschetta.  "We really need more of this. Not only here; this is what the world needs."
Photos by: Mary Schenkel
Click HERE to see more or buy photos